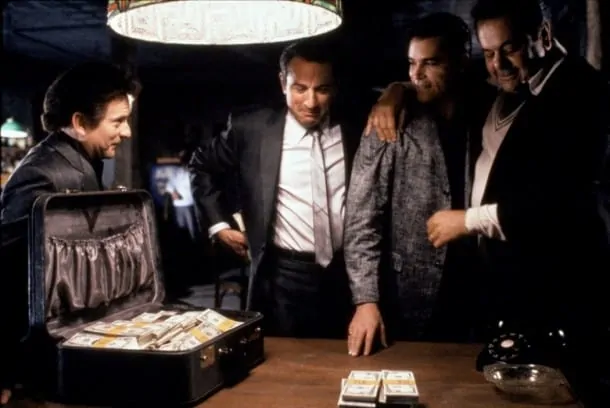 What do you mean funny? Like a clown? Do I amuse you? Huh?
Organizers have announced it will close this year's edition of the Tribeca Film Festival with a special 25th anniversary screening of Goodfellas.
Directed by Martin Scorsese, the 1990 gangster film has quickly become a piece of 20th century cinematic history. The screening will feature a 4K remaster (the Blu-Ray release is scheduled May 4).
"While TFF's mission is centered around new stories and voices, we also seek to honor the creators and films that have shaped the cultural landscape," said Jane Rosenthal, co-founder, Tribeca Film Festival.  "GoodFellas is one of those pictures with an honest and stylized portrayal of the gangster lifestyle that has inspired a generation of filmmakers and television directors across genres. We are proud to celebrate its 25th anniversary at our closing night and introduce new audiences to one of Marty's masterpieces."
Never rat on your friends and always keep your mouth shut.
Creators and cast members are scheduled to reunite at TFF for a conversation following the film with Jon Stewart where they will discuss the acclaimed 1990 Academy Award-nominated classic based on the true-crime bestseller "Wiseguy" by Nicholas Pileggi.
Martin Scorsese said, "I was so excited to learn that this picture, now 25 years old, would be closing this year's Tribeca Film Festival. Excited and moved. It was an adventure to get it on screen—we wanted to make a movie that was true to Nick Pileggi's book and to the life of Henry Hill and his friends, which means that we broke some rules and took some risks. So it's heartening to know thatGoodFellas has come to mean so much to so many people. It's wonderful to see one of your pictures revived and re-seen, but to see it closing Tribeca, a festival of new movies, means the world to me."
The 2015 Tribeca Film Festival (#TFF2015) runs April 15 through 26.
It's gonna be a good summer!