Colbie Caillat, Matt Nathanson, and Mat Kearney were just a few of the performers to take the stage recently at the Live in the Vineyard music festival. In case you missed any of their sets, we have a video roundup of highlights, plus sit-downs with Loni Stark of Stark Insider.
Live in the Vineyard returns at the end of March. We are awaiting further details on the schedule and line-up and will pass that at on as soon as we know more.
Meantime, if you love live concerts, and wine country, you'll want to circle March 19th on your calendar. That's when the inaugural Yountville Live kicks off. Combining music, food and wine, it will surely be something you'll want to check out. Colbie Caillat and Matt Nathanson are among the confirmed artists set to headline.
We invite you to join Stark Insider as we head to wineries across Napa–including Sutter Home, and the stunning barrel room at Clos du Val–and to the Lincoln Center at the Napa Valley Performing Arts Center to catch some of today's top hitmakers in action. Plus, don't miss as Loni Stark sits down backstage to dig into what makes these singer-songwriters tick. What's the secret of the creative process? How does the music business compare to the film industry? And, what on earth are their favorite foods?!
Here's the video roundup from Live in the Vineyard. Sit back, grab a glass of your favorite vino, and enjoy the show! You can also view these concert videos on the Stark Insider YouTube channel in a playlist.
LIVE IN THE VINEYARD VIDEO PLAYLIST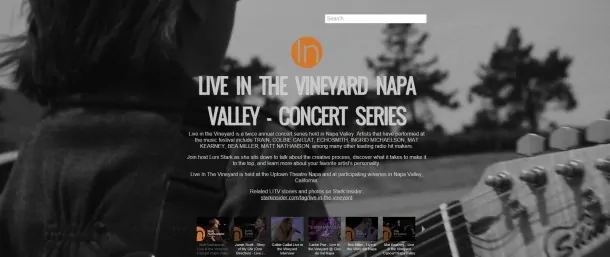 Subscribe: Stark Insider on YouTube
MAT KEARNEY – "Just Kids", "Ships in the Night"
COLBIE CAILLAT – "Bubbly", "Realize"
LARKING POE – Clos du Val Winery
BEA MILLER – "Young Blood"
MATT NATHANSON – "Modern Love"
MARIE MILLER – 6'2″
JAMIE SCOTT – "Story of My Life" (One Direction), "Unbreakable"
JONATHAN JACKSON & ENATION – "Everything is Possible"