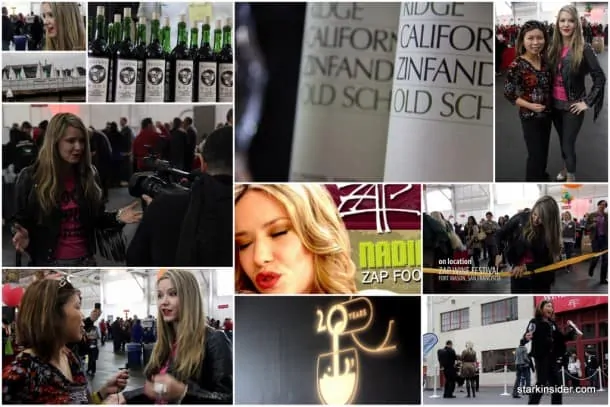 Yup, it's time for San Francisco's ZAP (Zinfandel Advocates and Producers) Festival and any wine lover worth their weight in grapes will not want to miss the 2015 Zinfandel Experience. Attracting Zin lovers from around the world, Zinfandel Experience is celebrating its 24th anniversary, January 29-31, 2015 with four fabulous events over three days featuring a diverse selection of wines and styles from distinguished wineries as well as some exciting newbie producers.
This over-the-top Zin love-in takes is being held at the gorgeous Presidio (a new location for the Zinfandel Experience) and Four Seasons Hotel in San Francisco, California.
Kick-off your winey weekend at Thursday's Epicuria,  a fun-filled food and Zin pairing walkabout. Over the next few days you can attend the Sommelier & Winemakers Terroir Workshop, a Winemakers Reception, Dinner & Auction, culminating in the perennially popular main event, The Tasting, which is so big this year it is spilling over to two venues in the Presidio, The Golden Gate Club which will feature 86 wineries and the Film Centre will house 30 wineries.
In between sips and swirls you can head out to the parking lot which will be jam full of food trucks for an impromptu pairing. Serious zin-ners will want to sign up for the VIP reserve and barrel tasting, where 100 winemakers offer  "sneak peak" tastings.
THE ZINFANDEL EXPERIENCE – Schedule
Thursday January 29
Epicuria Food & Zin Pairings
6 to 8pm, Golden Gate Club, the Presidio of San Francisco
Mix and mingle with 30 top winemakers, master chefs, culinary experts and Zinfandel lovers while exploring the versatile flavors of Zinfandel at this informal dine-around. New this year is an expanded venue at the Golden Gate Club with the addition of a spacious tented courtyard highlighting its striking views. Taste sophisticated and whimsical culinary creations from some of the Bay Area's most acclaimed restaurants and food purveyors perfectly paired with top Zinfandels.
Friday January 30
Flights! Forums of Flavor
10:30am to 1pm, Four Seasons Hotel, San Francisco
Flights! is a professional tasting seminar focusing on highly allocated, limited production Zinfandels. Experts will offer insights while participants experience the range, depth and character of the wines. ZAP is partnering with the Historic Vineyard Society to present wines from exceptional old vine Zinfandels. Space is limited.
Winemakers Reception, Dinner & Auction
Zin State of Mind–a Benefit with Taste
5:30 to 7:30pm Winemakers Reception
7:30 to 10:00pm Dinner and Live Auction
Four Seasons Hotel, San Francisco
Go glamourous!
Mad Men, the popular TV show, is the inspiration for the Winemakers Reception, Dinner and Auction. The stylish, sleek, and jazzy atmosphere captivates as the city lights of San Francisco dazzle. The enhanced reception features winemakers 'pouring it big' with magnums and reserve offerings. The intimate dinner hosted by celebrity winemakers features a menu that boasts the best in farm-to-table cuisine. Limited offering wines, one-of-a-kind lots, rare bottles, wine-related experiences and more will be offered at the silent and live auctions. Proceeds benefit ZAP's programs, education and Heritage projects. Dress in vintage fashion flair and celebrate the mod mood of 1965. Title sponsor: TricorBraun WinePak
Saturday January 31
The Tasting, 11 am-5 pm
11am to 1 pm
Reserve and Barrel Tasting (VIPs and All-Day ticket holders)
1pm ZAP members enter public tasting
2pm non-ZAP members enter public tasting
Golden Gate Club & Film Centre, Presidio of San Francisco
The centerpiece of the 2015 Zinfandel Experience is The Tasting, where wine lovers engage in personal conversations with winemakers while exploring the flavors of Zinfandel blends, single vineyards and old vine Zinfandels or discover the distinctive dialects of Zinfandel growing regions. Special works hops on terroir, winemaking styles and sensory aspects will be held. At the reserve and barrel tasting, one hundred winemakers and principals will offer a "sneak peak" tasting at their tables for VIPs and all day ticket holders.
Don't wait to buy your tickets to the Zinfandel Experience or you might miss out on all the fun seen on this video:
WATCH: The Zinfandel Experience with Loni Stark and Nadia G from Bitchin' Kitchen