What if by engaging our imagination and opening our minds we could unlock the door to a world of wonders?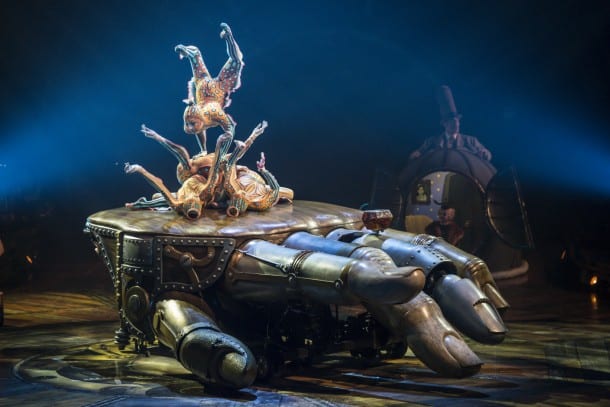 Now that the San Francisco Giants have given AT&T Park and this city a championship glow it's time to turn to another kind of acrobatic and athletic magic and showmanship.
If you've noticed splashes of blue and yellow around South Beach today, changes are you've spotted the Big Top. Cirque du Soleil is back in town, and is in "set-up mode" in preparation for the U.S. premiere of its new show, KURIOS — Cabinet of Curiosities.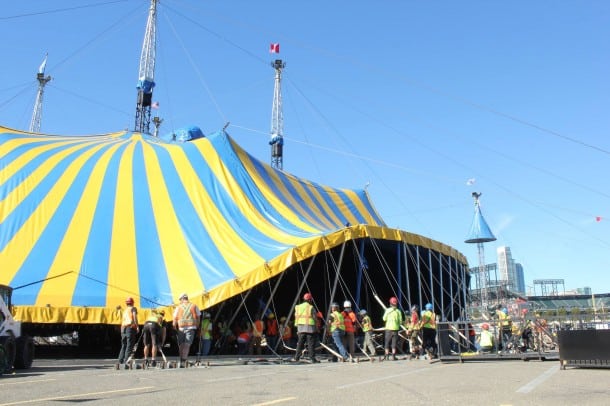 No less than 50 people work for several hours to transform the area into a large tent that can accommodate a large stage and expansive seating areas. We're told the blue-and-yellow Big Top requires some 1,200 pegs, 100 support poles and several hours of teamwork to raise.
Other interesting factoid: the Big Top stands 62-feet high, is 168 feet in diameter and is supported by 4 masts, each 85-feet tall.
In addition to the show being new (Cirque du Soleil's 35th production since 1984) and enjoying its premiere here in San Francisco, for the first time ever, Cirque will feature a welcoming act. Weather permitting, organizers say three artists will climb the Big Top and welcome guests on-site with live music. Also, another first (spotting a trend here?): for the first time some guests will be selected to go backstage and cross the stage on a rope bridge before the show starts.
As for Kurios, the show is described as "a place where wonders abound for those who trust their imagination, a Seeker discovers that in order to glimpse the marvels that lie just below the surface, we must first learn to close our eyes." In other words, expect the typically incredible Cirque formula of striking visuals, thunderous effects and music, and, of course, astounding stunts and acrobatics.
Be sure to stay tuned to the Stark Insider YouTube channel for a behind-the-scenes look at the new show, and a review from opening night, which takes place Friday, November 14.
IN PHOTOS: KURIOS by Cirque du Soleil