In this Stark Insider segment, Loni Stark visits the OneBeat project, and talks with the international musicians creating genre-bending new works (video below).
When it comes to diplomacy, whether related to global politics, or just personal matters, it seems like one of the best remedies is:
Music.
Think of good times or bad times in your life, and there's likely a song that quickly comes to mind. If you're like me, you might not have a single musical bone in your body, and yet it's that elixir of life that keeps us smiling, dancing, singing.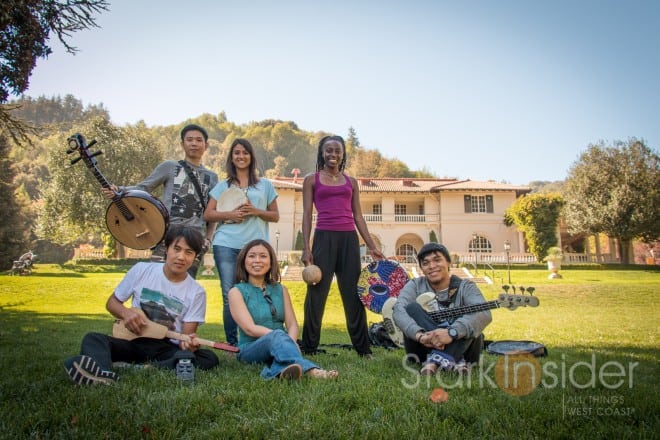 OneBeat is dubbed a "music diplomacy project." I hadn't heard of the part music fest, part consortium until organizers brought it to the Montalvo Arts Center, where it is currently in residency. There, 25 musicians (ages 19-35) congregate in an effort to spark creative energy. Together they collaboratively write, produce, record, and perform. Now in its third year, co-director Elena Moon Park tells me that the project tends to "create a family, that spans across the world."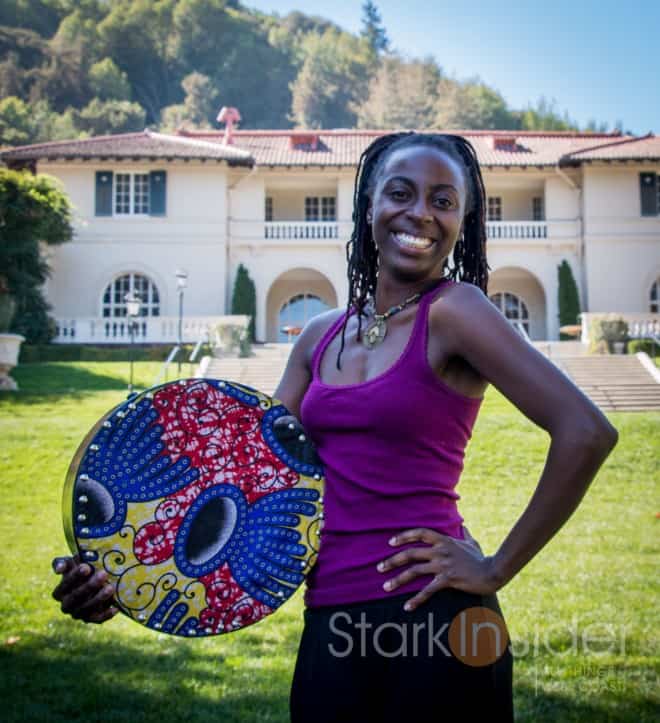 Thanks in part to the global mix (artists come from 17 countries in the 2014 edition of OneBeat), and also eclectic instruments, new ideas and ways of approaching sounds, rhythm, and vocals tend to emerge. It doesn't hurt, that on this sunny afternoon, the five musicians featured in this interview, are enjoying the gorgeous, wooded grounds of Montalvo (located in Saratoga, California).
In addition to collaboration, and workshops, the OneBeat residency also features concerts. And after several performances here in the Bay Area, the musicians will then head on a two-week tour of Los Angeles, Arizona, and New Mexico.
"Music has been a big part of cultural diplomacy in the US," says OneBeat co-founder Jeremy Thal (as he walked his cool bike across the Montalvo lawns). "Since the days of Van Cliburn's trip to Russia, or Louis Armstrong in Egypt. There's a long tradition of that. And so we like to think of ourselves as carrying on that tradition."
As for the musicians themselves?
25 are selected out of thousands of applications. The acceptance rate rivals that of Ivy leagues schools. Jeremy tells me that one of the most difficult parts of running something as ambitious as OneBeat is actually listening to every single artist's portfolio of work – and then having to whittle them down to the finalists.
ONEBEAT FELLOWS

In the Stark Insider video, in order of appearance:

Lara Klaus, a percussionist from Brazil

Barry Likuwahuma, an Indonesian bassist

Neil Chau, a Malaysian ruan player

Hope Maskike, a Zimbabwean percussionist and vocalist

Askat Jetigen Uulu, a composer from Kyrgyzstan
Percussionist Lara Klaus said that she thinks the experience is going to help her "a lot." Having just flown in from Brazil, I managed to speak with her about OneBeat. She expects friendships to endure for years to come. And that the international mix of artists will spark creativity.
Having spent a few hours with the OneBeat fellows, one thing was clear: I still don't have a single musical bone in my body. But, you know what? Ad libbing to Salsa is always worth a shot…
WATCH STARK INSIDER TV: OneBeat International Music Diplomacy Project
My thanks to the OneBeat fellows, the Montalvo Arts Center, and Team CB, for being so generous with their time and allowing Stark Insider to spend time with everyone.
With Clinton Stark in Saratoga, California.