A hundred years ago on the battlefields of France, World War I soldiers on both sides of the lines set down their weapons in an impromptu Christmas ceasefire. They shared handshakes, cigarettes, rations, and soccer games. They sang carols together.
Now a World Premiere play by two local playwrights celebrates this historic—and heartbreakingly brief—episode of peace, while offering the age-old holiday wish of peace on Earth. Truce: A Christmas Wish from the Great War, written by Kit Wilder & Jeffrey Bracco and directed by Wilder, runs later next month at City Lights Theater COmpany in San Jose.
Truce draws on a wealth of historical letters and war accounts. Timeless carols create a poignant backdrop, with new arrangements by musical director George Psarras (who played the title role in Amadeus earlier this year). This sweeping script blends personal stories from both sides of the lines.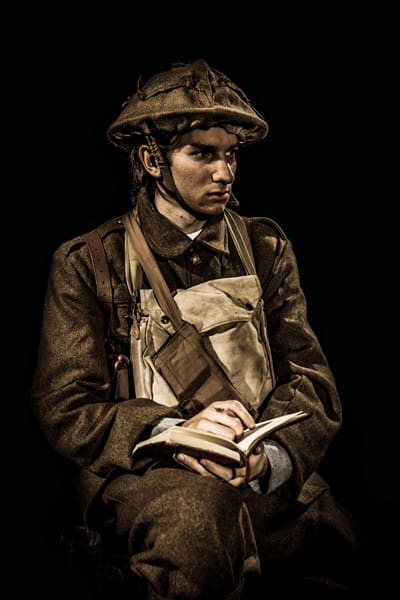 From England: the gentle soldier-poet Tommy (Drew Benjamin Jones) and his wife Maggie (Allison Meneley) he must leave behind. On the German side: the determined warrior Georg (Max Tachis) and courageous battlefield nurse Anna (Caitlin Papp).
Playwrights Wilder and Bracco have been working together onstage for decades—including both appearing in Art, City Lights' most recent show—but this is their first joint writing project.
Wilder, City Lights' associate artistic director, has trained in London with the Royal Academy of Dramatic Arts and with members of the Royal Shakespeare Company. He has appeared in many Bay Area and regional theater productions as well as ads and films, and has taught master classes in acting, stage combat, Shakespeare, and musical theater. As a writer, he has penned adaptations of Alexandre Dumas' The Three Musketeers and Twenty Years After, Gabriel Sabatini's Scaramouche, and original works and Bracco has had a 20-year professional theater career in the U.S. and France, writing or co-writing five plays that have been professionally produced. Bracco teaches directing, acting, and theater history at Santa Clara University.
Truce: A Christmas Wish from the Great War

City Lights Theater Company, San Jose

Nov. 20-Dec. 21, 2014

By Kit Wilder & Jeffrey Bracco

Directed by Kit Wilder

Thurs.-Sat. at 8 p.m. Sun. at 2 p.m. One Wednesday performance, on Dec. 17, at 8 p.m.
No performances on Nov. 23 & Nov. 27. Dec. 5 is already sold out.

Tickets: $17-$32. Discounts for seniors and students/educators. Buy online and pay no fees! ($2 surcharge for phone and in-person purchases; closing weekend is also subject to a $2 increase.)

Thursday, Nov. 20: Pay-What-You-Can-Night. Friday, Nov. 21: Preview Night ($17).
Saturday, Nov. 22: Opening Night celebration: $35 general, $30 seniors, $19 students/educators.