Do your homework.
Eat your vegetables.
Listen to your parents.
Easy peasy folks: three simple ways to (possibly) become a good witch. Chandra Lee Schwartz should know. The charming and bubbly actress has been playing Glinda in Wicked since 2009, both on Broadway and now on the touring production. I headed over to the San Jose Center for the Performing Arts to get a look behind the scenes at one of today's most popular musicals. Plus, along the way we get to learn the backstory from the classic book and film Wizard of Oz. Glinda, it turns out, might have been just a little "entitled" growing up (but we still love her!).
Wicked, as you might expect, is a sophisticated production. I learned that no less than 14 trucks are needed to keep the show moving from city to city.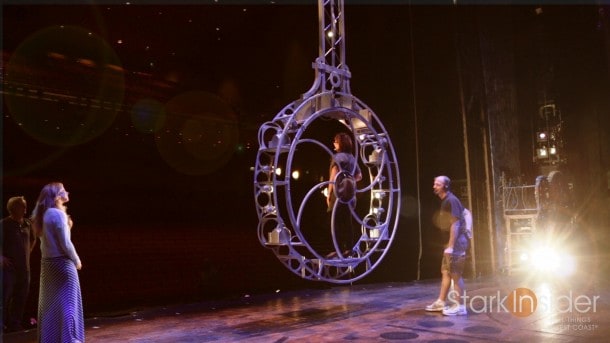 It's good to see me, isn't it?!
Then there's Glinda's famous bubble. If you've seen the show then you probably haven't forgotten the good witch's impressive arrival – floating down from the sky in a giant bubble, as lights and actual bubbles dance around her angelic being. Talk about making an entrance.
In this Stark Insider segment I get to fulfill a bit of a Broadway dream: I get to play Glinda and re-enact that opening scene. Thanks to some heady advice from Chandra ("Don't jump!") the crew sets me up, and then flies me high into the theater rafters. What next? Well, you'll just have to watch to find out. Hint: no one has ever taken a selfie from Glinda's bubble…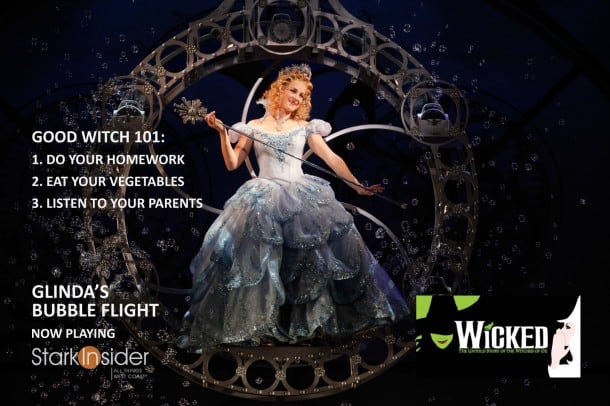 STARK INSIDER TV: A Wicked Bubble Flight at Broadway San Jose
Subscribe to Stark Insider backstage film/arts/wine on YouTube.