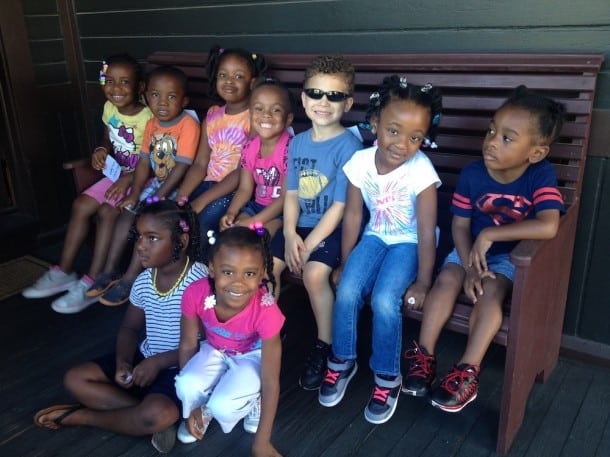 Atlanta is a fabulous city to visit, but sometimes don't you want to get off the beaten track and just go exploring? If so, Georgia has oodles of unusual museums, grand ol' theaters, historic estate tours, unique accommodations and some of the best sipping rum in the country… plus it's all delivered with that Southern hospitality. Here are  just a few delightful rural detours to get you started:
Over Hills & Dales Estate tour
This beautiful Italian villa, once the home of self-made textile magnate, Fuller E. Callaway, Sr. and his family, is surrounded by the Ferrell Gardens, one America's best preserved pre-Civil War gardens. This 35-acre estate is unique because unlike the chicken and the egg question, we know the answer to which came first: the gardens were started almost 70 years before the nine- bedroom mansion was built in 1916.
Pssst: Give yourself enough time for a leisure stroll through the various gardens. At the end of Magnolia Walk keep your eyes peeled for the word "GOD" planted in boxwood.
Explorations in Antiquity Center
Ancient history comes alive at the inimitable Explorations in Antiquity Center in LaGrange. This interactive, living museum encourages you to experience the life of a farmer, shepherd or fisherman in the biblical times as you wander through the realistic replica of a 2,000 year old village filled with typical homes, a goat-hair tent, mangers, olive trees and an olive press, stone mill and a Roman theater. If you're feeling brave you can crawl into tombs similar to those in which Abraham and Jesus were buried.
Don't miss the new Biblical Life Artifacts Gallery which houses priceless artifacts on loan from Israel. It is one of only four official exhibits of its kind in the world! (Others are at the Met in New York and The Louvre in Paris)
The reason that lil' ol' LaGrange landed this exhibit is because the Center's founder, renowned archeologist Dr. James Fleming, has lived and worked in Israel since 1973 where he helped coordinate 12 excavations.
They have big expansion plans and are currently working on "The Land Of The Bible". When finished it will be a walkable, three-acre map of Israel- from the Sea of Galilee to the Dead Sea!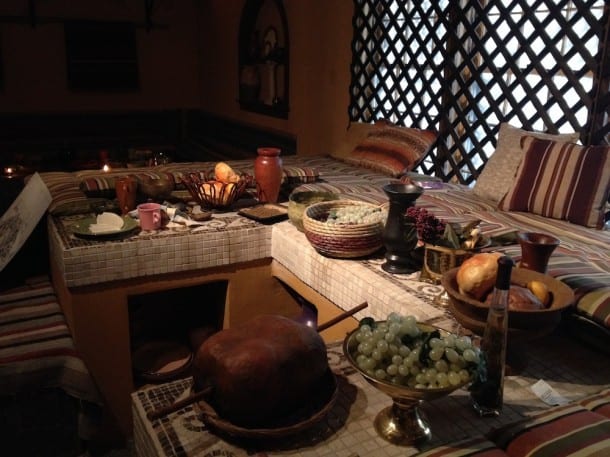 Pssst: Come hungry for their all-you-can-eat, educational Passover Meal akin to what Jesus ate at the Last Supper. Feast on olives, hummus, lentil soup, chicken, and fruit as you recline on the carpeted benches.
Can you hear me now?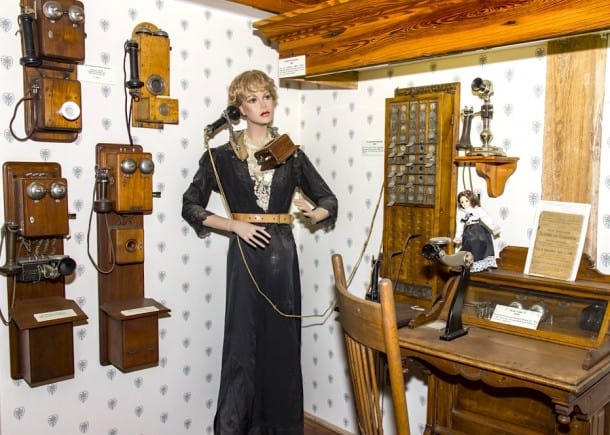 In the diminutive town of Leslie, located about 20 miles from the nearest freeway exit, you'll find the Georgia Rural Telephone Museum, a renovated 1920s cotton warehouse which houses the world's largest collection of antique phones and communications memorabilia dating back to 1876. Some not-to-be- missed displays are the switchboard used by President Carter during his 1970s Presidential campaign (Jimmy was a guest of honor at the museum's opening in 1995) the Jukebox phone, a Hush-a-phone (when you don't want to be overheard) and a desk Graba-phone.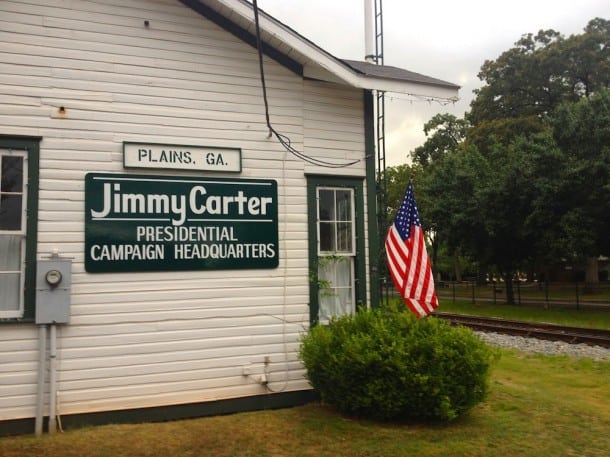 Pssst: Take a short detour to the neighboring town of Plains, President Carter's hometown, to visit the Jimmy Carter National Historic Site. You can see Carter's residence, childhood farm, school and the teeny railroad depot that served as his 1976 campaign headquarters, selected because it was the only building in town with a public bathroom.
A taste of Richland Rum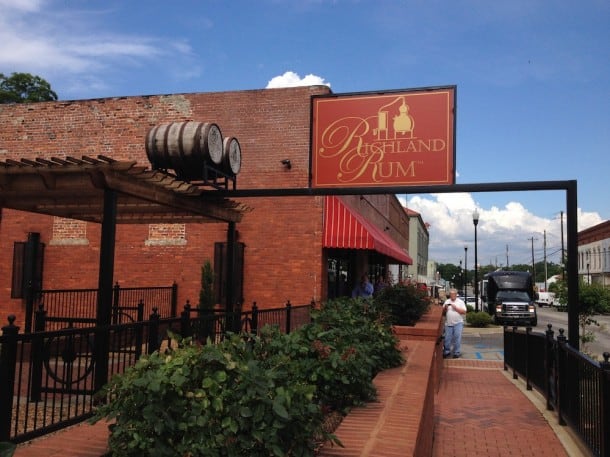 About the last thing you might expect to find in Richland, other than perhaps a herd of zebras, is one of the country's finest, handcrafted, ultra-premium rum distilleries. And you would have been right except that two years ago Holland-born Erik Vonk opened the Richland Distilling Company, an artisan copper pot distillery dedicated to producing Single Estate Georgia Rum using quality Georgia-grown sugar cane. I've never been a big fan of rum but after tasting Erik's smooth, aromatic version with a haunting honey aftertaste, I was immediately hooked.
Pssst: Try spiking your favorite bubbly with splash of RICHLAND RUM for a refreshing summer drink.
Americana is alive and well in Americus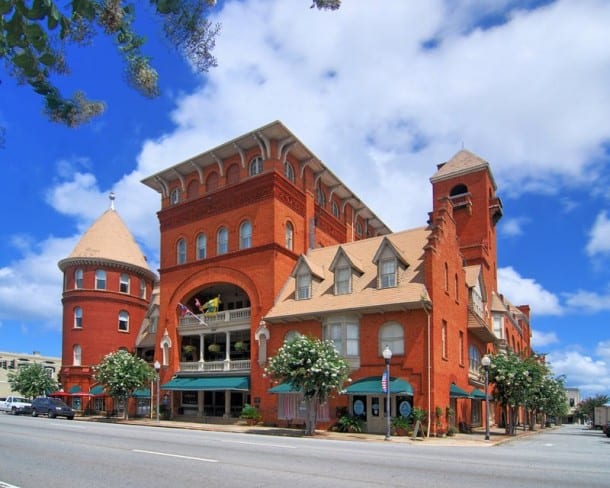 The BEST WESTERN PLUS Windsor Hotel built in 1892, is a meticulously restored, five-story castle-like hotel (complete with towers, turrets, and a cupola) that holds court over an entire city block in the town of Americus. Just a sampling of the celebs who have stayed here include Franklin D. Roosevelt, baseball greats Ty Cobb and 'Shoeless Joe" Jackson, Martin Sheen and even a couple of ghosts. In 2006, the Big Bend Ghost Trackers spent the night here and officially certified the hotel as haunted.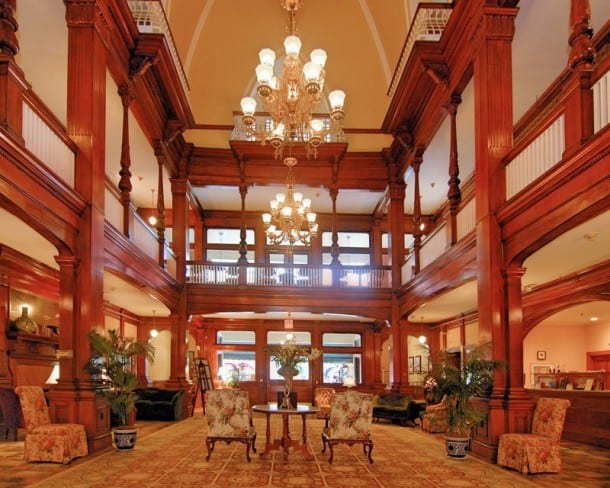 You'll be blown away when you enter the stunning atrium lobby surrounded by three floors of hand-carved wooden balconies and a shining marble floor. While each of the 50 rooms is unique, they all have period style furnishings with historically correct Victorian fabrics and wallpaper, 12 feet ceilings, and plantation shutters.
Ask one of the friendly staff members to steer you to the tower's Bridal Suite. Al Capone once stayed here because he could station his bodyguards at the bottom of the tower staircase thus guaranteeing complete privacy.
Pssst: Check out what's playing across the street at the gorgeous Rylander Theatre- a primo example of Art Deco design. Built in 1921 then painstakingly restored in 1999, the Rylander hosts a variety of performances and events. President Jimmy Carter celebrated his 85th birthday here joined by 600 of his nearest and dearest.
Andersonville National Historic Site-sobering yet inspiring
The Camp Sumter military prison at Andersonville, built in 1864, was one of the largest Confederate military prisons during the Civil War. More than 45,000 Union soldiers were confined here during the 14 months it existed. Due to the deplorable housing conditions, poor sanitation and lack of food almost 13,000 died. After the war the prison's commander, Captain Henry Wirz was hung for war crimes. Today Andersonville National Historic Site serves as a tasteful memorial to all American prisoners of war throughout our country's history. The cemetery where the Union soldiers were buried is still used for military burials.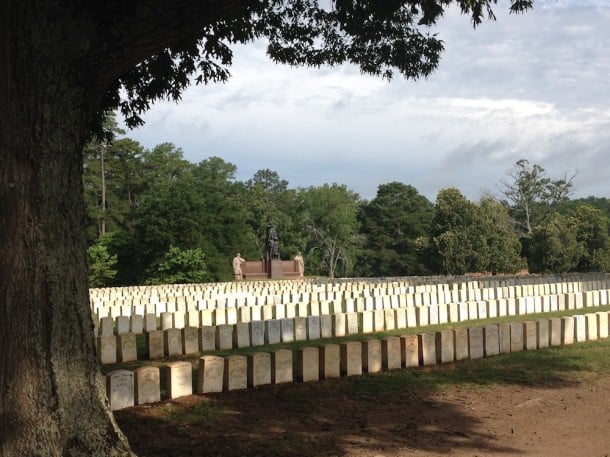 Pssst: 2011 to 2015 marks the 150th anniversary of the American Civil War, so the park will be conducting special programs that address different aspects of captivity.
Pretty town of Albany could be the Hollywood set for The Music Man
Rent a kayak or stretch your legs exploring the new three-mile river walk that edges the Flint River. Then pop into the one-of-a-kind, interactive Flint RiverQuarium, filled with more than 1,000 scaly, feathered, slimy, or furry animals that call the Flint River watershed home.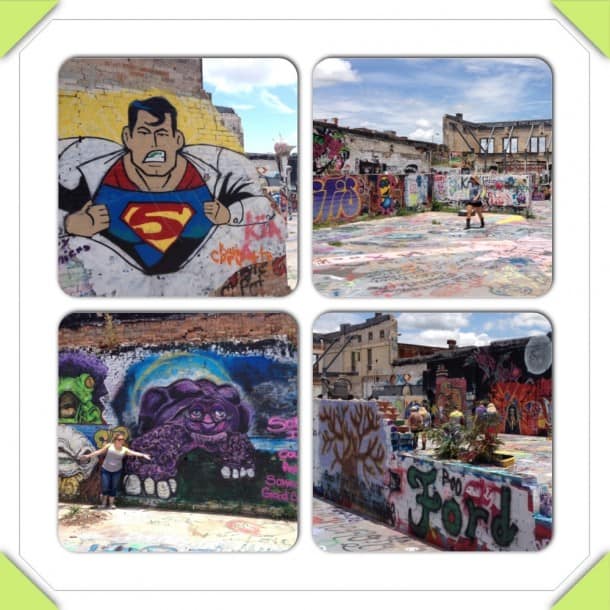 For some wild eye candy check out Art Park, a colorful outdoor community center where everyone is invited to observe or create all forms of art. A successful example of "If you can't lick 'em, join 'em".
But the main attraction here is the Albany Civil Rights Museum and Institute, located in the newly restored 1906 Old Mt. Zion Church. The first mass meeting of the Albany Movement was held here on November 17, 1961. One month later Martin Luther King Jr. spoke to a crowd of 1,500 that overflowed the church, filling the streets and the Shiloh Baptist Church opposite.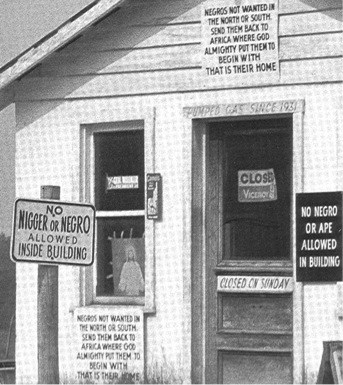 Visitors can take a state-of-the-art journey through the museum that brings to life the 1960s Civil Rights Movement through the use of oral histories, photographs, artifacts and special programs. (One shocking photo was of a sign that read, "No Negros or Apes Allowed!") The ACRI honors the stories of ordinary people who changed history through their acts of courage.
Pssst: Every second Saturday of the month, the Albany Civil Rights Institute Freedom Singers, led by on of the original SNCC Freedom Singers, Rutha Harris, perform songs they sang on their Freedom Rides throughout the South.
Side trip to Macon, Georgia – the "Song and Soul of the South"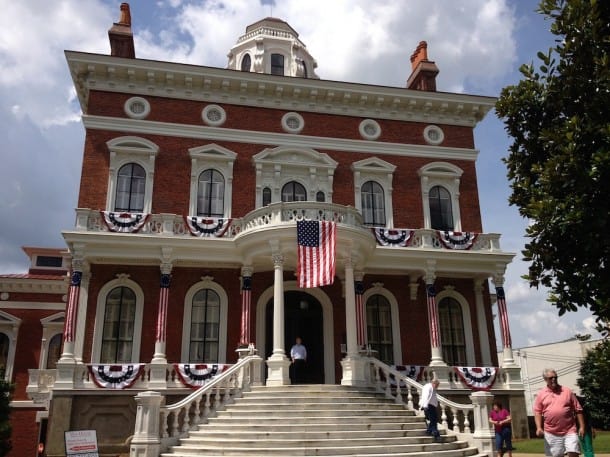 The Hay House may have been built in the mid 1800's but this extravagant 18,000-square-foot mansion would make a fabulous party house even by today's standards. Unlike the more restrained Greek revival architecture that was popular during the antebellum period, the Hay House was designed in the Italian Renaissance Revival style. The forward thinking owner, William Butler Johnston, took time off from his day-job (he was head of the Confederate treasury) for a three-year honeymoon traveling Europe. Upon their return he and his wife Anne, spent the next four years building their seven-story home filled with cutting edge technological innovations (hot and cold running water, central heat, a speaker-tube system, in-house kitchen and an elaborate ventilation system). They spared no expense when it came to the furnishings either, opting for the finest Italian marble, spectacular stained glass window and real 24-karat gold leaf accents.
Pssst: Hay House features an annual wine tasting and auction to benefit the preservation of the 1855 National Landmark house. For the event of the season, get your tickets for "Toast & Taste at Hay House", Thursday, October 2, 2014.
Best Thai food, y'all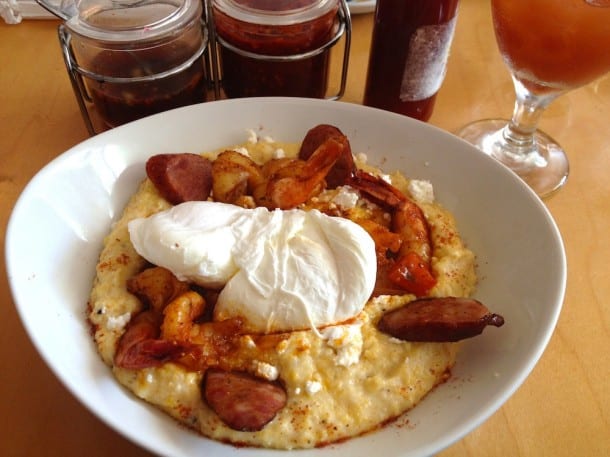 What do you get when you open a Thai Restaurant in Macon, Georgia? Only the best southern hybrid brunch ever at Lemongrass. Think "Charleston Nasty" (homemade biscuit, hand-battered fried chicken, Kerrywood white cheddar and sausage gravy) Fried Green Tomatoes, along with our other favorites – Gourmet Grit Bowls, Eggs Benny, Chicken Fried Shrimp and Waffles, Cheese Fries with Gravy, Crème Brulee French Toast topped with Georgia Peaches.
Pssst: Drinks cover both east or south with a spicy zing-zang Bloody Mary or a mellow coco-nutty drink, Thailand in a Glass.
Luxury stay at former slave plantation
I'm not sure what the end use of New Communities at Cypress Pond Plantation aka Resora will be, or even what name they will finally settle on, but whatever it is you definitely want to plan a sleepover here, if only to hear Shirley Sherrod's riveting story of how New Communities (based on the concept of the Israeli kibbutz) came to buy this 1,638-acre estate. The crown jewel is an impeccably restored, 7,334 sq. ft, Gone-with-the-Wind, antebellum mansion and five impeccably styled-out guest cottages. Sherrod shared some of their ideas, which might include an agricultural training program, luxurious wedding venue, and corporate retreat and conference center.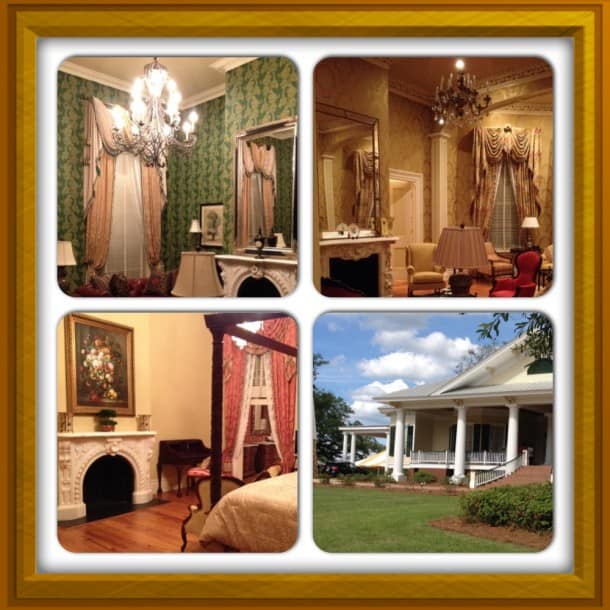 As gorgeous as the guest cottages are (complete with state-of-the-art kitchens) I was thrilled that I got to stay in the lavish mansion, where my fairytale suite (which included a gold gilded bedroom, immense bathroom and antique filled drawing room) reminded me of the Palace of Versailles.