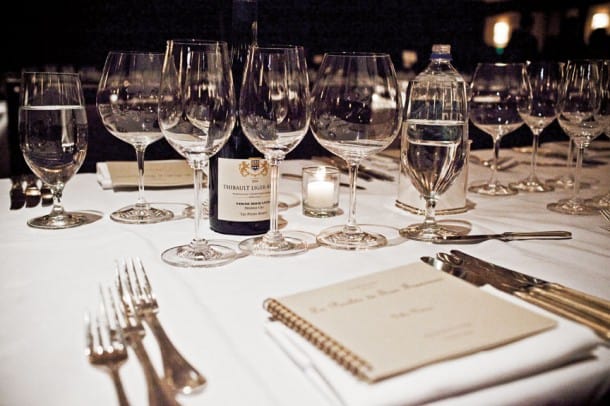 One of the wine world's most heralded events is underway in San Francisco and concludes with a luxurious gala dinner this Saturday at the Fairmont. La Paulée, a four-day celebration of the wines of Burgundy, features tastings, seminars and dinners all centered on the famous French wine region.
The brainchild of widely respected New York sommelier Daniel Johnnes, the event alternates annually between New York City and San Francisco. Dubbed the "Godfather of sommeliers" the wine legend and two-time James Beard award winner Johnnes first went to France 40 years ago. The rest, as they say, is history. Now an ardent Burgundy champion, La Paulée is recognized as its most revered (and extravagant) homage.
Once again some of the world's finest winemakers along with a culinary line-up of star chefs headline La Paulée.
33 Burgundy wineries are in San Francisco this week including Domaine Alain Gras, Château de Puligny, Domaine Louis Michel and Domaine François Carillon.
Local chef Michael Mina hosts, and is joined by several friends and colleagues including Charles Phan (Slanted Door), Traci Des Jardins (Jardinière, Mijita Cocina Mexicana, Public House) and Daniel Boulud (DANIEL in New York), among several others.
Tickets are going fast, with most (if not all by the time this gets published) events sold out. Check here for the latest updates on La Paulée tickets and prices. UPDATE: All events sold out.
La Paulée de San Francisco

March 12 – March 15, 2014

The Fairmont Hotel, San Francisco

"La Paulée is my homage to La Paulée de Meursault, a convivial Burgundian fête shared by growers and their guests. At La Paulée, guests sample current releases and older vintages from the most sought-after domaines of Burgundy. The wine service is led by over fifty of our nation's most noted sommeliers."