Naples, Italy has a lot to offer, but it's a total shag to get there, you'll probably have language issues, and if you're on a low-carb diet… well, good luck with that!

But on the other hand, the delightful resort town of Naples, Florida is in country, a paradise for shoppers, offers a variety of delish restaurants (hello stone crabs!) 30 mile of gorgeous beaches, fun outdoor activities, and luxury accommodations, all within walking distance.
GPS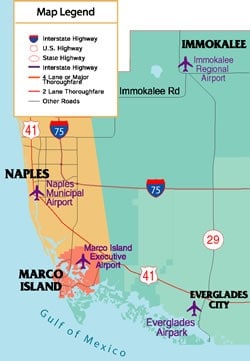 Naples is in southwest Florida on the Paradise Coast, about two hours by car from Miami and Ft. Lauderdale. This region also includes Marco Island and western areas of the Everglades, and is known for large expanses of parkland and nature preserves.
DO
Walk it:

Step back to the 19th century when you join one of the fascinating walking tours of the Naples Historic District. Stroll through Old Naples nabes and gorgeous gardens, or explore the simple elegance of the 1895 , listed in the National Register for Historic Places. The history of Naples early settlers comes alive as knowledgeable docents recount stories gathered from their oral history project.
Tip:

Check out the new Full Moon Tours. Appreciate Naples from under a starlit sky, the way it looked in the 1920's, before they had electricity.
Dates are January 16, February 14, March 15 and April 15.
Boat it: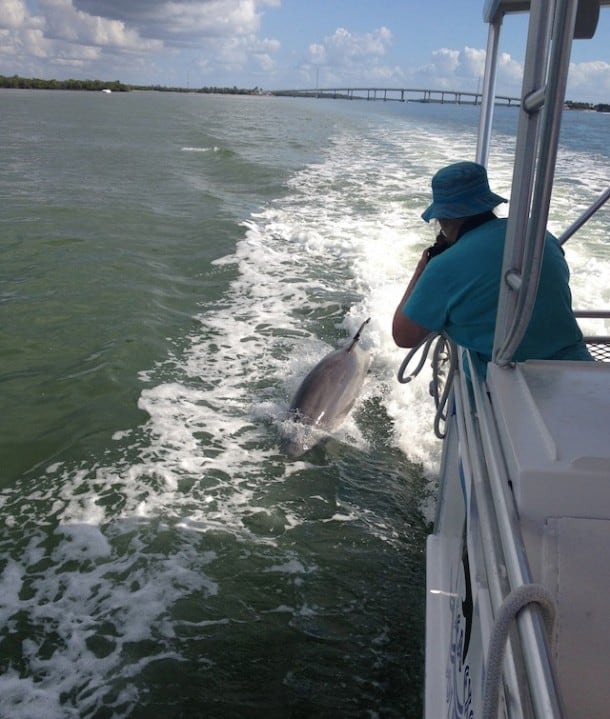 Pick an island, any island…from over 10,000. If you just can't decide, I suggest Marco Island, the largest of the Ten Thousand Islands, a measly 15 miles south of Naples and just north of the Gulf Coast entrance to Everglades National Park.
This yin/yang island has it all covered with beautiful, white-sand Gulf beaches on one side (great for shelling) and mangrove estuaries on the other. One of the best ways to explore the area is to hop aboard a Dolphin Explorer Cruise, where you are deemed a "Citizen Scientist" (no PHD required) for the afternoon as you assist dolphin researchers with spotting and identifying bottlenose dolphins for the "10,000 Islands Dolphins Project" or you can opt for a relaxing scenic sightseeing cruise instead. Keep your eyes peeled for manatee.
Tip:

Pick up some sammies (Big Al's on Marco Island makes a mean hoagie) for a picnic on the boat.
Bike it:
Big Momma's Bicycles has all your biking needs covered. Amy (Big Momma herself) and her whole staff are super fun, friendly and rent single speed cruisers or multi-speed hybrids at reasonable prices. They also offer guided tours ranging from an 18 mile Historic Old Naples tour to a five-hour Everglades tour.
Tip:

Some bikes are available with bigger, softer seats for bigger, softer behinds.
Shop it: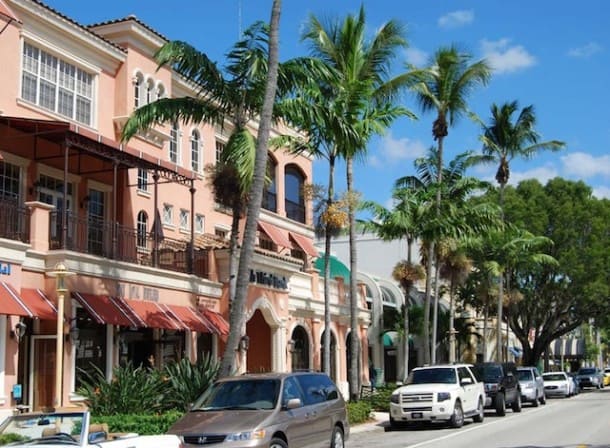 Stroll pedestrian-friendly Fifth Avenue South where historic buildings house exclusive shops and sophisticated restaurants. Live music fills the air most Thursday evenings. Didn't find what you were looking for? Cross over to Third Street South, another palm-tree laden charmer, lined with over 100 designer and local artisan boutiques, eateries and art galleries. There's even a live Street Concierge offering helpful advice, such as which spa should you go to for a little pampering?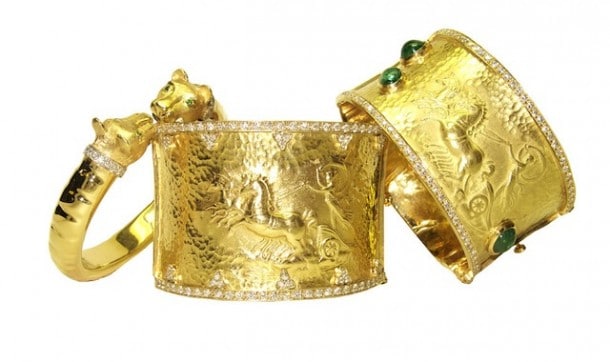 Tip:

Check out José Aragón's extraordinary jewelry store (opened 1968) for a distinctive, splurge-worthy piece.
 Golf it:
Wow, I'm not a golfer so I just found out that Naples has the most golf holes per capita in the United States and is AKA the Golf Capital of the World?
EAT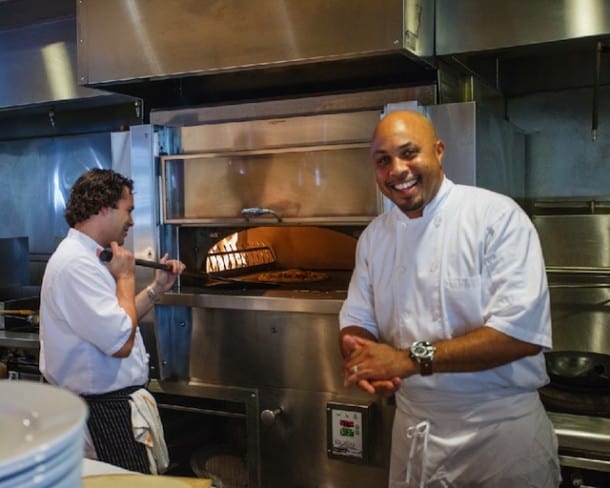 There is no shortage of scrumptious seafood spots, be it a sophisticated resort setting or a funky joint like Cracklin Jacks Catfish Chicken, but if you're looking for a truly exceptional meal, make a reservation at Mereday's Fine Dining, currently ranked #1 of 763 restaurants in Naples on Tripadvisor. This elegant, waterfront restaurant is where Chef Charles Mereday spins his culinary magic utilizing the freshest, seasonal and finest available ingredients on earth combined with his 20+ years experience as a chef at notable restaurants in Europe and the Caribbean.
Keep in mind that the portions are exceedingly generous when choosing a 3, 4 or 5-course dinner (dessert is a must!) from the daily changing menu. Optional wine pairings are available and you do want to opt for this since the sommelier is top-notch.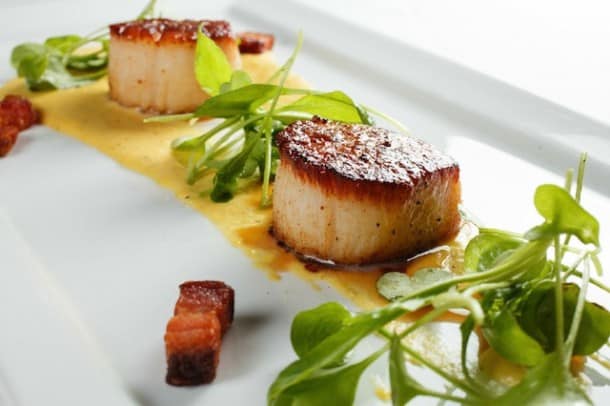 Tip:

Truffle aficionados take note of a special 5-course Italian truffle tasting for $200, with wine pairing $300. If your budget is not quite that flexible, you can still experience Mereday's Fine Dining for a $25 three-course lunch.
SLEEP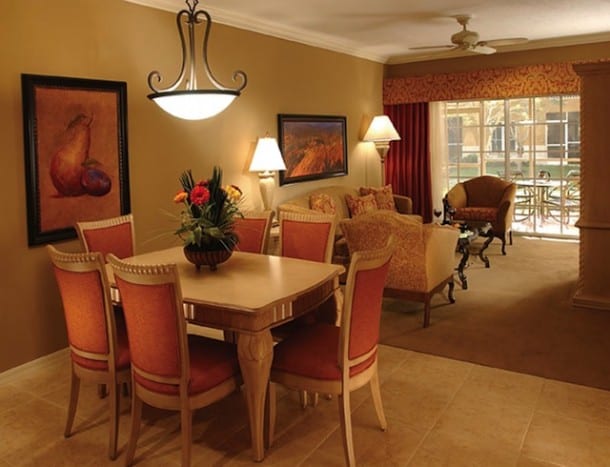 Bellasera Hotel, a four-diamond hotel gem, is tucked away in the heart of Old Naples. This hidden oasis features a lush, palm-fringed courtyard, bubbling fountains, an outdoor pool with cabanas and a spa tub and old-world Italian architecture, making it easy to pretend that you're staying at that "other" Naples, particularly if you borrow one of the hotel bikes to pedal your way around town- so very European. If you prefer, you can take advantage of the complimentary hotel shuttle, which will drop you off anywhere in a three-mile radius.
The exceedingly spacious one-bedroom suites (they offer 100 luxurious studio, one-, two- and three-bedroom condo-suites with either private balconies or screened lanais) are so comfortable that you almost feel like you're kicking back at your own home, albeit an immaculate, very stylish one. They literally have thought of everything here to make your stay as user-friendly as possible, including a large granite-topped kitchen complete with a full refrigerator/freezer, electric oven, microwave, dishwasher, coffee maker, dishes, and every conceivable utensil for cooking up a feast,or just a quick and easy brekkie. There's even a washer/dryer, with little boxes of detergents!
Daily maid service was excellent. At the beginning of your stay you can fill out a card detailing your needs (extra towels, what time you want the room cleaned, etc).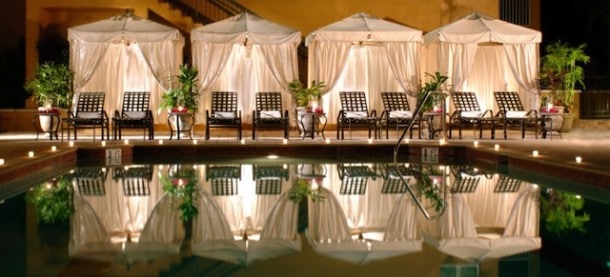 Tip:

After a day exploring it was lovely to come "home" in time to take advantage of the "Revive with $5″ Happy Hour from 4:00pm – 6:30pm.  I appreciated the pool bar's $4 wines, ½ priced martinis and $5 appetizers, particularly the Mediterranean flatbread topped with melted cheese, roasted peppers and artichoke.
More about the Paradise Coast
The Official Visitor Information Site for Naples, Marco Island and the Everglades has information on lots of great places to stay, fun things to do, and much more.