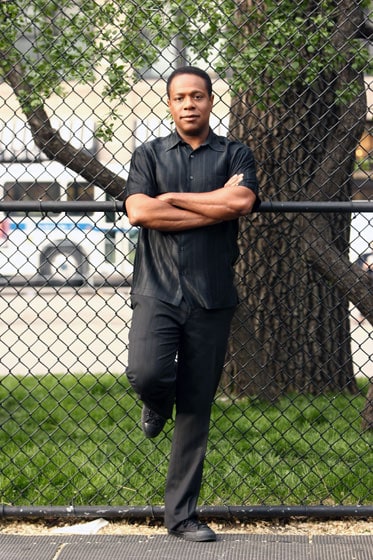 Berkeley Repertory Theatre today announced that it will stage the 10th anniversary presentation of Brian Copeland's Not a Genuine Black Man, the longest-running solo show in San Francisco history.
After over 700 performances in its initial seven-year run (it premiered at the Marsh in 2004) in more than 30 cities including San Francisco and Los Angeles, as well as off Broadway, Copeland's acclaimed show comes to Berkeley Rep's Osher Studio for 18 performances this April (opens April 25, 2014).
Copeland, a writer, actor, comedian, and radio talk-show host, recounts his story of growing up black in the 1970s in San Leandro, California, a city once nationally known as one of the most racist in America. With wit and heartfelt passion, he explores the themes of racial identity and ultimately, belonging.
"Brian's personal history offers fantastic fodder for an evening of theatre," says artistic director Tony Taccone. "His stories paint vivid characters that populate a diverse emotional landscape. Not a Genuine Black Man looks at race relations with an unflinching honesty, yet at the same time isn't afraid to crack a joke. We're glad Brian will celebrate the 10th anniversary of this show in our Osher Studio this spring."
Brian Copeland has been in show business since he first stepped on the comedy stage at the tender age of 18. Soon he was headlining clubs and concerts across the country and opening for such artists as Smokey Robinson, The Temptations, Ringo Starr, and the queen of soul Aretha Franklin, in venues from the Universal Amphitheater to Constitution Hall in Washington, DC. Soon, Copeland branched out into television, appearing on comedy programs on NBC, A&E, and MTV. Copeland's other theatrical work includes The Waiting Period, a solo play about his lifelong struggle with depression, and the Christmas play The Jewelry Box, which opened November 2013 at the Marsh.
Director David Ford is a Goldie Award-winning playwright who has worked on countless solo shows over his 25-year career in the business. Frequently working on projects at the Marsh, Ford has collaborated with many Bay Area favorites including Charlie Varon, Marilyn Pitman, Geoff Hoyle, and Cherry Terror.
NOT A GENUINE BLACK MAN

Berkeley Repertory Theatre (Osher Studio)

Written and performed by Brian Copeland
Directed by David Ford

 April 23 – May 31, 2014