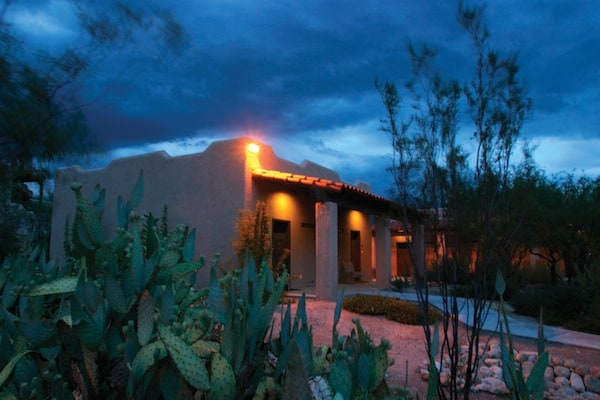 Last week, I visited Canyon Ranch in Tucson for my third time in about 20 years, accompanied by my rather stressed-out friend, Joan, who was a newbie there.  One afternoon, as I was "mindfully" eating my delish lunch (that included healthier-versions of fish tacos heaped with salsa and shredded cabbage, a cup of aromatically-spiced dal soup, minty zucchini feta pancakes and a frozen chocolate-dipped banana for dessert, which to my way of thinking was all guilt-free all since I had just returned from a pretty steep 5.5 mile mountain hike) while sprawled on a poolside lounge chair, I picked up a magazine that someone had left. As I was thumbing through it, I came across an interesting article about what constitutes "a classic".  The piece touched upon the classic beauty of Grace Kelly, the extraordinary performance of a Mercedes Benz, a Rolex watch, and perennial favorites such as Star Wars and Alice in Wonderland.
The author pointed out that to be labeled a classic was somewhat subjective although certain criteria usually held true. The definition of the word classic means, something that is a perfect example of a particular style, something of lasting worth or with a timeless quality. People usually have enjoyed this thing over time and will continue to enjoy it many years later.
Or to put it more succinctly, Canyon Ranch Tucson.
Perhaps the best-known spa in America, this flagship branch of Canyon Ranch set the standard for destination spas when it opened in 1979, and almost 35 years later, this world-class health resort still provides more "aha" moments than any spa I've visited.
After consistently being ranked at the top of the spa pack for decades, it would be understandable if the Ranch was content to rest on its well-toned derriere, continuing with business as usual, but that's not the CR philosophy. I'm actually not sure what their philosophy is but compared to my last visit, many years ago, I'd vote for "Better than ever…But wait, there's more!"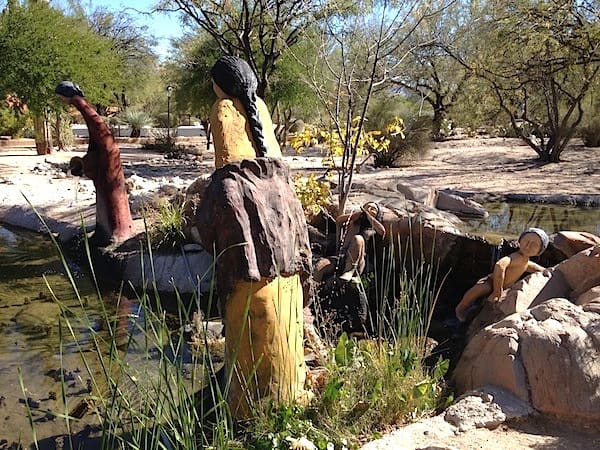 The gorgeous grounds are still impeccably maintained and filled with interesting sculptures.  The generously sized, 179 rooms are comfy-cozy and pleasingly decorated in restful desert tones. Our room had two separate mirrored vanities making it exceedingly girlfriend friendly, as well as plentiful towels, plush robes, and slippers.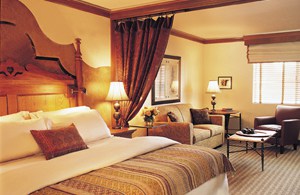 They were always known for their gracious hospitality, with a 3:1 staff-to-guest ratio, but the service was even better than I remembered. You really get the feeling that the whole staff, from the gardeners to the wait staff to the instructors, genuinely love what they are doing and really care about ensuring that all your needs are met. After the housekeeper changed my bedding to hypoallergenic, she then sweetly offered me a pillow menu filled with everything from a Sobakawa cloud pillow to a snore-no-more one (next time I'm ordering that for Joan) to a 5 ft. body pillow, perfect if you're just getting over a breakup.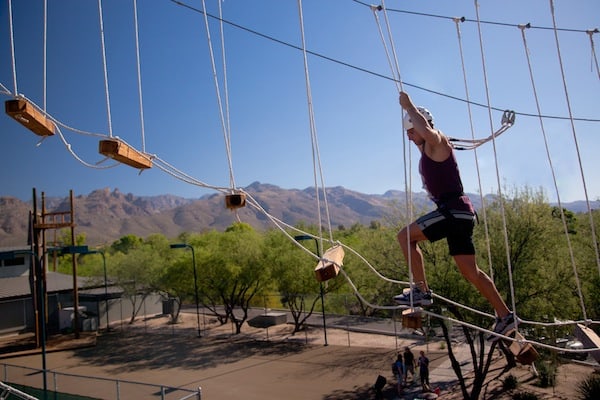 Other niceties scattered around the 50-acre ranch include a 62,000-square-foot spa complex, one squash and three racquetball courts, a lounge stocked at all times with complimentary juice, water, herbal tea, coffee, and fresh fruit, art gallery, exercise and weight training room; a yoga/meditation dome, sauna & steam rooms; whirlpools; massage, herbal and hydro-massage rooms, a life enhancement center, a health and healing center complete with staff physicians, dietitians, psychologists and therapists; eight lighted tennis courts; four heated saline pools (some with an underwater treadmill) a climbing wall, ropes course and even a zip line.
The first night at dinner, when I couldn't decide between the garlicky mussels with gluten-free bread perfect for dunking into the flavorful broth, salmon and wok-fried veggies or the linguini with chicken in peanut sauce, the waiter told me that they would be happy to provide half portions of any dish, thus creating a "When Harry Met Sally" monster out of me for the rest of my stay. He suggested that I go halfers on the mussels for my app, followed by the salmon. Since all I had really wanted from the pasta dish was the peanut sauce, he happily brought me a small cup on the side to sample.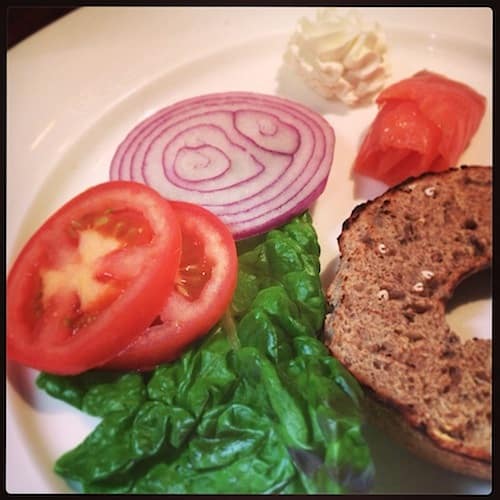 The food in the dining room was much better than I recalled, although in all honesty with my memory, it might always have been this good. There were sophisticated renderings of exotic culinary treats from round-the-world, as well as exciting twists on traditional faves, such as Crème Brulee Oatmeal with Pecans for brekkie. I loved the daily salad bar, pasta and omelet stations, particularly after I discovered the wonders of adding some crispy tofu bacon to my veggie egg-white omelet.
And let's not forget dessert. Temptresses such as blueberry lemon tarts or white-chocolate chip, cranberry-oatmeal cookies as well as a changing roster of homemade low-fat ice cream, would satisfy the sweetest of tooths.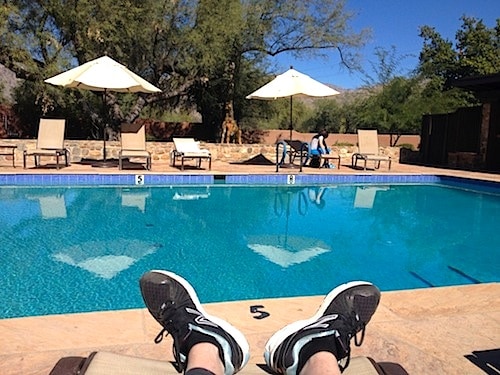 Joan and I usually ate breakfast and dinner in the more formal dining room, but since nothing says "vaca" like lunch at the pool, we'd have our food delivered there from the casual Double U Café, which recently unveiled a new menu of Mediterranean-inspired small plates using local, organic ingredients, which somehow translates to them turning out some killer pizzas!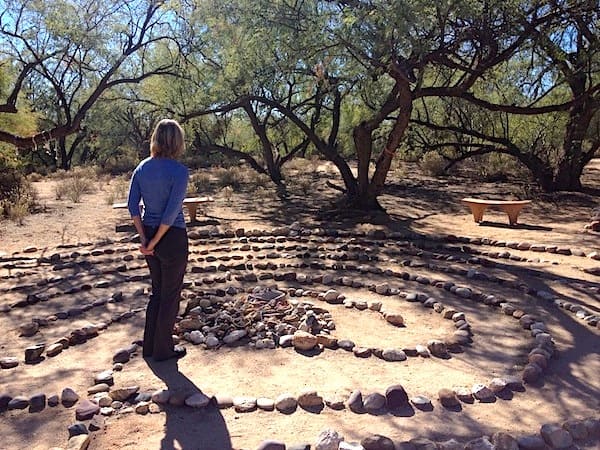 As for the classes, I'm not exaggerating when I say there must be at least 100 classes a week offering everything a mind & body could ask for. I wanted to get into fighting shape so I'd set the alarm for an early morning hike, followed by some strengthening classes such as Buff Booty, Ballast Ball Blast and TRX & Flex. Joan has a more spiritual bent, so she followed the Yoga, Qi Gong and mediation route. Instead of the mountain hikes, she was contented to walk the labyrinth. She was totally jazzed when she found out that they are building a new Spiritual center, which should be completed in about a year, and is already bugging me on about booking our return visit.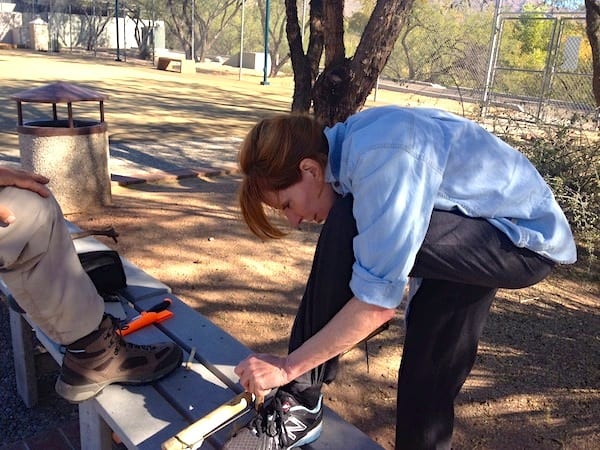 What really rocked my boat were the Tom Hanks Cast Away-ish survival classes, which were developed by the ranch's Outdoor Sports Manager, Randy Kinkade, who likes nothing better than sharing his passion for survival skills, and getting back to nature.  I had heard rave reviews for his native awareness and animal-tracking walks, as well as his How to Make a Knife From Stone class, but I really wanted to try the Primitive Fire-Making. I twisted Joan's arm (I had to be care not to do it too hard with my newfound strength from two days of working out in the gym) into joining me, for the two-hour class. Jeff, our fabulously patient instructor, taught us the "bow and drill" method. After a detailed demo, Joan and I had to make our own fire kits. We started out just fine- painstakingly carving perfect points on our sticks and digging out centered holes in the fireboard (ok, so maybe ours were a wee bit off-center) then unraveling and fluffing up jute to create something a like a cat's hairball, which was our tinder.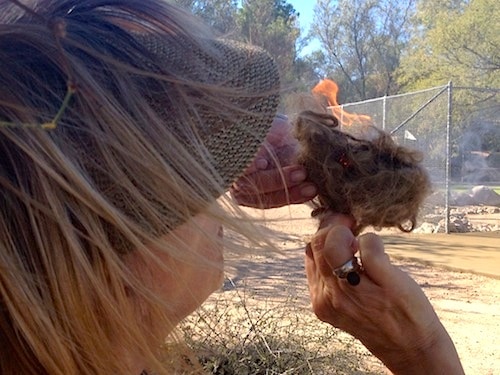 We were finally ready to begin the fire making part, which consisted of twisting the drill stick in the string of the bow against the hole in the fire board, which needs to be resting on the tinder, applying pressure to all while you whisk the bow back and forth, making sure to keep it parallel to the ground, as fast as you can (this provides the necessary friction). This task takes at least three hands and is similar to patting your head and rubbing your stomach after drinking a six-pack of beer. Joan and I kept offering to run back to the kitchen for some matches, but Jeff promised us that we would achieve success. Finally, after an exhausting but truly exhilarating two hours, we both made fire! Jeff told us to honor our achievement by doing a little hoot & holler dance around the quickly smoldering hairball, but I chose to celebrate my success in another tried & true way, by booking a heavenly deep tissue massage!
Watch Randy Kinkade, Outdoor Sports Manager at Canyon Ranch in Tucson, make fire the extremely old-fashioned way. It's hot!
As exciting as that was, my best "aha" moment was at the Chair Yoga class.  I'm fully aware that I need to work on my flexibility, which is now akin to that of a 100-year-old man, but I have embarrassedly attended, and subsequently flunked out of, more Yoga classes than I can count. My best Downward Dogs barely resemble Pitiful Puppies, however, when I saw the listing for Chair Yoga, I decided to give it one last try. THIS ALONE WAS WORTH THE PRICE OF ADMISSION! With the aid of a chair and the superb yoga instructor (appreciative shout-out to Kay Quatraro) I was able to feel the benefits of a yoga stretch for the first time, and it felt great! I swear I left class an inch taller. Kay even gave me a detailed handout to follow at home.
P.S. I just got off my lazy behind and looked at the Canyon Ranch website for their mission statement which is: "Canyon Ranch aims to inspire people to make a commitment to healthy living, turning hopes and intentions into the highest enjoyment of life" which also works.
You'll have to excuse me now. After all this typing I have to go and do my chair Warrior Flow.