SHN (news, reviews, videos) announced today the complete cast for The Gershwins' Porgy and Bess, winner of the 2012 Tony Award for Best Musical Revival, which will launch its national production at the SHN Golden Gate Theatre. The production will feature a 23-piece orchestra.
Joining previously announced ALICIA HALL MORAN as Bess and NATHANIEL STAMPLEY as Porgy will be ALVIN CRAWFORD as Crown, KINGSLEY LEGGS as Sporting Life, SUMAYYA ALI as Clara, DENISHA BALLEW as Serena, DANIELLE LEE GREAVES as Mariah, and DAVID HUGHEY as Jake.
Based on DuBose Heyward's novel "Porgy" and the play of the same name, which he co-wrote with his wife Dorothy Heyward, the Broadway revival of THE GERSHWINS' PORGY AND BESS is a new staging including such legendary songs as ""Summertime," "It Ain't Necessarily So," and "I Got Plenty of Nothing." The play first premiered at the Colonial Theatre in Boston on September 30, 1935.
"Every so often a project comes along that is so astonishing that one has to drop everything and just say I'm going to do it. That's what I felt when I was asked to do The Gershwins' Porgy and Bess," said Tony Award-winning director DIANE PAULUS.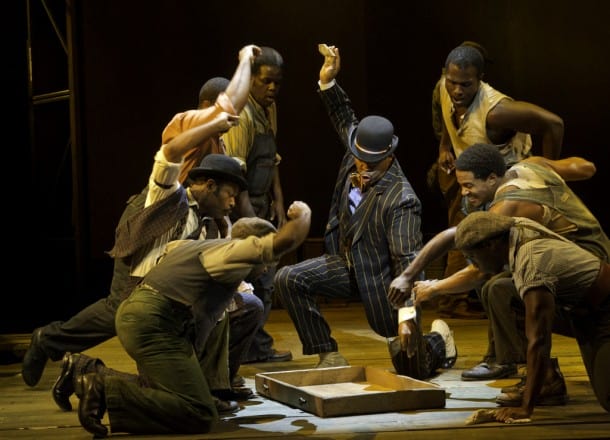 The cast also includes DAN BARNHILL, VANJAH BOIKAI, ADRIANNA M. CLEVELAND, ROOSEVELT ANDRÉ CREDIT, CICILY DAINELS, DWELVAN DAVID, NKRUMAH GATLING, TAMAR GREENE, NICOLE ADELL JOHNSON, JAMES EARL JONES II, QUENTIN OLIVER LEE, CHERYSE McLEOD LEWIS, SARITA RACHELLE LILLY, KENT OVERSHOWN, CHAUNCEY PACKER, LINDSAY ROBERTS, FRED ROSE, and SOARA-JOYE ROSS.
The classic story is set in Charleston's fabled Catfish Row, where the beautiful Bess struggles to break free from her scandalous past, and the only one who can rescue her is the courageous Porgy. Threatened by her formidable former lover Crown, and the seductive enticements of the colorful troublemaker Sporting Life, Porgy and Bess' relationship evolves into a deep romance that triumphs as one of theater's most exhilarating love stories.
The Gershwins' Porgy and Bess

SHN Golden Gate Theatre, San Francisco

November 10 – December 8, 2013

Performance Schedule:
Tues. – Sat. @ 8pm
Sat. and Sun. @ 2pm
Wed. @ 2pm except for Nov. 13
Added performances: Thurs. Nov. 14 @ 2pm and Fri. Nov. 29 @ 2pm
No performance: Thursday, Nov. 28 (Thanksgiving)