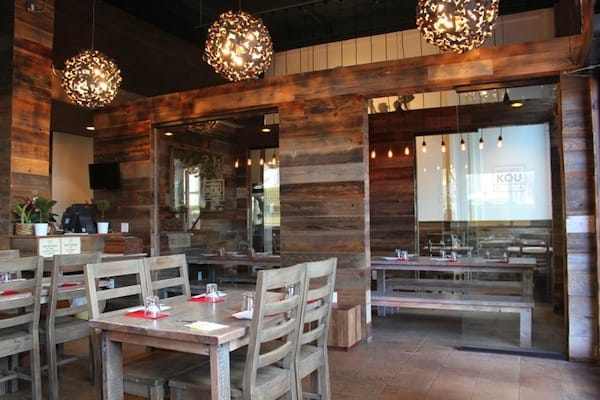 First off, I'm sure many of you are scratching your head with a "say what?" expression, so if you haven't had the pleasure of dining in an Izakaya, here's the breakdown.
What is an Izakaya (pronounced ee-ZAH-ka-ya)?
Think Japanese gastropub crossed with a creative tapas bar generating a high-octane party vibe, which equals the perfect place for hanging out with your friends. The name literally means "stay sake shop" so grab a seat (or one of the four private tatami rooms) and plan on staying for a while.
Where?
The brand spanking new Izakaya Hashiburo Kou is located on the corner of Fillmore & Geary. Only a block from the Kabuki, it's perfect for après-film.
Previously, this was a nondescript, cavernous Korean restaurant. Nine months of tasteful tender loving care has led to the birth of one hip, zen-like, bring-the-outdoors-in (complete with a living plant wall and reclaimed wood) baby. Love the long counter seating where you can watch Chef Nick and the team in action.
When?
Izakaya Kou is in its soft opening phase, so the menu is still evolving, but I'd suggest you RUN down ASAP, because after trying over a dozen beautifully plated small dishes last night, even if they don't change a single thing I'd still be deliriously happy.
Who?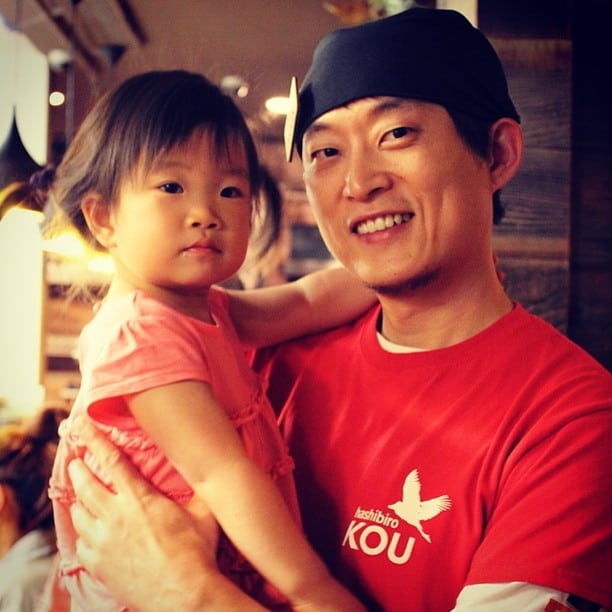 South Korean-born chef-owner Nick Yoon refined his culinary skills over the last 15 years with stints at the Ritz Carlton and the W Hotel. His contemporary cuisine is a fusion of Japanese and Korean utilizing the freshest farmer's market ingredients. Chef Nick, along with all the rest of the staff, could not be friendlier or more anxious to please.
Food?
With close to 100 items on the current menu, organized by categories such as Grilled, Fried, and Yakitori, it's fun to try a few dishes from each.  Depending on how adventuresome an eater you are, you can go the safe & sane sushi/sashimi route or spoke-out with some "I'm eating WHAT???" selections.
Safe & Sane
Impeccably fresh and artistically presented, you won't go wrong with: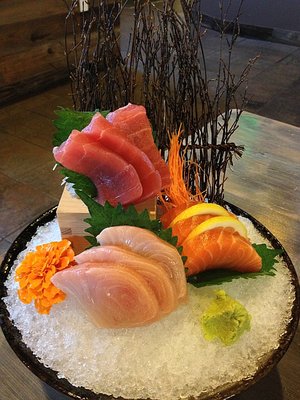 Kou Sashimi salmon, Hawaiian big eye tuna, and yellowtail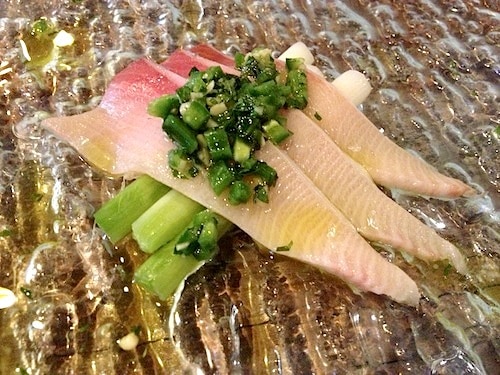 Hamachi Carpaccio yellowtail with chili and mint dressing
Momo chicken thigh yakitori
Gindara Misozuke miso marinated black cod
Or "I'm eating what???"
However, if you wimp out you'll miss some life-changing bites such as: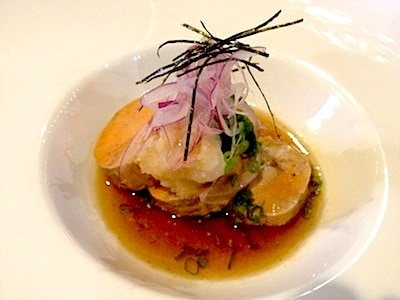 Ankimo steamed monkfish liver w/ponzu
Salmon Skin Katsu salmon skin with scallions
Ika Tonbi squid mouth w/spicy-mayo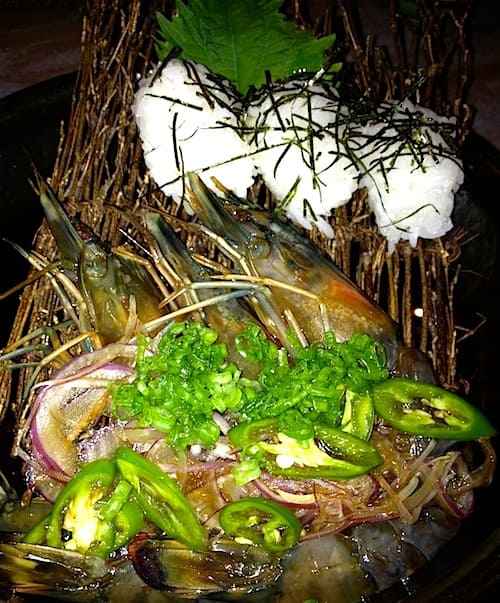 Kuruma Ebi Zuke raw king prawn in soy sauce marinade served w/onigiri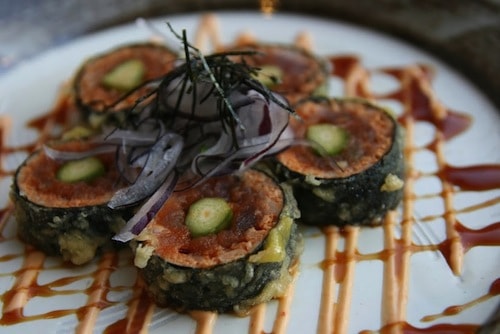 Lizard Eye– spicy tuna and asparagus on dried seaweed with whole-grain mustard apple sauce has already achieved a cult following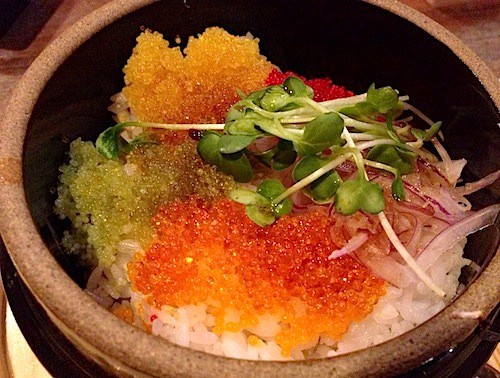 And for "dessert" finish off with Fish Roe Don tobiko, ikura, and vegetables over rice, which is even better than a hot-fudge sundae.
Drink
In true Izakaya form, there is a fabulous selection of sake available by the glass (which is served inside a wooden box) or the bottle. I chose the ultra dry Otokoyama Man's Mountain that paired nicely with all my dishes. They also offer cocktails made from sake or shochu, along with beer and wine.
Final thought:
Hashibiro Kou is defined as: the largest bird that can fly and after last night's meal, I assure you that this baby has some serious wingspan!
Izakaya Hashibiro Kou

1560 Fillmore (at Geary)
(415) 441-9294
www.izakayakou.com

HOURS

Sun  5:30 pm – 11:00 pm
Tues – Thurs  5:30 pm – 12:00 am
Fri – Sat  5:30 pm – 1:00 am