Last week I joined a select group of culinary writers from IFWTWA (International Food wine and Travel Writers Association) to explore what Idaho's burgeoning culinary scene was all about. After eating and drinking our way through Boise and the surrounding wineries (the wine industry is positively exploding here) we ended up in Sun Valley just in time to join in all the fun at the 4th annual S.V. Harvest Festival.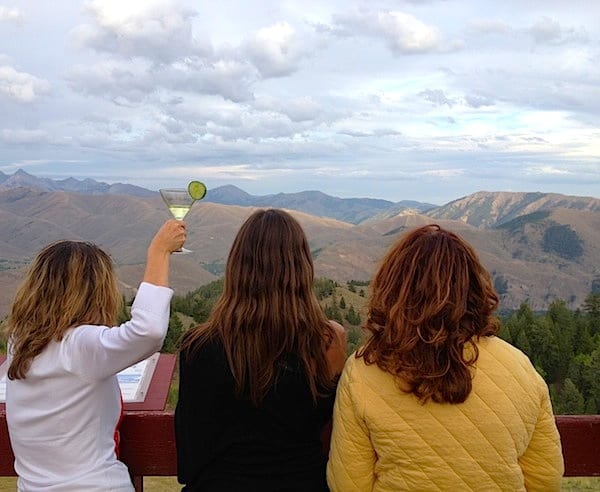 Dining by candlelight may be de rigueur in Hollywood romance flicks, but I soon discovered that it's hard to beat the backdrop of a stunning Sun Valley's sunset (followed by a shimmering harvest moon) while indulging in creative cocktails, craft beers, caviar canapés, samples from Ketchum's best restaurants, superb wine pairings, or local BBQ.
Festival co-founders, Heidi Ottley and Ed Sinnott, decided that this year the festival would not only showcase the finest gourmet food and wine, but they also wanted to balance things out by offering health seminars dealing with the latest perspectives on nutrition and health coupled with guided hikes including outdoor yoga and stretching. Good thinking, since none of us wanted to return home five pounds heavier from all the delectable food and wine. They sourced top talent from around the country to lead healthy cooking classes, interesting mind-instead-of-waist-expanding seminars about the latest health trends, and how to make quality food choices by talking with Idaho's organic farmers, ranchers, and artisanal food producers.
Restaurant Walk and Idaho Wine Tasting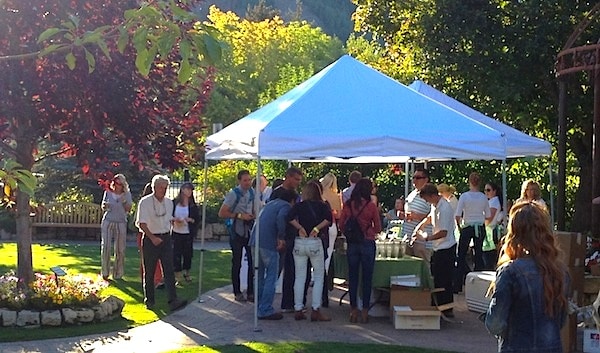 As professional traveling foodies, our gang came prepared with comfy walking shoes empty stomachs and a pre-determined itinerary. Since we only had two hours to take advantage of the incredible assortment of delicacies offered by the 19 Ketchum restaurants that participated in this year's walk, we came up with the brilliant strategy to start at the restaurant that was farthest away and work our way backwards, which worked out well for crowd control.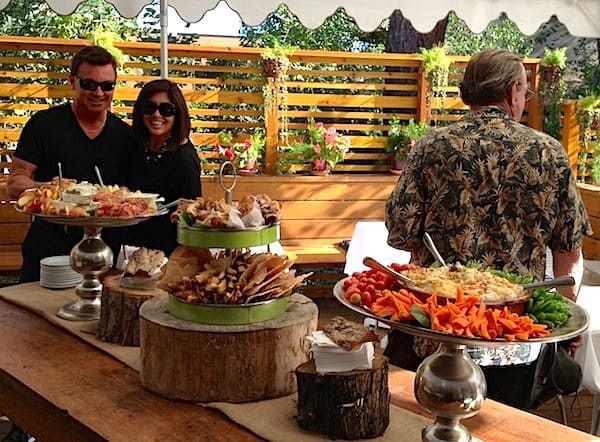 Cristina's European-style trattoria was our first stop, where we nibbled (who am I kidding, we actually inhaled platefuls) of traditional Tuscan cheeses, salami, marinated veggies and bruschette, while relaxing on the cozy back porch. We would have been happy spending the next two hours there, but for the lure of the other 18.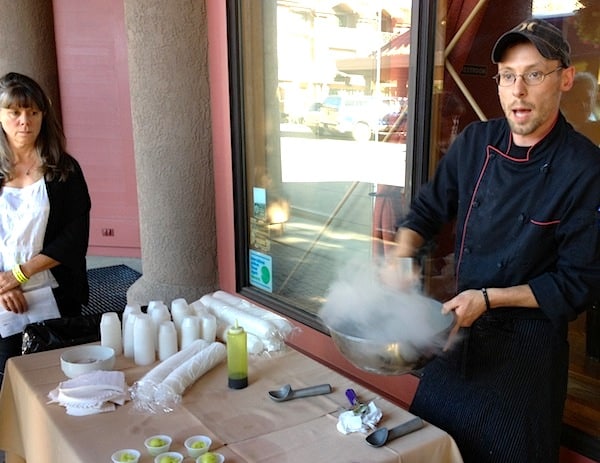 Next up was CavaCava, where Executive Chef, Andrew Nix, was wowing the crowd by magically creating intense chartreuse colored basil and Meyer lemon sorbet by dousing it with liquid nitrogen.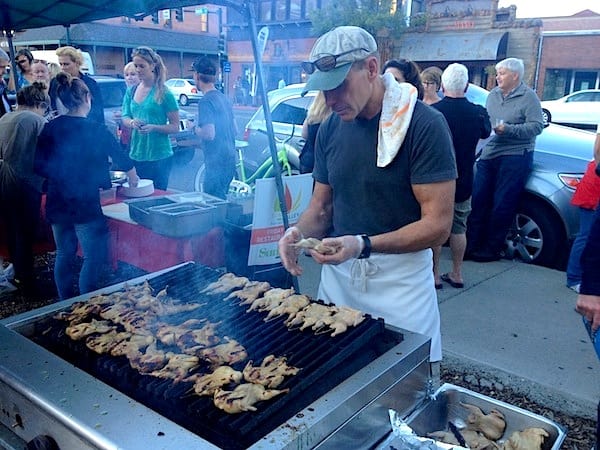 But for sheer scrumptiousness, the award goes to Tom Nickel; long-time owner of the Sawtooth Club, for his live-wood mesquite grilled butterflied quail slathered with a luscious bourbon/jalapeno/honey glaze.
"I love this event, because it gives folks a chance to visit S.V. in Sept, which is normally a pretty quite time but it shouldn't be. This is perfect weather for hiking and biking and the festival gives folks the opportunity to see just how beautiful Idaho is in the fall," Tom told us as expertly flipped quail on the barbie.
Line up of talented toques from Cabo to Chicago take center stage to share their secrets and signature dishes
The professional cooking demos covered everything from a spicy Bittersweet Chocolate Cardamom Torte with Blackberries whipped up by Bravo Top Chef Malika Ameen to vegan Hollywood celeb chefs Tai Ronnnen & Scott Jones, who prepared a completely satisfying, meat-free Eggplant Caponata over Toasted Buckwheat and Black Quinoa.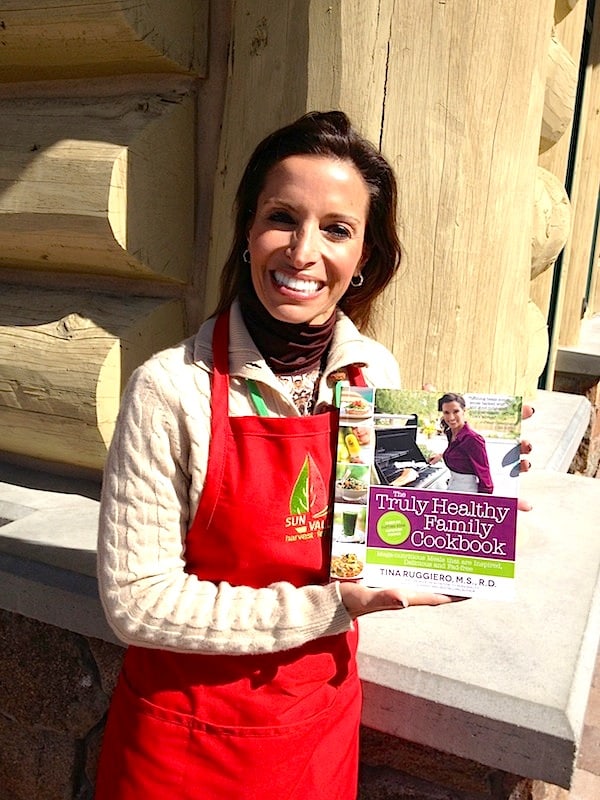 Bestselling cookbook author, Tina Ruggiero, was so full of vim and vigor at 9:30 AM (when most of the rest of us were nursing hangovers from all the martini's the night before, although I chose to blame mine on the altitude) that I actually picked up a copy her latest book, The Truly Healthy Family Cookbook, to see if I could harness some of her energy.  Although most days I'm guilty of skipping breakfast, after tasting her quick and easy, Choco/orange/cherry infused couscous, homemade Muesli, and tasty Kale Fritatta, I'm going to re-think that.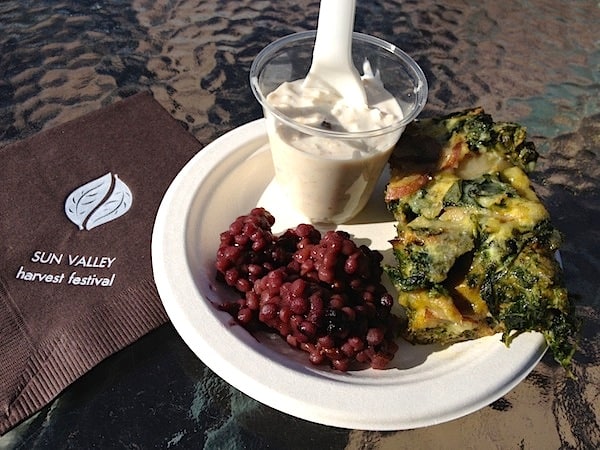 Meet the Locals: Farmers and Food Artisans
The wildly popular Atkinson's co-op market was filled with a dozen local food purveyors eager to introduce their healthy products and share their stories. Judd McMahon grew up in nearby Bellevue. He took a slight detour to Seattle to further his career in Industrial Arts. However, he   discovered two things he loved more: Heather (now his wife) and farming. The couple decided to move back to the Wood River Valley where they have a successful 5-acre organic vegetable farm.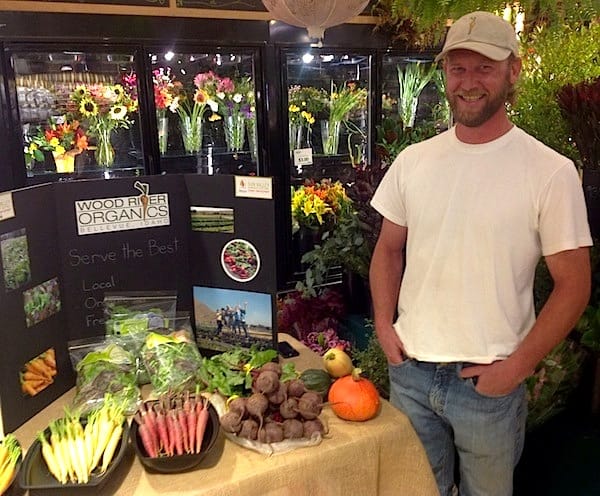 "People in Idaho are more tuned in to the culinary aspect of food. They really believe that not only is eating locally fresher and healthier but it just looks better on your plate," Judd explained.
Exciting new food products graced the Harvest Marketplace
Ron & Florence Pharis turned to their herb garden for solace after they both lost their corporate jobs 13 years ago. This turned out to be their lucky number since they are much happier building their Starlight Herb & Spice Company, which currently offers over 40 fresh tasting, handcrafted rubs, brines and seasoning mixtures. Their small-batch blends are made using organic local herbs that are slowly dried at low temperatures, thus capturing more flavor and essential oils. Originally these superior seasonings were only available to the area's finest chefs, but they are now available on-line. The "Pick 6" Sampler Crate makes a fab gift, since even a complete kitchen klutz is capable of mixing them with sour cream or yogurt for a flavorful dip.
After getting my days worth of vitamins by sampling all the different flavors of Ketchum Kale Chips and Veggie Evolution, created at It Takes a Village Foods, LLC, I was ready to indulge in the "scrumptious little cakes in a jar" a.k.a. Mason Cakes. The business opened last year when fashion designer, Shelly Lindsey, decided to switch from couture to cakes.  Using her well-honed design sensibilities she came up with the clever idea of doing cakes in 8 oz. Mason jars. (The fact that her boyfriend is one of the Mason jar family descendants might have had something to do with it!)  My fave is the pretty in Red Velvet flavor or wait, maybe it's the Meyer Lemon-Greek Yogurt cake, although I also was a fan of the 'German Chocolate cake and the……
River Guide outdoor breakfast
Sipping Michelle's sparkling wine under the clear morning Idaho sky while picking up some great tips from the hunky river guides/chefs who cooked everything from lasagna to an unbelievably moist carrot cake using only Dutch ovens, was almost enough to entice me to sign up for a river rafting adventure.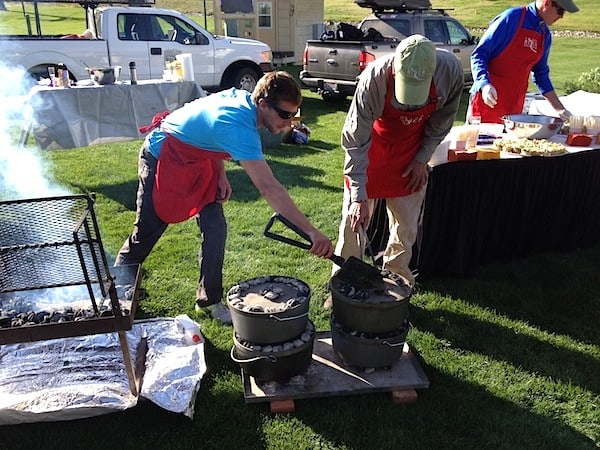 Note to self: next time I'm cooking in a Dutch oven in the great outdoors (as if that's ever going to happen) remember to pile most the hot coals on top of the lid since hot air rises and you don't want to burn the bottom of your food.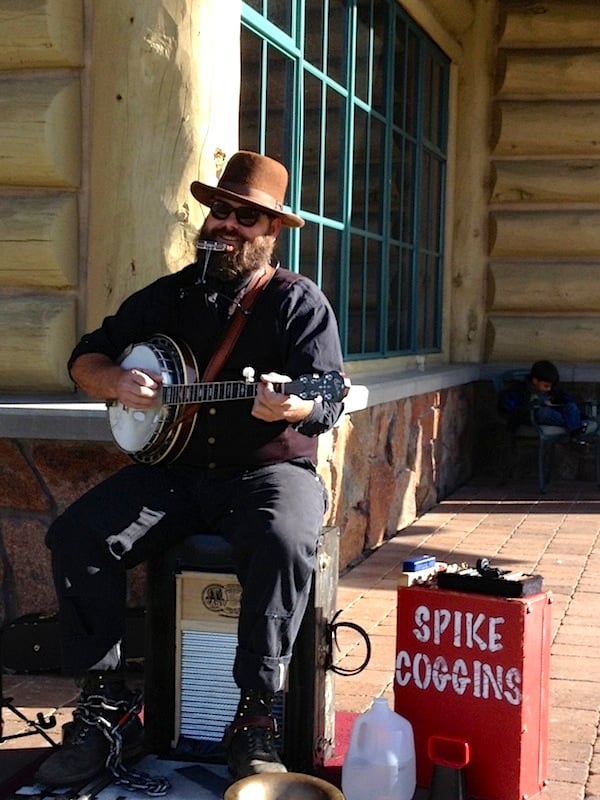 Infectious toe-tapping, body-slapping  "primitive" music was supplied by local musician, Spike Coggins, who writes most his own songs about "whatever I'm feeling at the moment" and strums most anything with strings, accompanied by a washboard and his chain-wrapped foot. He's looking for a good disc blade (used for plowing fields) to add to his "band".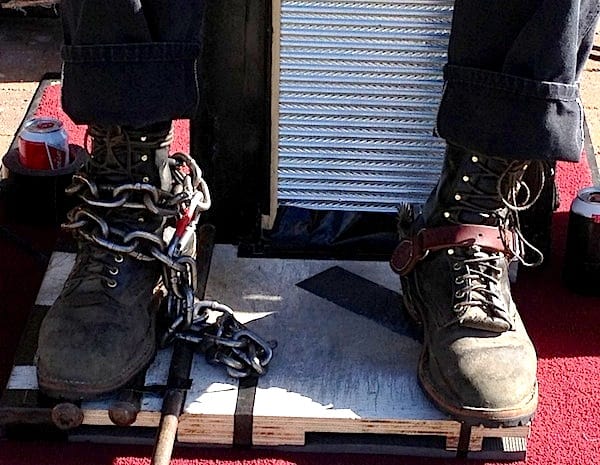 High on Baldy and Martini's 
The final night's event was a real doozy. Although the Martini & Caviar party always sells out, the festival founders still keep trying to one-up themselves, which they manage to pull off with great panache. This year they decided to hold the party one scenic gondola ride away, at the Roundhouse Restaurant perched over 9,000 feet high on Bald Mountain.  It was a toss-up whether Michelle's sparkling wine or one of mixologist, Ryan Sullivan's, crazy-good cocktails paired best with the endless array of caviar hors d'oeuvres that kept parading by. We were so undecided that we felt it was only fair to keep tasting until we had a clear-cut winner, which, by the next morning, I completely forgot which it was!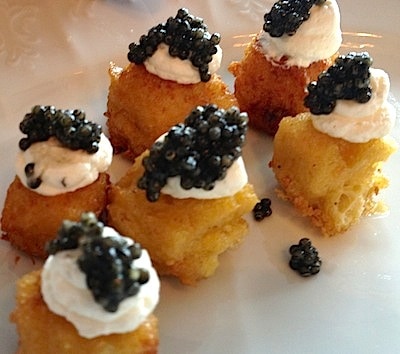 Now a word about the caviar. Honestly, I wasn't expecting much when I found out they would be serving sturgeon caviar from Idaho, but I'm here to woman-up about my misconception. Kudos to visionary entrepreneur, Leo Ray, who has owned Fish Breeders of Idaho for the last 40 years. While many other 76 year olds might be content to simply babysit the grandkids, this dynamo has raised everything from alligators, catfish, tilapia, trout, to tropical aquarium fish,which all thrived in the crystal clear spring water surrounding his fish farm in Hagerman Valley. Then about seven years ago, Ray added white sturgeon caviar to his product list. He saw the potential much earlier but patiently waited the twelve years he thinks is necessary for sturgeon to grow old enough to produce a quality product.  Between Ray's patience, experience and the artisan waters, his caviar can stand up to the flavor and texture of its haughty European rivals.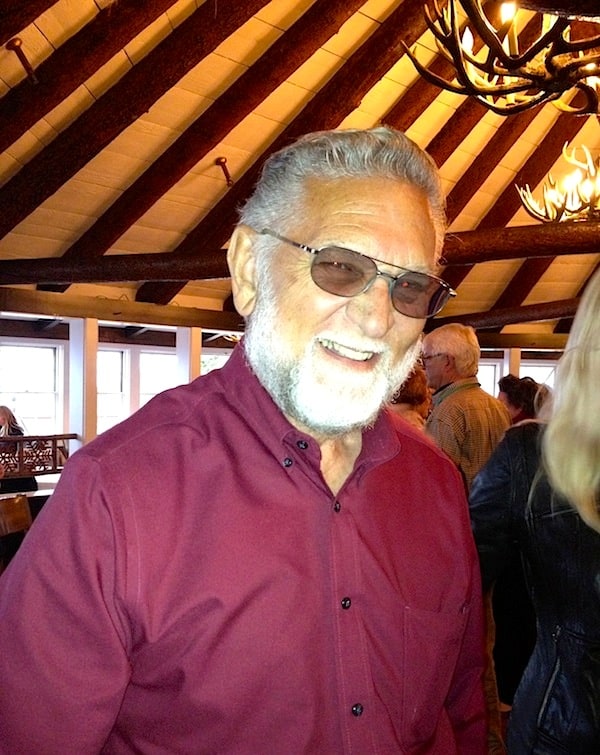 "Caviar is my 401(k) program," Leo told us with a chuckle.  He sold 300 pounds last year, but expects to quickly ramp up to 3,000 pounds annually. With wholesale prices hovering around $454 pound, this constitutes one healthy retirement plan.
Two glasses of sparkling wine and 3 martinis later, I decided to settle my dilemma once and for all and ask the caviar maker what drink pairs best with his caviar. Leo quickly replied without missing a beat, "Well, that would have to be one of Pat O'Brien's Hurricanes!"
Sleep it off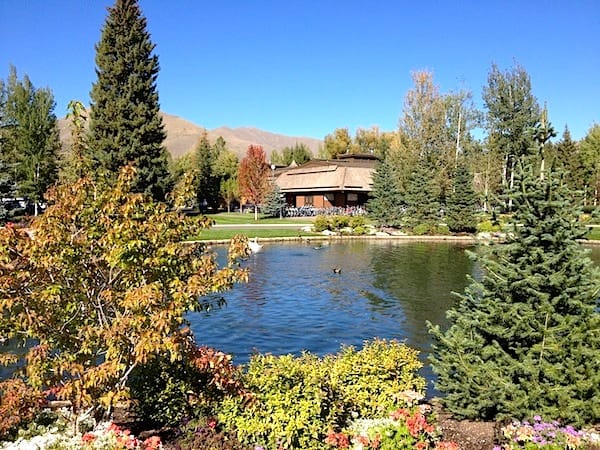 There are many hotels, B & B, and inns for you to choose from, scattered throughout the three areas, but I highly recommend the historic Sun Valley Lodge, a top choice ever since it opened in 1936. The Lodge is close to all the action and offers a variety of accommodation options, from private cottages all the way up to four bedroom condos, done up in French provincial cozy/chic, all surrounded by the impeccably landscaped grounds. The list of amenities not only includes all the basic luxe niceties, such as free Wi-Fi, flat-screen cable TV, refrigerator, in-room coffee maker, marble bathroom, etc. but also a glass enclosed outdoor pool, Sun Valley's famous outdoor ice rink, Gretchen's Restaurant, the elegant Lodge Dining Room, Beauty Salon, Spa and Exercise Room – and even a six lane bowling alley!