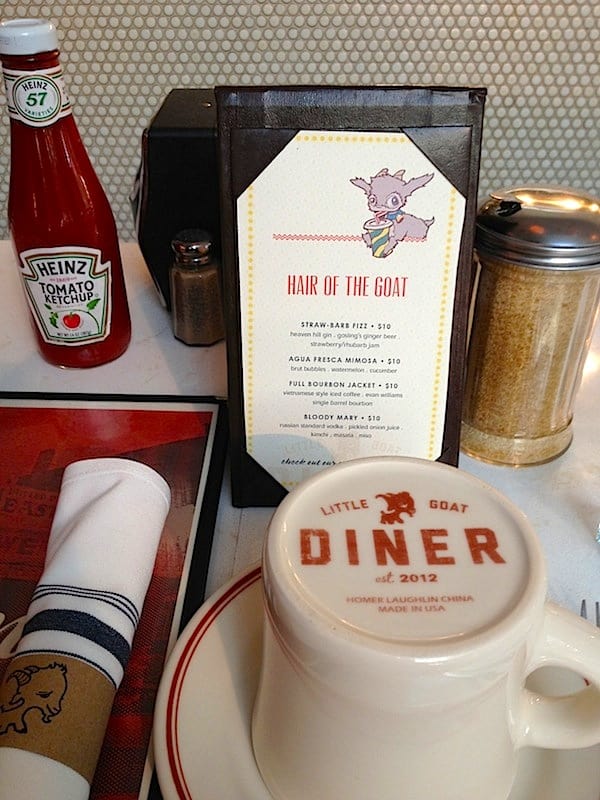 Thankfully I was on the low end of my five pound weight fluctuation when so I decided to take full advantage of  my one day in Chicago to explore the  fabulous food scene in the trendy, West Loop area. I laced up my comfiest sneaks and headed over to my designated brunch spot, Stephanie Izard's (the first female to win Top Chef) Little Goat Diner. Swarms of cool kids were chitchatting or sipping coffee as they waited for the hostess to text them that their table was ready. I nabbed the last single at the upscale, old school counter and sipped my bad-ass, Hair of the Goat Bloody Mary, made with a chop-suey mix of pickled onion juice, kimchi, miso and masala, while checking out the humongous plates of food coming off the line. The breakfast-served-all-day menu was broken down into categories like Cereal Killers, Sammiches and Tater Town.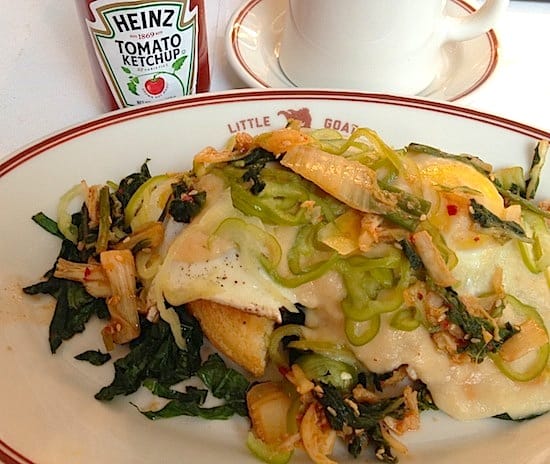 I was torn between the Goat Almighty Burger and the Fat Elvis Waffles (topped with banana slices, peanut butter and bacon maple syrup) but finally decided on the Kimchi & Bacon & Eggs & Pancakes, which I must admit might not have been the best choice, since all that Kimchi was a bit much first thing in the morning. But my neighbor's Shrimp and Cheesy Grits looked scrumptious, particularly when he followed it up with the Ooey Gooey Cinnabun for dessert.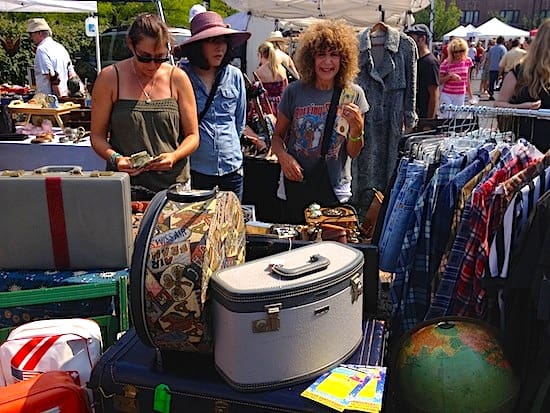 Stuffed to the brim (gee, I wonder why?) I waddled down a few more blocks to explore the mind-boggling Randolph Street Market. I spent the next few hours in a shopping haze, darting in and out of the over 200 stalls, scoring all sorts of treasures like a good-as-new pair of antique, lizard cowboy boots, French postal shoulder bags, a variety of clever re-purposed items (I loved the soap dispenser made from old Bell canning jars) and some incredible decorator furniture from back in the day. A brightly colored vinyl luncheonette set called out to me, but  since it wouldn't fit in my carry-on, I settled for a bag of steampunk jewelry parts for a DIY necklace instead.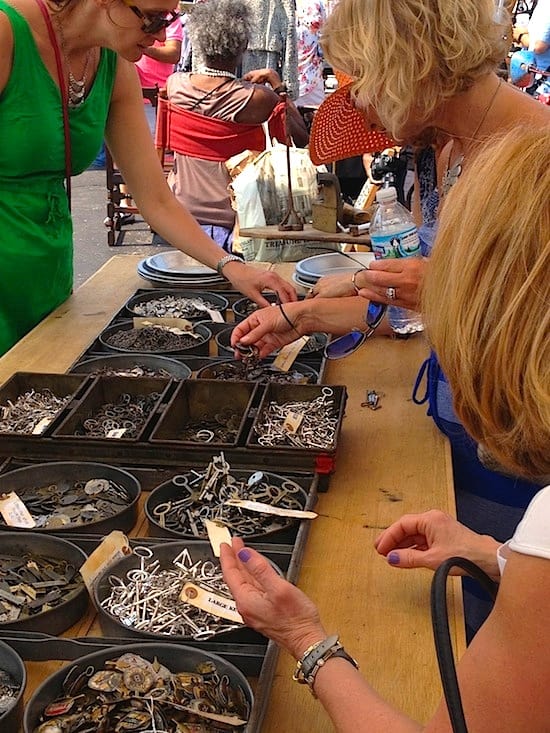 Tip: They offer complimentary trolley service from the Water Tower as well as free furniture delivery (with a few stipulations). Check out the website to see where there next market will pop up.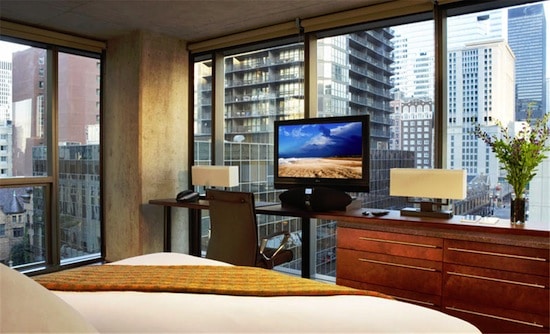 Armed with a mountain of bags and with dinner fast approaching, I decided it would be a good idea to do the half hour walk back to the hotel to unload and relax a bit. I was staying at the Dana Hotel and Spa, a Conde Nast Traveler top 200 hotel.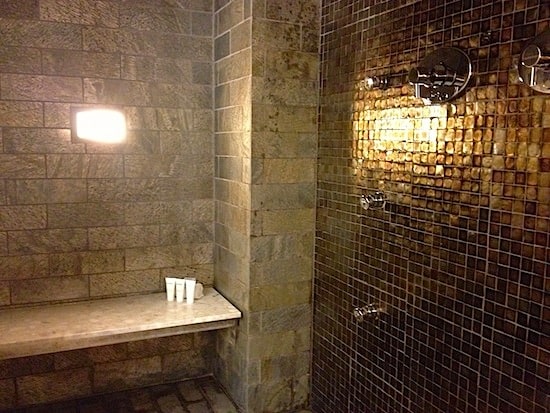 Unfortunately, I didn't have time to take advantage of the full-service spa, but I did manage a looooong, relaxing shower in what has to be the best and biggest double-headed rain shower in Chicago.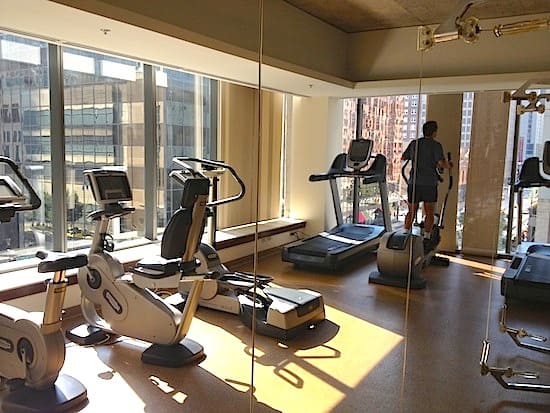 That alone was worth the price of admission to my corner room, king suite, but I also appreciated the bright floor-to-ceiling windows, the spacious rooms, Keurig coffee maker, aromatherapy products by Lather, free wifi, the uber-comfy, pillow-top beds, large gym,  both of my balconies and particularly the smiling, friendly service provided by the whole staff.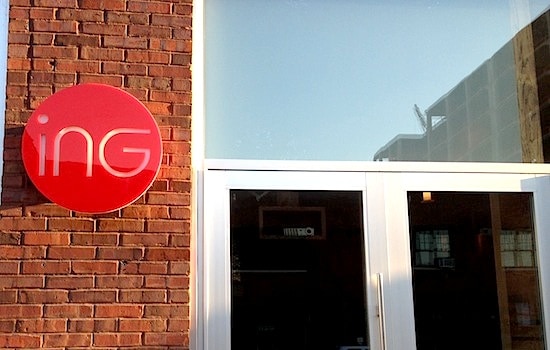 I headed back cross town to another of the West Loop's hot as a burning stove neighborhoods, the Fulton Market, for dinner at Homaro Cantu's highly touted, ING (Imagining New Gastronomy) restaurant. Imagine mad scientists wearing toques, an attitude-free, friendly waitstaff, colorful, understated décor and you'll get the basic idea.
The prix-fixe, themed tasting menu, which ranges from three to ten courses, and just let me say, in the nicest possible way, you're nuts if you don't go for the $105 ten course meal which is a steal for food of this caliber PLUS many courses came creatively paired with an imaginative cocktail, wine or an interesting small-batch beer. The theme changes about every six weeks (last month it was a tongue-in-cheek "The Wonder Years") but the current menu, Street Food, marks the debut of ING's talented new exec-chef, Tim Havidic.  Street Food offers prettied- up, whimsical presentations of deconstructed street faves (think lobster rolls, tacos, falafels, churros) that run the international gamut.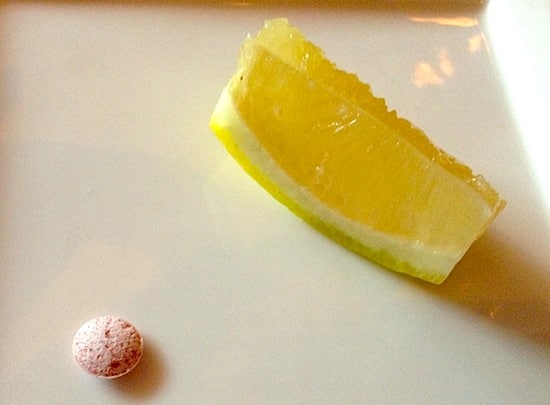 A unique lagniappe is the white plate holding only a single lemon wedge and an innocuous looking pink pill, that was made made from the West African Miracle Berry. I followed my waiter's instructions which were to let the pill dissolve slowly on my tongue and then by bite into the wedge of lemon which magically tasted like sugary lemonade.
I'm not going to spoil things by divulging the ten courses, since looking forward to the arrival of each dish is half the fun, but my favorite dish was one of the simpler presentations, the Elotes, a popular Mexican snack of corn on the cob slathered with mayo and seasonings. ING's cleaned up version was a light, flavorful corn salad dressed with corn butter gels, lime juice, huitlacoche (a.k.a. mexican truffle) and jalapeno with a polenta tuile.  My runner up was the Falafel with Tzaziki, made with yoghurt from a 100 year old Greek culture.
A Few Other West Loop Eateries Worth Checking Out
Au Cheval
This high-end greasy spoon reinterprets old classics such as the ultimate fried bologna sandwich, crispy potato hash topped with duck heart gravy or for a whole day's worth of fat, order the coarsely chopped liver which comes with extra butter!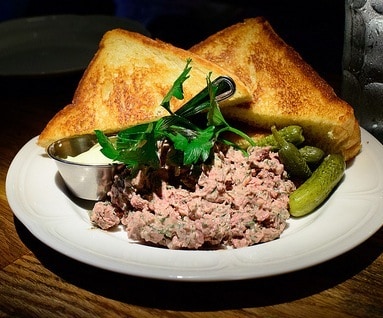 Izard's first restaurant always feels like party-central…because what's not love about a menu that offers everything from wood-roasted Pig Face to Confit Goat Belly.
Asian bbq bursting with bold flavors. Grill it yourself or leave it to Chef Bill Kim to wow you with his tea smoked duck breast or spicy fried chicken. Noodle lovers make note of special Ramen night Mondays.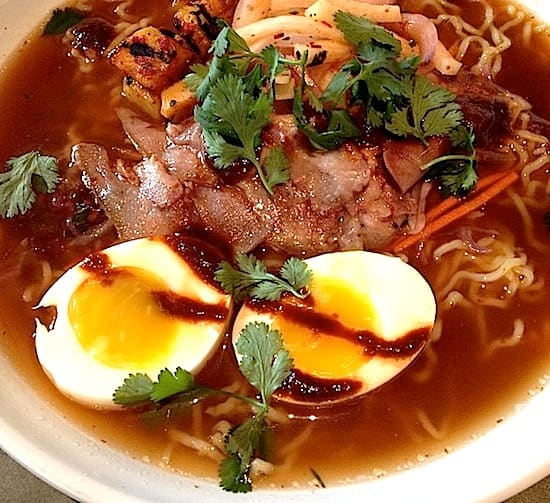 The Publican
Gastropub hottie by James Beard Award Winner, Paul Kahan. Join others at the massive communal table or opt for a private booth to enjoy the holy trinity served here: beer, oysters, and pork.