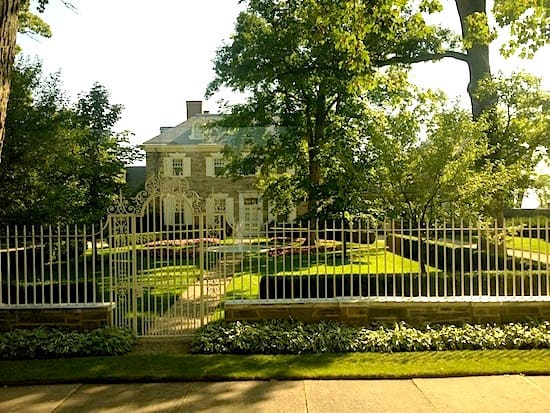 Next time you visit Chicago and feel like you've covered all the major attractions why not head for the hills (or in the case the suburbs) for some fascinating sites? Make use of the areas superb train system or if you decide to rent a car, be sure and save time for a drive along Sheridan Road leading up to North Shore and Lake County, to see how the rich and famous really live. I've got my house all picked out.
Here are seven gems to get you started, all within about an hour of Chicago:
1. Chicago Botanic Gardens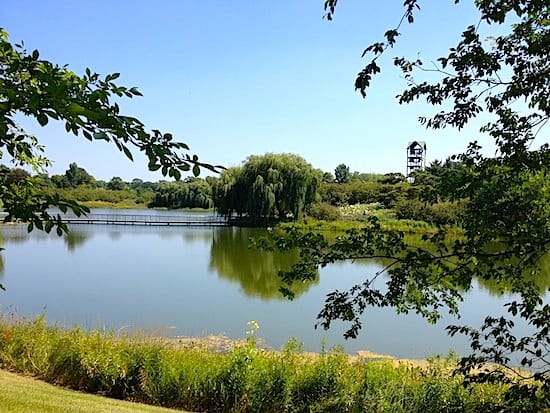 One of the country's most popular gardens is the sprawling, 385-acre Chicago Botanic Gardens in Glencoe. Take a guided train tour or wander by foot through the 24 display gardens, where you can cross 11 bridges, climb a waterfall and search out the hidden rooms in the English Walled Garden. Don't miss the tranquil Malott Japanese Garden, the renowned Bonsai Collection, the 5-acre Evening Island, the new Grunsfeld Children's Growing Garden, or the trio of Greenhouses where desert, tropical, and semitropical flowers bloom year-round.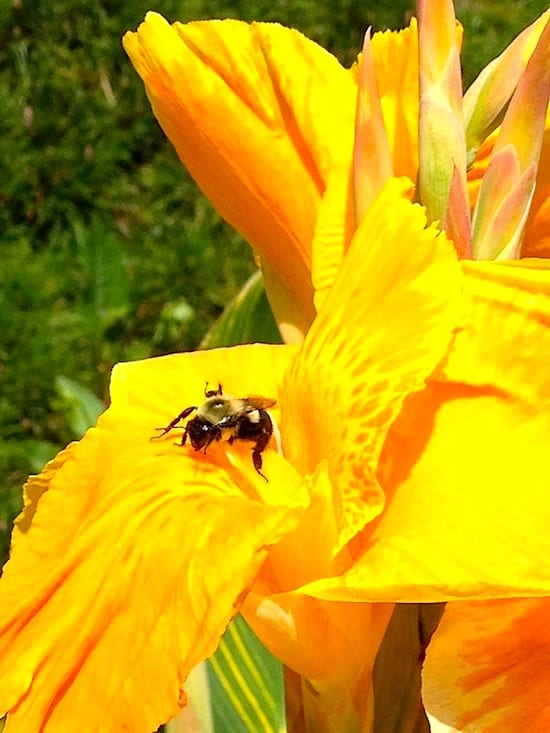 Other popular exhibits include The Aquatic Garden, The Green Roof Garden and Butterflies & Blooms, a 2,800-square-foot enclosure filled with hundreds of multi-colored butterflies.
The Chicago Botanic Gardens are open until 9 p.m. and admission is free. Check the monthly calendar for special events such as Ikebana shows, farmers markets, garden chef classes and photo walks.
Ravinia Festival
Being the oldest music festival in the country is quite a feat, particularly when you can still attract world class performers (think Josh Groban, Chicago, Itzhak Perlman, Journey, Tony Bennett) and draw in record crowds of all ages.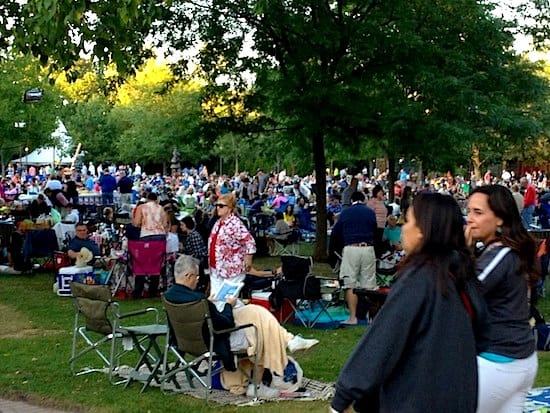 Located in Ravinia Park, it is also the summer home of the Chicago Symphony Orchestra. BYOP (bring you own picnic) and claim your spot on the expansive lawn where you can enjoy the concert by candlelight under the stars. If you'd rather be closer to the action you can make reservations in the 3,200-seat Pavilion.
Tip:

Classic concerts are available for only $10. If you're too busy to pack a picnic you can take advantage of their special $40 concert/dining package.
3. Baha'i Temple
As you drive the picturesque lakefront (Lake Michigan) along Wilmette, you'll come across a gorgeous, white lace-like domed building that looks like a delicate wedding cake ornament.  It is not only one of just seven Baha'i Temples, but this beauty is also the largest, the oldest and the only one in North America. Feel free to wander through the exquisite gardens or go inside and bask in the quiet serenity of this stunning House of Worship, which advocates world peace, as well as racial, spiritual and sexual equality.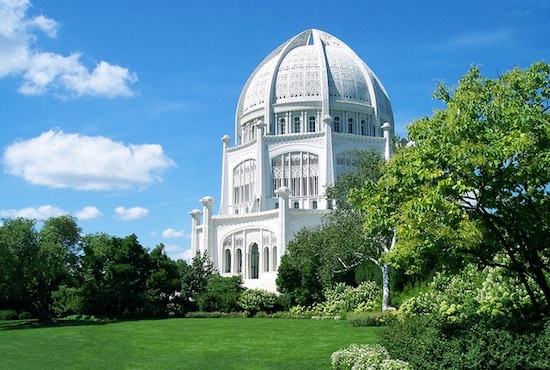 4. Illinois Holocaust Museum and Education Center
Designed by renowned architect, Stanley Tigerman, this new Skokie museum will likely be the last international institution built with the participation of actual Holocaust survivors. Tigerman designed the building so you enter through a windowless, dark side, representing "the descent into darkness", go through the exhibit and then finally "ascend into the light" representing the rescue and renewal of survivors of the Holocaust.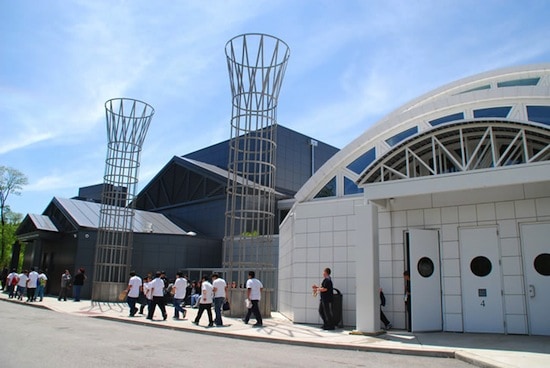 The 65,000 square- foot museum is dedicated to preserving the legacy of the Holocaust with over 500 artifacts, including an original volume of the Nuremberg Trial Transcripts, the Kindertransport lists and a German Railcar used by the Nazis to transport millions of Jews and other minorities to concentration camps. There are fabulous docent tours, which truly bring the stories to life, as well as traveling exhibitions that aim to combat hatred, prejudice and indifference through education.
5. Cuneo Mansion and Gardens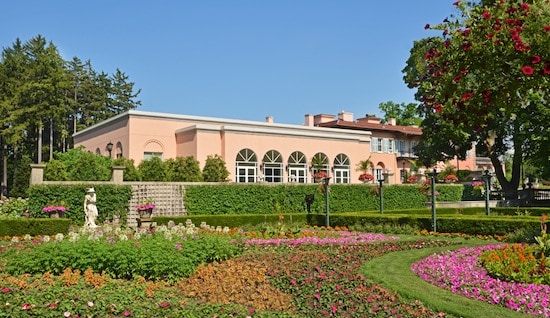 A visit to the opulent Italianate Cuneo mansion, set in a gorgeous 100-acre estate, is like going back in time to the glam, Gatsby-ish era where there was no such thing as understated elegance.  The property was owned back to back by two of Chicago's wealthiest entrepreneurs, first by Samuel Insull, founder of the Commonwealth Edison who built the estate in 1914, who then sold it to John Cuneo, Sr., a printing magnate, who was good buddies with William Randolf Hearst. In 2009 this magnificent Lake County property was donated to Loyola University, which has opened it to the public as a museum.
Self-guided tours are available but the docent tours are fascinating and filled with great back stories. A few intriguing tidbits we learned from our docent were: that Cuneo had the protective iron gate surrounding his son's room installed after the Lindberg baby kidnapping, that Mrs. Cuneo had her bathroom mirrors backed with gold leaf instead of silver to give a more flattering reflection and had the unsightly toilet covered by a Louis XVI "throne-style" wicker chair, and when the family threw one of their lavish dinner parties, often seating up to 75 guests at the lengthy table, Mr. and Mrs Cuneo would communicate by phone with each other from each end of the table.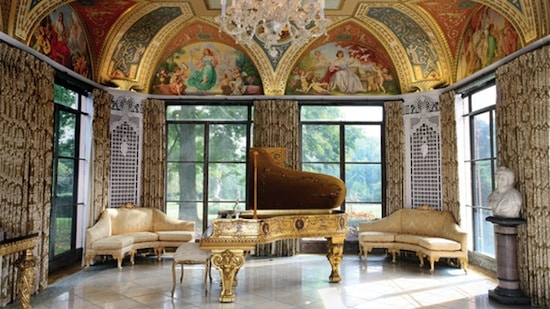 The Cuneo's would probably be considered hoarders by today's standards, albeit of the highest standard, and spent a lifetime filling their 32 room mansion with luxurious artifacts including Renaissance paintings, 18th century tapestries, exquisite Oriental rugs, Venetian glass chandeliers, a German suit of armor that was a gift from William Randolph Hearst, a 19th c. Steinway Rococo piano embellished with floral paintings and antique furnishings, collected during Cuneo's many trips to Europe.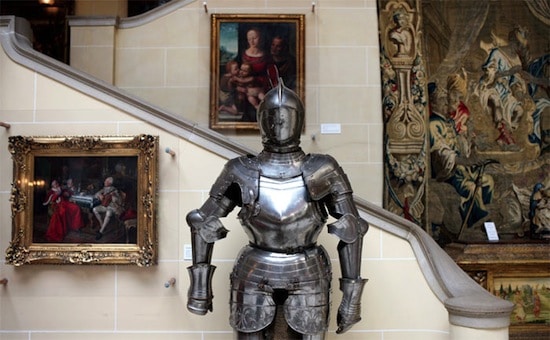 Cuneo even managed to obtain papal permission, from Chicago's Cardinal Stritch, to consecrate their own private chapel, which is filled with gorgeous stained glass windows and a unique 1920s player organ.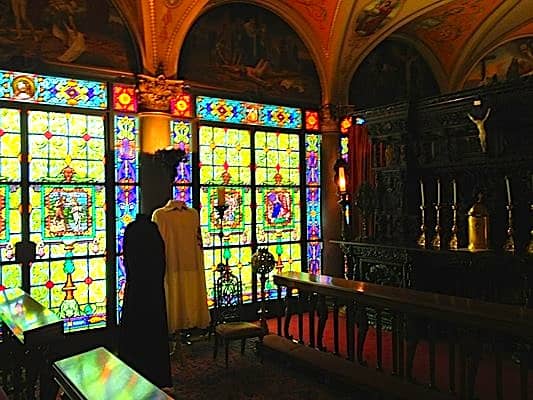 6. Frank Lloyd Wright's Laurent House
The Laurent House in Rockford, Illinois is unique even for Frank Lloyd Wright since it's the only building he ever designed for a person with a disability. Utilizing in Wright's famed Usonian style in 1949, the design and functionality of this beautiful home, complete with solar hemicycle footprint, patio, fishpond, carport, and outdoor connectivity to the natural landscape, was light years ahead of ADA accessibility requirements.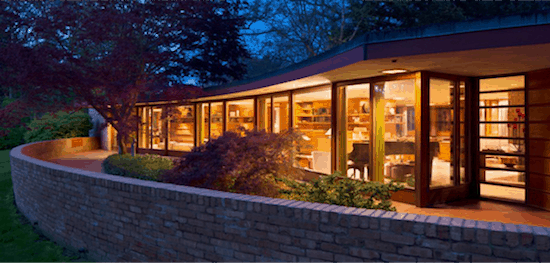 The house was commissioned by Kenneth and Phyllis Laurent, who lived in the home from 1952 until early 2012. Wright's brilliant design allowed Kenneth, a paraplegic, unrestricted access to everyday living. Some notable features are: the inside of the house is completely level with the patio in back and driveway in front, all the 36 inch plus doors open outward and (Laurent's favorite part) the marvelous view from the 50-foot-long glass wall that overlooks the home's backyard.
The Laurent's (who became close personal friends of Wright) home held a special place in Wright's heart and he considered the Rockford home, which he referred to as "my little gem", one of his most significant buildings.
It was recently acquired by a private foundation and added to the National Register of Historic Places, and will soon be offering tours.
7. Anderson Japanese Gardens
A haven of peace and tranquility, this acclaimed public Japanese garden on 14 acres in Rockford, Illinois, is a photographers dream come true. Established in 1978 by John R. Anderson and his close friend, landscape architect Hoichi Kurisu,a stroll through the beautiful garden reveals a reflecting pond, raked gravel garden,  calming waterfalls, rustic bridges, inspiring sculptures, a  traditional Sukiya-style tea house, as well as the turtles, ducks, and koi that live in the ponds.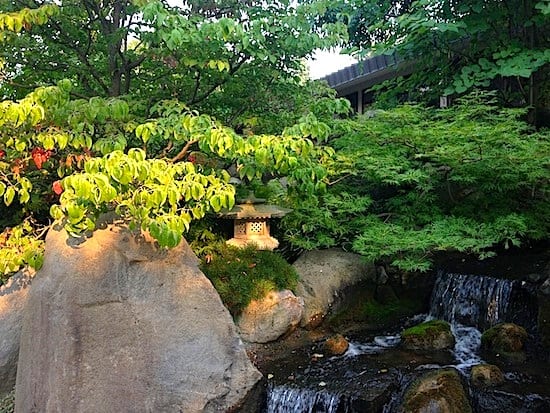 Although Anderson and Kurisu have collaborated on the garden (which has been voted the highest quality Japanese Garden in North America by Sukiya Living Magazine) for 35 years, they claim to have many more years of work ahead of them.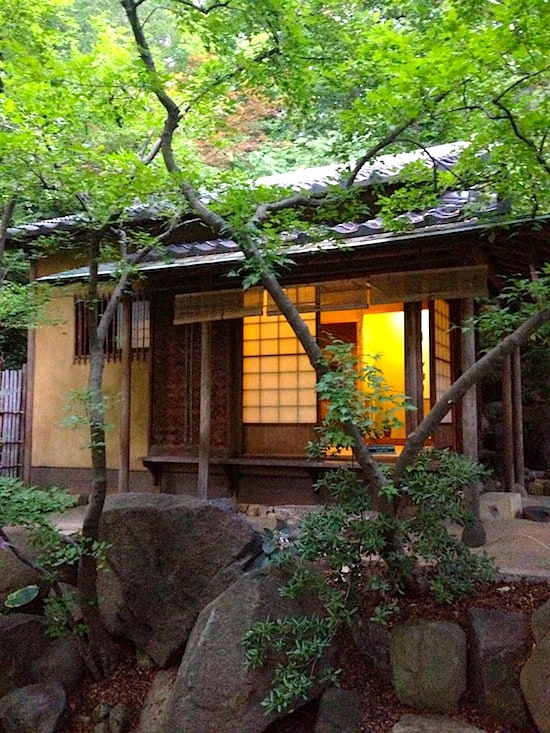 Be sure and check the website for a schedule classes such as yoga in the garden, origami, sumi-e painting or scavenger hunts.
Where to stay:
Another good reason to visit the burbs is the incredible savings on hotels vs. staying in Chicago proper, where not only are the room prices much higher but you often are charged exorbitant parking fees of $30 or more.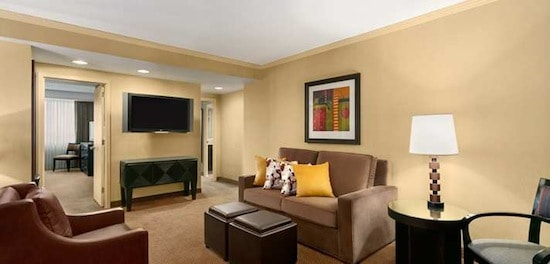 The Embassy Suites Deerfield makes a great home base for all your explorations.
Fresh from a fabulous makeover the Embassy Suites offers so many freebies (plus extremely reasonable rates) that it makes sense to stay here (sprawled out in your spacious two-room suite) explore the above offerings and commute to the city.