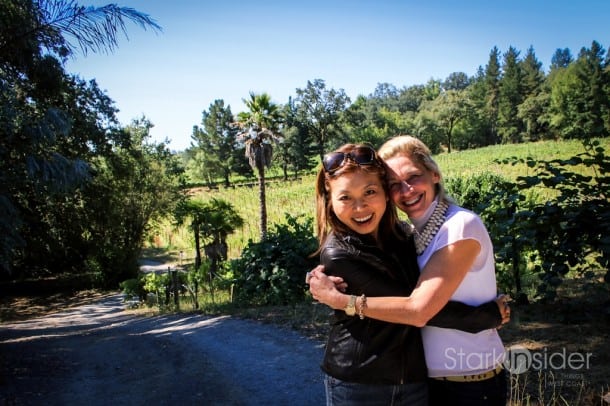 Harvest is just about upon us. And that means harvest parties and even, as the case here, pre-harvest parties. One of our favorites takes place in the heart of Sonoma. For the 18th year, the Russian River Valley will hold its Grape to Glass event. For a peak at some of the kinds of things you can expect watch the Stark Insider TV preview below.
Taking place on August 17 at Richard and Saralee's Vineyard, this year's event marks the 30th Anniversary of the Russian River Valley as a designated appellation, and in honor of this landmark, the theme organizers tells Stark Insider is "Back to Our Roots."
In line with honoring the founding members of the Russian River Valley Winegrowers Association, several of the original members will be in attendance, as well as over 50 local Russian River wineries who will be sharing their latest boutique releases before they are made available to the public.
Grape to Glass kicks off with a reception showcasing RRV wines and local restaurants, caterers and food purveyors.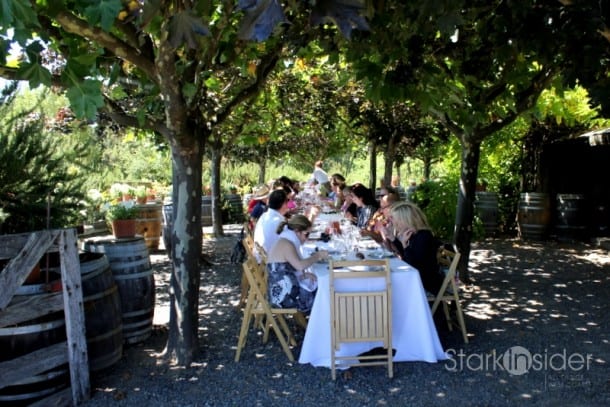 While you wine and dine on fresh local delicacies, you can also also stroll through the park-like setting at Richard's Grove & Saralee's Vineyard and view the work of local artists and place bids on silent auction items of oversized and special bottlings, restaurant dinners, gift baskets and more.
Following the reception will be a savory barbecue dinner with "all of the fixings."
The evening will round out with live music from Urban Oasis until the sun sets around 9 p.m. and it starts to cool down in the vineyards.
STARK INSIDER TV: Grape to Glass at Iron Horse Vineyards, Sonoma
GRAPE TO GLASS PRE-HARVEST PARTY – SONOMA

"Back to our roots"

August 18, 2013 4:00pm

Richard's Grove & Saralee's Vineyard
3575 Slusser Road, Windsor, CA

Tickets start at $85

More information at RRV

Participating Wineries
Acorn Winery/Alegria Vineyards – Arista Winery – Balletto Vineyards & Winery – D&L Carinalli Vineyards – Davis Bynum Winery – Davis Family Vineyards – DeLoach Vineyards – Dutton Estate Winery – Dutton-Goldfield Winery – Forchini Vineyards & Winery – Graton Ridge Cellars – Hanna Winery & Vineyards – Hartford Family Winery – Harvest Moon Winery – HKG Estate Wines – Hook & Ladder Winery – J Vineyards & Winery – John Tyler Wines/Bacigalupi Vineyards – Joseph Swan Vineyards – Korbel Champagne Cellars – La Crema – Lauterbach Cellars – Ledson Winery & Vineyards – Lost Canyon Winery – MacPhail Family Wines – Martin Ray Winery – Martinelli Winery – Migration – Moshin Vineyards – Nunes Vineyards/ St. Rose Winery – Robert Rue Vineyard & Winery – Rodney Strong Vineyards – Russian Hill Estate Winery – Russian River Vineyards and Cork's Resturant – Sandole Wines – Siduri Wines & Novy Family Wines – Sonoma-Cutrer Vineyards – Thomas George Estates – Trione Vineyards & Winery – Two Sheperds – VML Winery – Williams Selyem