Many people mark off the days until their birthday or Christmas or an upcoming vaca, but after last year's killer San Francisco Street Food Festival,  I've been counting down the days until the 2013 SFSFF. Yup, it really was that good.
And after attending last night's media tasting of the treats in store for you this time around, I can attest to the fact that it's going to be bigger and badder than ever, so come hungry.
Some of my faves last night were:
1. Minnie Bell's Soul Movement
Fernay Mcpherson dishes out the lightest, tastiest gumbo assisted by her darling 14 year old daughter who can't wait to take over the family biz and expand it world wide.
Owner Binita Pradhan's soulful Nepalese food can also be found at Off The Grid Fort Mason. Save a ticket for her mouth-watering Turkey Momo's with Spicy Tomato Cilantro Sauce. (They also come in a veggie version.)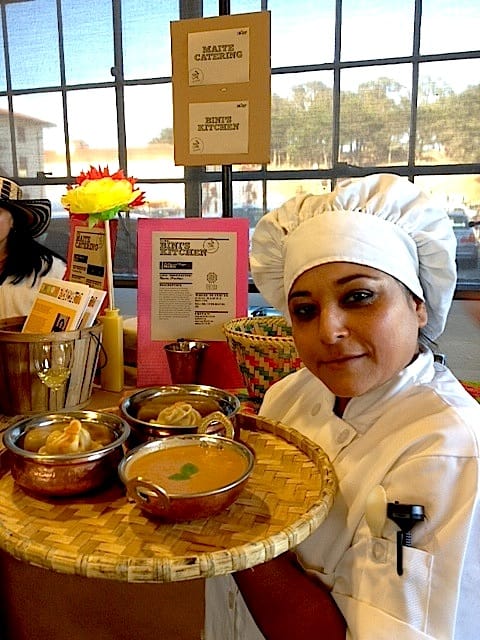 3. El Pipila
I actually was starting to get a little embarrassed when I went back for thirds of Guadalupes Guerrero's scrumptious cactus and Picadillo (ground beef) sopes but she sweetly said I could even come back for fifths!  Word is that her Pozole Verde is to die for also.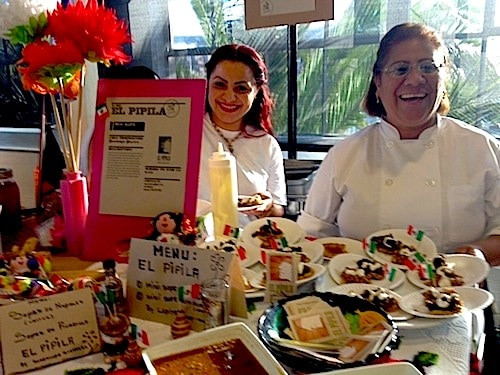 4. Anda Piroshki
Anna Tvelova's mother taught her how to bake sweet or savory piroshkis with the best of them, as well as many other traditional Russian favorites. It didn't hurt that she accompanied her pickled herring samples with a shot of chilled vodka. Skoal! Keep an eye out for her new kiosk opening in the Haight.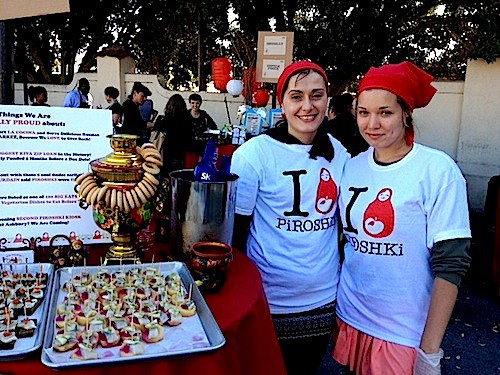 In case you didn't make it last year (shame on you) you do not want to miss this year's event. La Cocina's San Francisco Street Food Festival brings all of the best food (and music) in the Bay Area to one street, once a year, to celebrate the talent, the taste and the entrepreneurial spirit of people who make a living doing what they love to do.
The Festival will take place, Saturday, August 17, from  in the Mission District from 11 a.m until 7p.m on Folsom St. from 20th to 26th, 21st and 25th from Treat St. to Shotwell St., as well as the Cesar Chavez Elementary School parking lot, Parque de los Ninos Unidos and Jose Coronada Playground.
Passports (foodie tickets) are available in many different denominations  (so you won't have to waste precious eating hours standing on line) ranging from "Just Snacking" at $30 to the I can't-believe-I-ate-the-whole-thing, "Picnic Basket" passport which includes: entry for one into the Night Market, a "Hearty Lunch" passport, entry to the Food & Entreprenuership Conference Brunch and entry to the Food & Entreprenuership Conference.
Find out about more ticket options on the website.
La Cocina is a non-profit incubator kitchen that provides affordable commercial kitchen space and industry-specific technical assistance to low-income and immigrant entrepreneurs who are launching, growing and formalizing food businesses.
If you want to learn more about La Cocina's incubator program and our amazing program businesses, visit their website!