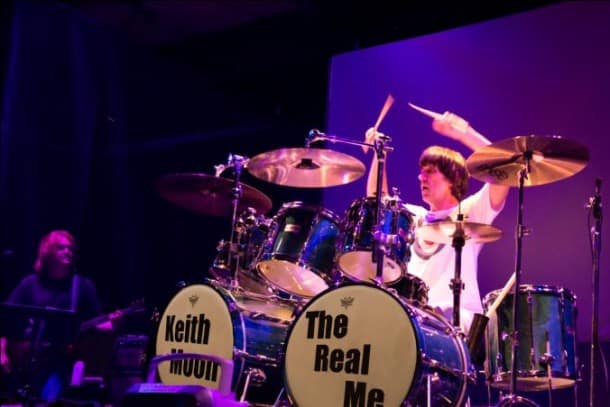 Bay Area actor, author and musician, Mick Berry, announced today that performances of Keith Moon: The Real Me, his one-man play depicting the life and death of the infamous drummer from The Who, have been extended through Sunday, August 4, 2013.
Written and performed by Mick Berry and directed by Bobby Weinapple, Keith Moon: The Real Me pays homage to Moon, and delivers a first-hand account of the late drummer's rise to stardom and tragic downfall, demonstrating along the way his drumming genius and unveiling how he earned his reputation as the wildest man in rock and roll.
Under the musical direction of the Who's musical director, Frank Simes  (who will have returned from a European tour with the band), the one-man show, ten years in the making, will feature ten iconic songs by The Who, including "The Real Me," "My Generation," "Who Are You" "I Can See for Miles," and "Won't Get Fooled Again."
Portraying a cast of characters that were prominent in Moon's life, including Pete Townshend and Roger Daltrey, former wife Kim Moon, Oliver Reed and personal assistant Dougal Butler, Berry "really becomesMoon when he's behind his forest of drums, juggling sticks and, yes, hitting that bass drum really hard" (Triviana).
"Keith Moon was a massively talented drummer and the driving force behind The Who," says Berry. "I am ecstatic and compelled to present this show and share my discoveries: the depth and intensity of Keith's passion, his driving ambition, his astonishing drumming and hilarious personality, and the haunting ghosts that ultimately did him in."
In addition to this being Berry's fourth one-man show that he has both written and performed, he co-authored three books, including The Drummer's Bible.
Keith Moon: The Real Me

Performance schedule is as follows:  Thursdays, Fridays and Saturdays at 8p.m. and Sundays at 7 p.m. at San Francisco's Eureka Theatre (215 Jackson Street 94111).

Tickets $40. For more information: keithmoontherealme.com.