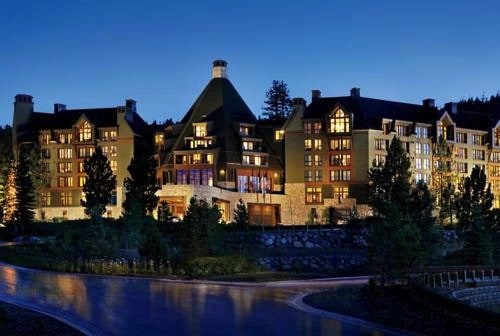 I'd been meaning to check out the new Ritz-Carlton at Lake Tahoe for the last year, but due to a jam packed travel schedule I missed last year's  ski season. Rather then wait for this years, I sent out a "yo" to my NYC sis, to see if she wanted to fly out and be my wingwoman. Her answer came as no big surprise. Read on for a recap of just how much fun girlfriends can have at The Ritz– no matter what season it is!
No sooner had my sis and I pulled into the hotel's driveway then a trio of handsome valets jumped to offer us bottled water, directions to reception and help with our luggage. After our car was whisked away, we wondered if there might be an issue regarding the readiness of our room since we had arrived a couple of hours before the posted check- in time. No worries. With a sunny smile, the front deskman told us he was delighted (and he really was!) to see that our room had just been made up so we were ready to go.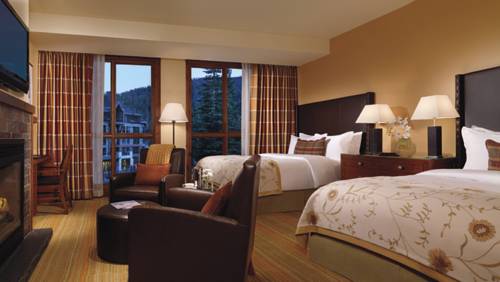 Entering our sophisticated, mountain suite retreat, we found comfy leather armchairs awaiting us in front of a gas fireplace, two cloud-like queen beds with tempting, pillow top mattresses, and a bank of sliding glass doors which opened to a huge private outdoor terrace, making it easy to understand why The Ritz-Carlton, Lake Tahoe is the first Forbes Four-Star and AAA Five Diamond resort in the Lake Tahoe area.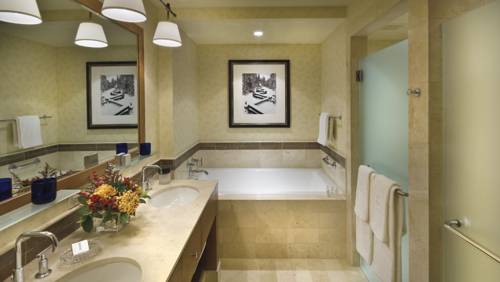 Our over-sized marble bathroom, with two separate sinks, a deep soaking tub and separate shower, was perfect for two girlfriends who travel with full cosmetic cases. Having called to alert the concierge that our getaway was to celebrate my sister birthday, it was no surprise that a festive birthday cheesecake for two awaited us -after all, we were at the Ritz!
Decorated from nature's crayon box of burnt sienna, piney forest green and antique rose gold, the hotel's numerous gathering places, scattered throughout the immense stone-and wood lodge, exuded an upscale western vibe, reminiscent of a Rockefeller turn of the century Great Camp. Unobtrusive, but always at the ready, the perfectly trained staff engaged, ever so appropriately, with the guests to insure that all needs were met. We made continuous use of the concierges with endless queries about the best hikes, driving directions to nearby Truckee, yummy lunch recommendations, as well as where to go to eyeball the best million $ lakefront homes. Always, we received excellent personalized intel along with maps, business hours and menu tips.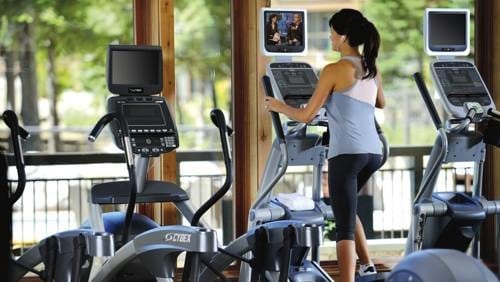 One perfect day on property started with a hike around their miles of  "back-yard", which we were fortunate to have all to ourselves. I doubt this would be the case in winter when I'm sure this family-friendly, ski-in/out resort is packed tighter than a good snowball. We came back to do a little multi-tasking, which involved sunbathing poolside while checking our emails. In total relax mode we kicked around exercise class options at the "state-of-the-art-coupled-with-the-most-gorgeous-mountain-views-makes-working-out-almost-a-pleasure" fitness room. After a short but sweet alfresco nap, I scurried down  to the vast Spa, for a fabulous facia, while my sis hop-scotched between the outdoor lap pool, indoor sauna, steam rooms, whirlpool, and, her fave, the rain shower experience. She wouldn't divulge the secret but simply described it as the Timothy Leary of showers.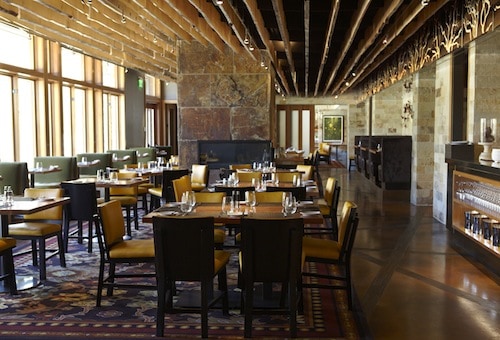 We treated our ever so chill selves to a diet-be-damned dinner at the renowned Manzanita, surrounded by floor-to-ceiling windows, perfect for viewing the pristine landscape.
Chef Jeremy Grossman's rustic menu is an ode to the local farmers.
"My inspiration is cooking with seasonal and local ingredients. My passion for food is an appreciation of what the farmers have dedicated their lives to growing and then sharing it with our guests," said Grossman.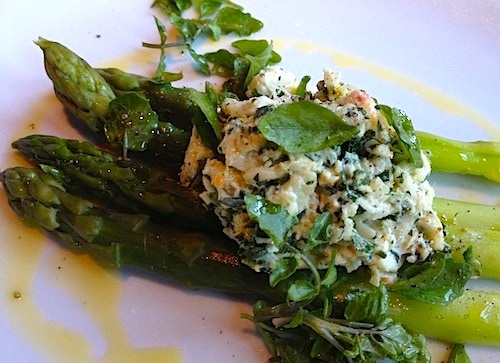 I ordered a soon to be California classic, Porchetta with Brentwood Farms Corn, Grilled Central Valley Peaches. Since I couldn't decide between starting with a bowl of spicy mussels or Delta Asparagus topped with crab salad, I ordered both. That was before I knew about the scrumptious assortment of homemade breads- consider yourself forewarned.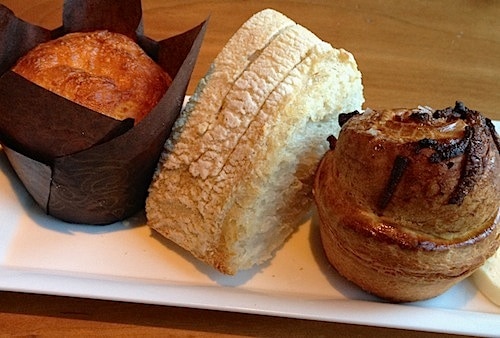 We felt like clearing our calendars for the week to take full advantage of their laundry list of activities ranging from A to almost Z. There is Alpine skiing, dog sledding, flyfishing, golf, horseback riding, mountain biking, tennis, and wakeboarding. All that's needed is a zip line to finish the alphabet.
However, we really just considered this visit a dry run since we're already planning a trip back during ski season when I'll be looking forward to meeting (what I'm sure is a first) the resident Marshmologist who's in charge of The Art of the S'more program at the outdoor fire pit. For more info on this and other programs, please see website.