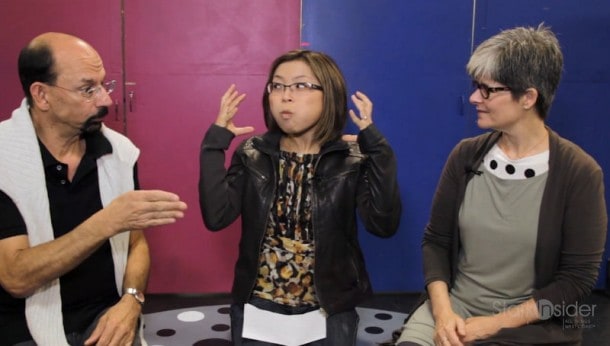 Here's the handy Stark Insider tip of the day for good living.
There's a lot of "tips" and "how-tos" out there on the Internet, but for some reason this one has been overlooked.
Thanks to the help of actor AB, and playwright Catherine Rush learn how to sign "Pufferfish" in this instructional video. It could come in handy next time you're ordering sushi or touring an aquarium.
Over the weekend Loni stopped by the TheatreWorks rehearsal space where she received impromptu signing instruction. Remember the essential part to getting it right: blowing up those cheeks as big as you can.
The outtake comes from an interview for The Loudest Man on Earth. Catherine Rush's new off-beat romantic comedy will enjoy its world premiere next month when it kicks off TheatreWorks' 2013/14 season at the Lucie Stern Theatre in Palo Alto. Last year it received raves at the New Works Festival where it was dubbed a "runaway success." All signs point to a hit. We say, let the show begin!
Stay tuned to Stark Insider for the full interview – and, as always, more wine country shenanigans, film festival mayhem and San Francisco tomfoolery.
WATCH: How to Sign "Pufferfish"
Stark Insider: we're twice as fun… but only half as smart.