Guest post by Rita Chang.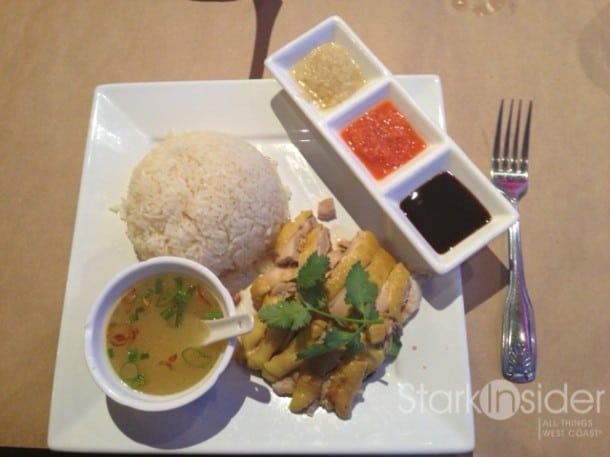 Until this year, I had only one experience with Singaporean cuisine and it wasn't terribly positive. I seem to recall the flavor of curry dominating every dish we ordered, leaving me with the impression that Singaporean food was rather one-dimensional. Following this experience, I had no real desire to seek out Singaporean food. That is, until I came across Shiok! Singapore Kitchen, and I now have a new outlook on Singaporean food.
Shiok (pronounced 'shook' and meaning 'feels good' or in the context of food, 'tingling tastebuds') is a Singaporean restaurant tucked away on a small side street in downtown Menlo Park. Between late January and April, I visited this intimate, family-run eatery three times, and with each visit, I felt a deeper kinship to Singaporean cuisine. In case you've never had it, Singaporean food defies any handy categorization as it is a by-product of the different peoples and cultures that have shaped Singapore's history.  Most Singaporeans, in fact, speak more than one language, with many speaking three to four languages. As an island city-state off the southern tip of the Malay Peninsula, Singapore occupies a strategic location that had been an ideal port for Europeans looking to trade with East Asian countries, and China in particular. Sir Stamford Raffles was instrumental in securing Singapore as a British port in 1824, and Britain's influence on the island is palpable as English is one of Singapore's official languages today. While the island's natives are an indigenous Malay population, rubber and other trades attracted an influx of Chinese immigrants from southern China during the 19th and first half of the 2th century. Other workers bound for Singapore's tin mines and rubber plantations included Indians and Indonesians. The culinary traditions of this diverse immigrant population gave birth to a new kind of cuisine with a patchwork of tastes enhanced with soy sauce, tamarind, curry, turmeric, lemongrass, among other spices and flavorings. As my friend and Singaporean native Nay Wei Soong puts it: "very few dishes were invented in Singapore; we borrow from the different ethnic cuisines and adapt them to the local taste."
On my first visit to Shiok, I felt a duty to order the chili crab, arguably Singapore's national dish. This was my first crack at Singaporean chili crab, and with no prior experience to compare it to, I say it was good. I like sweet in all forms, and Shiok's rendition of chili crab had equal sweet and heat. Sucking on the crab shells smothered with a tomatoe-y sauce containing bits of lemongrass, shallots and chili, was part of the experience, and the sauce made a great companion to a side of rice. In Singapore, this dish is often served with a Chinese sweet bun to mop up the sauce, and the hard-core will require crab roe to give it extra luxuriousness. Be forewarned that Singapore chili crab is not for everyone, partly because it's a messy affair. My partner found cracking the shells too much work for a sliver of crab meat, and other guests I dined with on subsequent visits preferred their crab without the addition of sugar.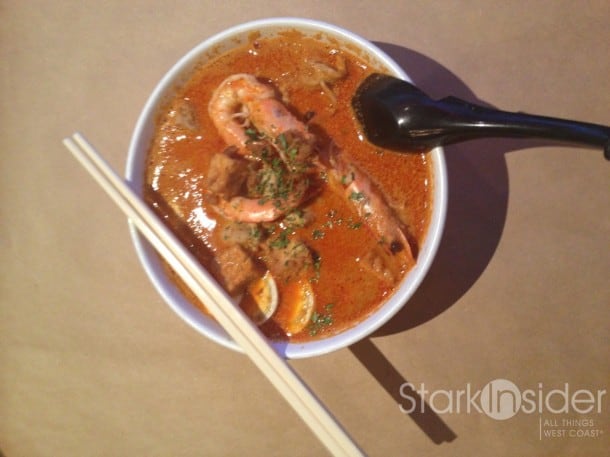 The main appeal of Shiok is that what comes out of the kitchen seems absent of any qualities redolent of commercial cooking; it is home-made, home-cooked food through and through, and Nay Wei will back me up on that. Native Singaporean Maggie Lim brought Shiok to the Peninsula about 12 years ago using beloved recipes that have been with the family for generations, says Maggie's brother, Dennis, a former IT professional who now runs the restaurant. Maggie enlisted her mom Rosalind to oversee the kitchen and they were such sticklers for quality and authenticity that they insisted on sourcing ingredients such as candlenuts, coffees and teas directly from Singapore. With more of these ingredients available today stateside that meet the family's standards, Shiok now sources fewer ingredients directly from Singapore. A few years back, though, Shiok hired a New York chef who started to stock the pantry with MSG and bottled sauces to the horror of the family. Needless to say, they parted ways shortly. While Rosalind still nominally presides over the kitchen, and has the final say on what items are added or removed from the menu, the family recipes are being executed by a group long-time family friends who have taken over day-to-day kitchen duties, including the cooking.
Dennis told me that in April, Singapore Prime Minister Lee Hsien Loong paid a visit to the restaurant during a week-long vacation.
Singaporeans aren't timid with their spices, and at Shiok, sauces and condiments are all made from scratch using a variety of spices.  I was surprised to learn that even the dipping sauces accompanying the Singapore chicken rice are hand-made since the sambal (chili sauce) could easily be had out of a bottle. Singapore chicken rice, by the way, is based on Hainanese chicken rice, which I have sampled several times when I lived in Hong Kong. Chinese in origin, this is also another one of the city-state's national dish. Visually, Singapore (and Hainanese) chicken rice looks bland – seemingly a piece of poached chicken with a heaping serving of steamed white rice, but done right, the tender and rich chicken goodness really shines. This is because the chicken is cooked in very rich stock, and the rice is as much the star as the chicken because it is also cooked in an intensely rich and fatty chicken broth. Shiok creates a respectable version of the chicken rice, though my rice did not arrive piping hot.  This simple, flavorful comfort food is sold at Singapore's many celebrated fast-food stalls as well as in its restaurants. On the subject of Singaporean food stalls, Nay Wei said he saw an exhibit at the Singapore national museum that traced their origins to the days when the mostly male migrant workers from China, India and Indonesia, were not much for cooking, yet wanted cheap, fast, simple and good food. The food stalls evolved from feeding those basic needs, and today, Singaporeans from all walks of life still love their food stalls. Nay Wei, a pharmaceutical professional, makes it his first order of business to head straight to the stalls  after landing at the island's international airport.  His first craving is always mee pok, "street noodles" is his translation, and they are Chinese egg noodles boiled with fishballs and a bit of meat then served with a sauce that is at once sour, sweet and spicy.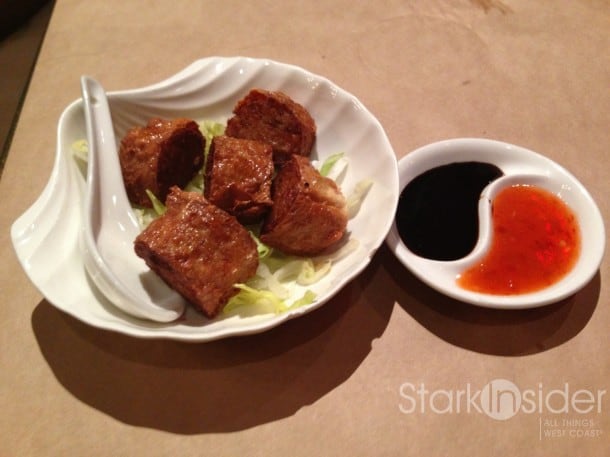 I'm especially partial to the five-spice roll at Shiok which I've yet to see on another southeast Asian menu. It is a roll filled with ground pork, prawns, jicama, carrots and eggs seasoned with Chinese five-spice, wrapped in bean curd skin and deep-fried. My other favorite at Shiok is the oyster omelette. I've eaten oyster omelettes on my travels to Taipei, but Shiok's omelette is superior for its juicy little oysters and the perfectly fried eggs with flour mixed in to give it a chewy crispness. For less adventurous novices, my suggestions are: beef rendang, a tender-to-the-fork stew that is simmered in coconut milk for hours; nasi goreng, an Indonesian-style fried rice with an ever-so-slight sweet taste of tamarind; and duck garlic noodles, topped with parmesean (don't let the cheese scare you, because it works). The laksa, a spicy noodle soup, may not be for everyone as the shrimps are unpeeled; at Shiok, the laksa is made with thick, al dente rice noodles steeped in a curry coconut broth, with slices of boiled egg that further enrich the soup. Nay Wei's go-to at Shiok is hokkien mee, which is Chinese egg noodles fried with prawns in a fragrant chicken stock that comes with a side of ginger-chili sauce. Apparently, heads of state also share his a love for hokkien mee. Dennis told me that in April, Singapore Prime Minister Lee Hsien Loong paid a visit to the restaurant during a week-long vacation. The day before, a party of three made a reservation, and it wasn't until the next day that Dennis was told that the Prime Minister was coming to dine. The U.S. Secret Service arrived first to sniff things out and the prime minister, his wife, and their son arrived very late that evening, ordering chicken rice, oyster omelette and hokkien mee, among others. Dennis has the pictures to prove it, and the visit was even written up in a paper back home.
It's too bad that Singaporean food is not more common in this country. Why isn't it more ubiquitous like other Asian cuisines? Well, Dennis explained that there simply aren't that many Singaporeans to begin with (Singapore has a population of about five million) and they're not leaving in droves. To that end, we should count ourselves lucky that we have a pleasant destination in the Bay Area for anyone who wants to sample authentic, homemade Singaporean food.
If you want a change of pace from the ho-hum chow-mein or pad thai, give Shiok a try. Whatever you do, indulge in the real thing and run for the exit if you see Singaporean noodles on the menu as this is an invention of Chinese restaurants, not to be found anywhere in Singapore.
Shiok has a serviceable selection of wines, and Singaporean tea and coffee are also on offer.
Shiok! Singapore Kitchen

4 out of 5 stars

1137 Chestnut Street
Menlo Park, CA 94025-4311
(650) 838-9448
shiokkitchen.com