On a recent United flight, we were grounded for over an hour while the ground crew tried to fix the toilet (really, people, you couldn't have done this before we boarded???) I killed time thumbing through the Hemisphere's magazine searching for ideas for my next Girlfriend Getaway. When my gaze fell on Virginia, I thought, Bingo-we have a winner. After a quick email to Virginia's helpful tourism department I was all set with a two-step program that started in Alexandria and ended in Charlottesville and included all girlfriend getaway necessities: good shopping, sightseeing and eating.
I flew cross-country into Washington Dulles airport, then rented a car and drove to Alexandria, while NYC sis Amtrak-ed it. We met up with nary a hitch, at the Hilton Old Town in Alexandria. Clearly sis got the better end of the deal since all she had to do was pop out of the train station and roll her luggage down the street to the hotel. From its crowning perch at the top of the 18th-century cobblestoned King Street, the Hilton offers an affordable and convenient location– perfect for exploring beautiful Old Town of Alexandria.
Insider Tip: If you're looking for a more upscale experience, girlfriends can select from one of the three Kimpton boutique properties located in Old Town.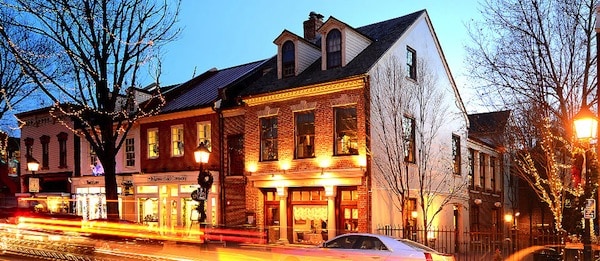 Too hungry and travel weary to even unpack, we took our who-cares -where-we-end-up-for-dinner attitude down King Street where we spotted Notting Hill Restaurant's cozy courtyard. We lucked out- this little gem worked on every level. Our friendly waiter, the lovely wine list, a scrumptiously crisped Cornish hen sided by farm-fresh veggies and fabulous background music joined forces for a wonderfully relaxing evening.
King Street Crowning Glories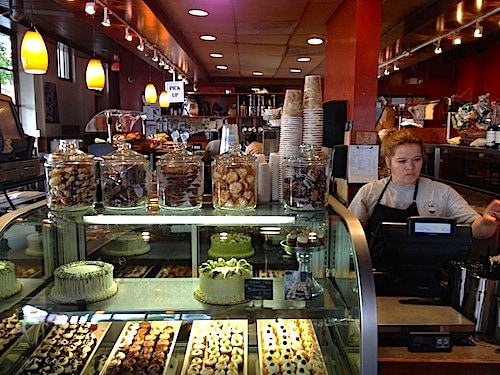 After a comfy night's sleep in our Hilton Serenity Beds, we wandered down to have an early breakfast at Bittersweet Café. It was already packed with happy regulars who habitually stop in to refuel with a fresh-baked breakfast treat, homemade soup, build-your-own sammie, a "Mexico City inspired" entree or just to treat themselves to one of the lovingly baked cupcakes ranging in size from a giant 9-incher (serves 12) down to a two-bite mini selected from a changing roster of close to 100 flavors.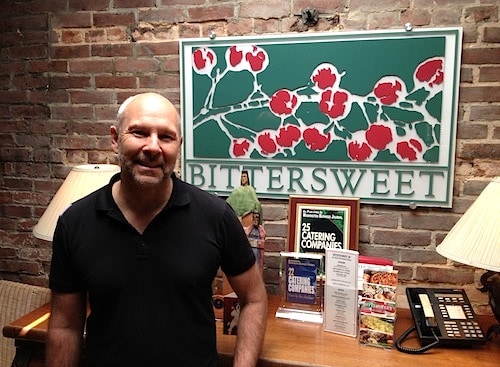 The hardworking café and catering owner, Jody Manor, clearly loves what he's doing. A good tell is that even after 27 years he's still bubbling over with creative ideas and big plans.
"The cupcake saved my ass during the recession," Jody told us with a big grin, as he led us out the back door and up some stairs to his bustling catering operation. He paused to proudly point out a little corner where the dumpsters used to live here but is currently being transformed into a garden to supply fresh herbs for the restaurant.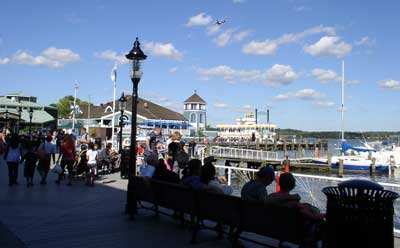 With infectious enthusiasm, he unveiled the blueprints for Waterfront Market, his soon to open 4,000 sq. ft. restaurant, taking root in a neglected, old riverside building.
"I'd like to revive the Potomac waterfront for locals to get out and enjoy and not just a place for them to walk their dogs," Jody told us.
With his deep affection for Old Town and his entrepreneurial spirit he'd be a strong contender to become Alexandria's Honorary Mayor if only his mom, Alice, hadn't already snared the title.
"The cupcake saved my ass during the recession."
"Being a good mother, I offered to help out Jody for a couple of weeks when he first opened, but somehow I'm still here 23 years later," Alice (now Bittersweet's official greeter) told us with a wink.
Sated (do not miss the carrot cupcake even if it's only breakfast time) and armed with a list of Alice's favorite shops we set off to explore the mile-long King Street, Old Town's commercial hub since 1749.  We were sorry to miss the Farmer's Market (only on Saturdays) touted as one of the nation's oldest continually operating farmer's markets, but more than made-do shopping the array of indie- owned antique stores, home design shops, galleries and designer boutiques that line the street.
Sis snatched up a fabulous olive green tote at Lou Lou, while I was busy ogling the extremely well priced jewelry selection.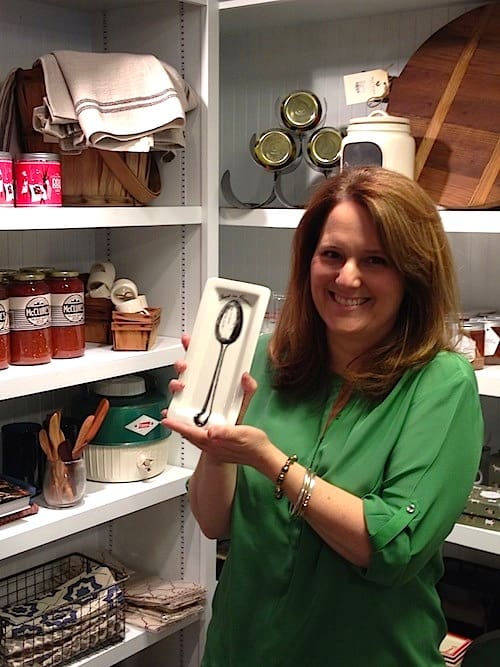 We both loved the yin/yang offerings at Red Barn Mercantile, a popular home furnishings/gift store and begged Amy Rutherford (RBM's super-nice, style maven and owner) to please open an outlet by us. Creative displays cleverly showcase her treasure trove of flea market finds which are nestled next to sophisticated designer pieces for a truly one-of-a-kind shopping experience.
Shopping Break Bite in Del Ray
A quick detour off King Street brought us to the cute little Del Ray nabe where it seemed as if every other store housed a tempting eatery, however our mission was to scope out Cheesetique– a half specialty cheese shop and half restaurant for cheese lovers. Both halves nailed it!
Recent accolades include making Food & Wine's "Best Mac and Cheese in the U.S." list. I don't know if it was the three-cheese blend, the crispy, buttery breadcrumbs or the hint of truffle oil, but we inhaled the generous serving in a flash. The lunch special, a Grown-up Grilled Cheese Sandwich and a hefty bowl of homemade Tomato Soup for only $10 was better than scoring a pair of skinny jeans half off. The impressive selection of international wines, available by either the glass or bottle, was simply gilding the lily.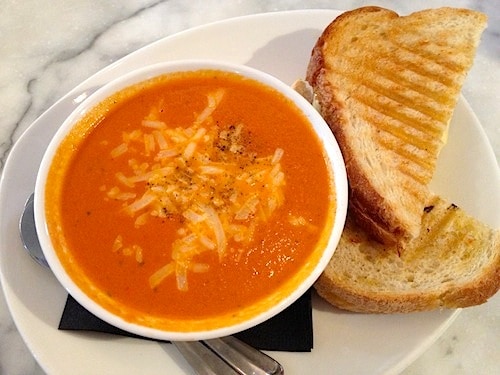 After recovering from our cheese coma, we reversed direction and headed to the real-deal Torpedo Factory Art Center. From 1918-45 this building served as a Naval torpedo factory and munitions storage site.  Some very imaginative re-purposing resulted in three floors of working artist studios, galleries, and the Alexandria Archaeology Museum, plus it's super cool to be able to buy directly from the artist!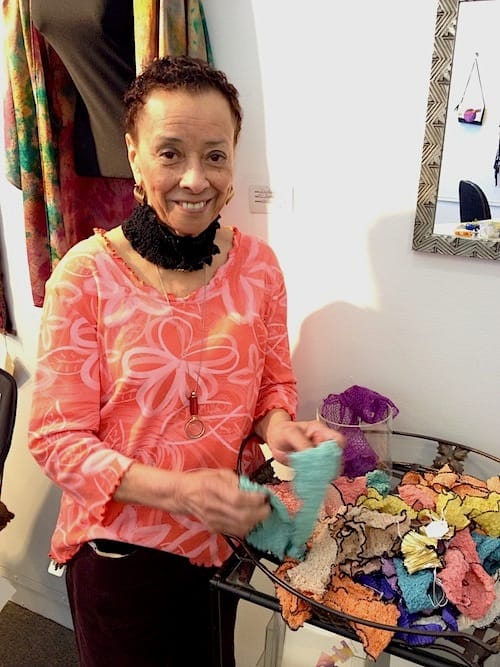 Running a little late, we decided to hop the freebie King Street Trolley back to the hotel for a quick change before dinner.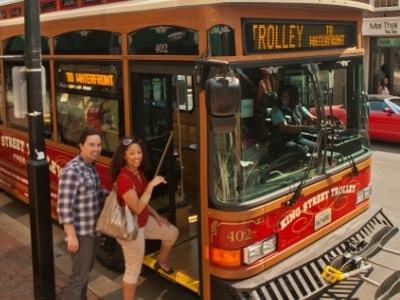 Bravo for Brabo Tasting Room
Even though it was a chilly Tuesday evening, Brabo Tasting Room was still packed with peeps gathered around the handcrafted zinc bar in front of the wood-burning oven. BTR is party central for the over 30 crowd, looking for a casual, upscale dinner spot. Ask for wine suggestions from the helpful staff. We did and every one was a winner. The option of 3 and 5-ounce pours allows for sampling several iconic U.S. wines or invites easy sipping of some esoteric international newbies. The menu changes often in order to take advantage of seasonal Virginia grown ingredients. Don't miss the sizzling, cast-iron pot of their signature mussels offered three ways: the Classic, Bacon & Goat Cheese or Merguez Sausage. The "napa"tizer tray, presented like a piece of culinary still art, was a lovely complement to more wine. Since we couldn't stop dunking our toasty bread in the mussel broth so we weren't able to find tummy space for the bread pud but it certainly looked scrumptious.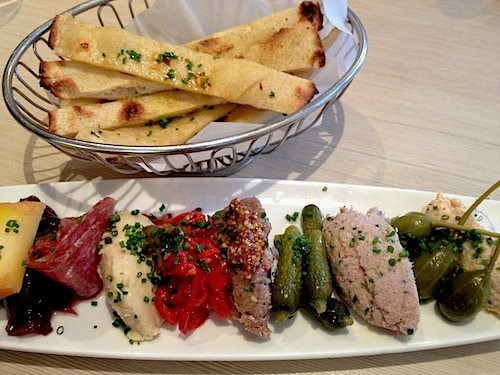 Between Brabo Tasting Room, the adjacent, elegant BRABO restaurant featuring Belgian-inspired cuisine and The Butcher's Block, offering the ultimate in take-away food and reasonably priced wines, it's easy to find an answer to that recurring question,
"Where should we go to eat?"