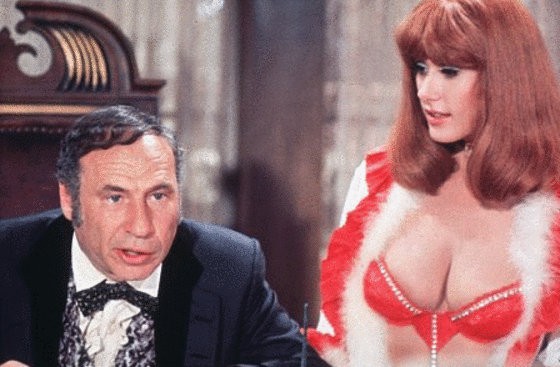 Mel Kaminsky was born on June 28. Who, you ask? Perhaps you know him better by his more popular nom de guerre: Mel Brooks.
Born in Brooklyn in 1926, Brooks began working as a comic and entertainer at an early age, and at first was just as interested in music as in comedy, even learning the drums from neighbor Buddy Rich.
The 1940s saw Brooks drafted into World War II, and following the war, he began to write and perform in earnest. Writing for Sid Ceaser, Imogene Coco and The Show of Shows on Broadway propelled him into the media spotlight, where he quickly found success on television as well with Get Smart and the 1964 animated short The Critic.
Brooks had graduated to  directing films by the early 1970s, and in 1974 he had two separate critical and box offices successes with The Producers and Young Frankenstein. These smashes were quickly followed by a string of other hits, including ultra brilliant western satire Blazing Saddles, and suspense-film parody High Anxiety. By 1980 Mel Brooks had become an entertainment icon.
To get a tremendous overview of Brooks and his fabulous career, check out excellent PBS documentary feature American Masters – Mel Brooks: Make Noise.
This year, Brooks was the recipient of the American Film Institute Life Achievement Award. Martin Scorsese and Robert DeNiro offered him glowing tributes as he picked up the ward on June 6 in Los Angeles. Martin Short kicked off the festivities with a tribute in song and dance to Brooks featuring songs were all Brooks creations.
Also appearing at the AFI on behalf, and support, of Brooks were the likes of Larry David, Billy Crystal, Conan O'Brien, Cloris Leachman and Sarah Silverman. Long-time and frequent collaborator Gene Wilder spoke, calling Brooks unlike any man he had ever known in show business.
Turning 87 years young may have slowed the inimitable actor-producer-director down a step….just kidding; it hasn't slowed him down at all! He's still on the go and up for anything. Along with Carl Reiner, he recently made an appearance on Jerry Seinfeld's new Comedians in Cars Getting Coffee show online, he's continued to work in television (particularly voice-over) throughout the 2000's, and he has an animated film scheduled for release in 2014.
"Look," Brooks once famously said, "I don't want to wax philosophical, but I will say that if you're alive you've got to flap your arms and legs, you've got to jump around a lot, for life is the very opposite of death, and therefore you must as very least think noisy and colorfully, or you're not alive."
Happy Birthday, Mel; and here's hoping those arms and legs keep flapping for another 87 years!