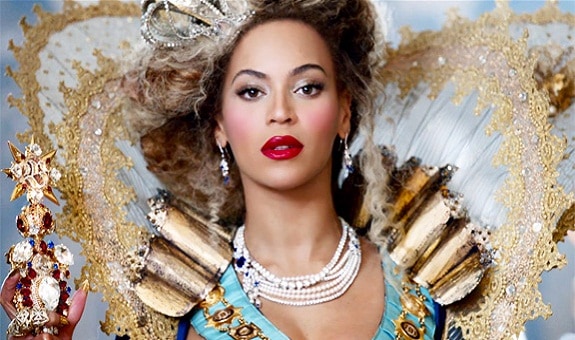 Organizers today announced that Beyoncé will be coming to San Jose this fall. The "Mrs. Carter Show World Tour" rolls into town on December 2nd at the HP Pavilion (which will soon become the "SAP Center").
Tickets start at $45 and go on sale Monday, July 1 via Live Nation.
Described as the "biggest tour of 2013" the concert features explosive special effects and an intricate, strobe-laden light show,and is the "entertainer's most ambitious undertaking to date."
It is bigger in scope than any of her previous shows, fittingly designed for the vastness of arenas and stadiums.
A self-described "modern day feminist", Beyoncé Knowles' songs are often characterized by themes of love, relationships and monogamy, as well as female sexuality and empowerment. On stage, she has attracted comparisons to entertainers Tina Turner, Prince and Michael Jackson for her dynamic, highly choreographed performances.
Throughout a career spanning 15 years, Beyoncé has won 17 Grammy Awards, and has sold over 13 million albums in the US and 118 million records worldwide (as well as a further 60 million records with Destiny's Child), making her one of the best-selling music artists of all time.
WATCH: The Mrs. Carter Show World Tour starring Beyoncé