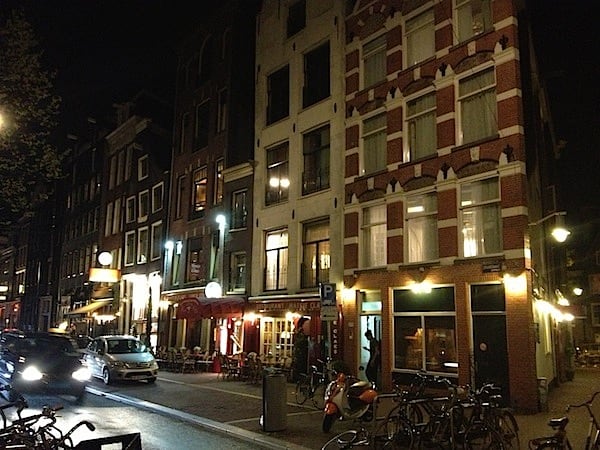 I recently received a stellar invite to join a small group on the  christening river cruise of the Avalon Expression. We'd begin in Frankfurt and end in Amsterdam and jackpot, I could bring along a plus one. I immediately thought of my BFF, Joan, a single working mother, who, although she had purchased a passport about 10 years ago,  never had the chance to use it.  I decided her  pristine passport also needed christening. A quick phone call later and the plan was set. After the cruise we would stay at the Intercontinental Amstel Amsterdam Hotel for the next four days. I always felt that Amsterdam was a microcosm of Europe's finest offerings and therefore the perfect introduction for a newbie.
Intercontinental Amstel Amsterdam fit for royalty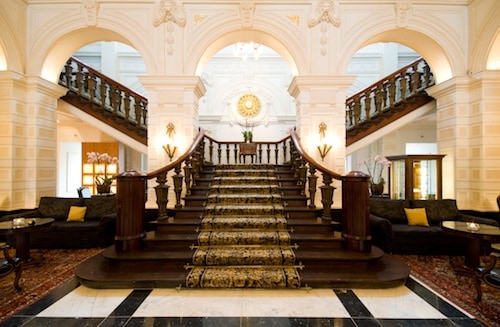 Walking through the polished brass front door of the Intercontinental Amstel Amsterdam, held open by an attractive, liveried doorman, Joan and I entered an ornate lobby with a commanding double staircase, Persian carpets, crystal chandeliers and tasteful flower arrangements (think a warmer, mini-me version of the Palace of Versailles). After looking around at the sumptuous surroundings, Joan was rendered completely speechless, until she was handed a welcome flute of champagne when, after one sip, she proclaimed me the world's best friend.  I have to admit that my slightly jaded jaw dropped also. This European Grand Hotel does it right. Its regal magnificence never feels the slightest bit stuffy or standoffish.  Actually, the staff could not have been more friendly and hospitable. Case in point: after a full day of museum hopping, we wanted to do something really fun that night. We talked to one of their many Clefs d'Or concierges who gave us the scoop on a couple secret (as in no published addresses) underground clubs in town. Joan spent over an hour with another concierge, asking him to mark about a zillion places on our map, and he never once made her feel like it was anything but his pleasure to do so.
Fascinating History or I'd come here for a surgical procedure any day!
A popular physician, Doctor Samuel Sarphati built this wildly extravagant hotel in 1867, which initially received international acclaim but then went through some lean years. Things picked up in 1870, when Doctor Johann Georg Mezger, another successful physician, opened a surgical center in the hotel, where he treated many wealthy and royal patients during the next two decades.
Sadly, much of the original interior of the Amstel Hotel was lost over the years but the entrance hall has been retained in its authentic 19th century condition complete with a chandelier from 1896.
In 1992 the Amstel reopened after a two-year makeover, once again reclaiming its place as the Grand Dame of Amsterdam, graciously welcoming today's royalty: Bono, Brad Pitt, and Russell Crowe.
Picture perfect location:
Enviably perched on the banks of the Amstel River, the hotel is situated right on the edge of all the action, in a peaceful, tree-lined neighborhood. Most major sites are within waling distance, although you should plan some extra time for getting lost, part of the fun, as you zigzag your way through the maze of canals.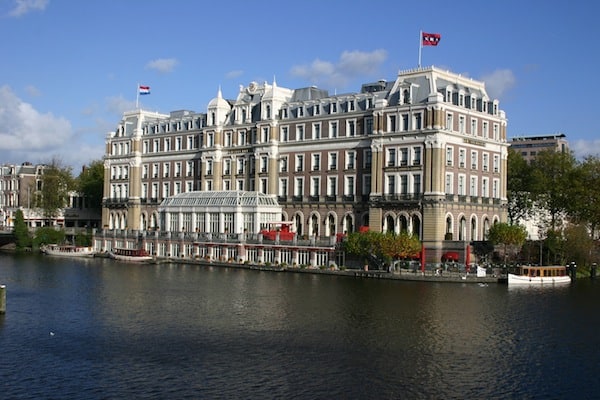 Glamorous Guestrooms:
The Amstel seamlessly blends regal elegance with homey comfort. The extra-large rooms feel cozy and the discreet modern touches (illy coffee maker, exceedingly comfortable beds, plenty of outlets, etc) play nicely with the classic period furniture. The generously sized, well-designed bathroom featured Agraria toiletries from my hometown, San Francisco.
Insider tip: Splurge on a canal-view room, particularly since this is one of the few hotels left where you can actually throw the windows open for fresh air.
Tempting roster of Eateries:
Did you know that little Amsterdam has the highest museum density in the world (over 60 at last count)?
Selections included acclaimed Michelin star restaurant, La Rive, where you can enjoy French Mediterranean cuisine complemented by one of their cellared wines and a magnificent view of the river. The bountiful champagne breakfast buffet is served here.
For a more casual meal, try the Amstel Bar & Brasserie specializing in simple, seasonal Bistro dishes. The new "A Bar", features a state of the art sound system, local DJ, and a contemporary, Noma-ish menu.
Insider tip: Don't leave breakfast without trying the rustic apple tart. Too full to appreciate it, our waiter sweetly wrapped it up for us to eat later.
More Amenities:
We were sorely tempted to spend the day relaxing in the luxurious pool and spa (complete with sauna, Jacuzzi, ice bath chaise lounges, etc.) but we never had the time.
Insider tip: Hailing a taxi can be so gauche, so why not use the hotel's private yacht for exploring?
Amsterdam: A virtual smorgasbord for your senses
Waking up after a perfect night's sleep amid the old-money environs of the hotel, our conversation went something like this:
"Yes Joan, I know your bed is comfy but we really MUST leave the hotel to go explore what is arguably one of the world's greatest small cities. Don't you want to take a canal tour? Taste some Gouda cheese?  Visit some world-class museums? Rent a bike and pedal through town? No? You don't know how to ride a bike??? Wow, after all these years I never knew that about you. Ok, we can walk. There's supposed to be some fabulous boutiques in this area named The Nine Streets. (Ha- I got her with this one.)
Our favorite Amsterdam sights:
Museum Hopping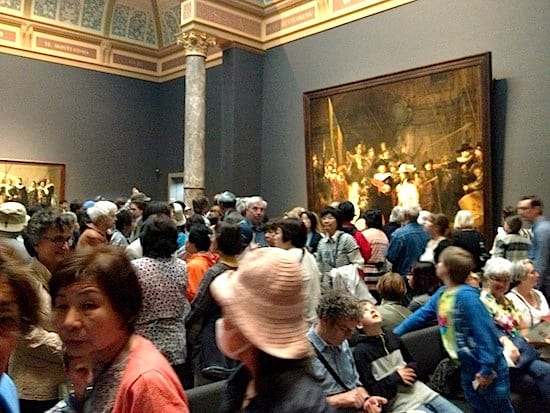 Did you know that little Amsterdam has the highest museum density (over 60 at last count) in the world? The choices range from some cultural biggies such as the Anne Frank House, Van Gogh Museum, Hermitage Amsterdam, and the Stedelijk Museum, which recently reopened with a new wing to showcase their renowned collection of modern and contemporary art. But the most exciting news in the art world is the Rijksmuseum, which reopened on April 13th after a massive 10-year renovation, costing almost $500 million. The Rijksmuseum houses the world's most comprehensive collection of works by Rembrandt, (including "The Night Watch") Vermeer, Frans Hals and other great Dutch Golden Age masters.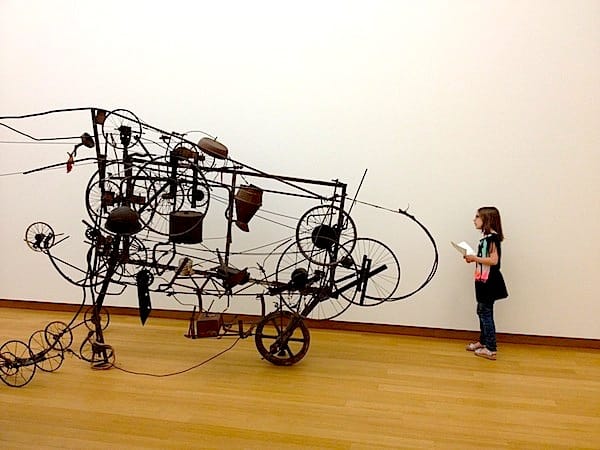 Not the highbrow type? There's also a wide array of museums for more non-intellectual pursuits, such as the new Tattoo Museum, The Sexmuseum, the Tassenmuseum which features the world's most extensive handbag collection, or you can even go to Cannabis College, although I don't believe it's accredited.
Insider tips:
-Don't miss the Rijksmuseum amazing four-story library, with 3 miles of bookshelves.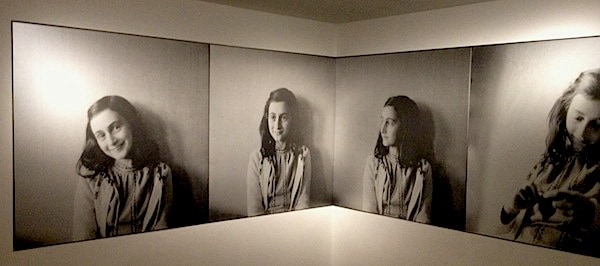 -Over a million visitors tour the inspiring Anne Frank House, so there always seems to be a line snaking around the block. But during the summer, many people don't realize that it stays open until 9:00 PM, and it's much quieter in the evenings. Stop in at the Westerkirk Church next door. In Anne's diary there are frequent mentions of the chiming of the clock, which she found most comforting. Then take a stroll along the nearby Prinsengracht, considered one of Amsterdam's most picturesque canals. You're also close to the Cheese Museum, which offers copious samples of Goudas (fresh, aged, flavored, etc.) and other cheeses of the Netherlands.
If you are a lover of classical music, you must visit the beautiful, 125-year old, Concertgebouw (guided tours are available) located across from the Rijksmuseum at Museum Square.  It is considered one of the world's best concert halls due to its amazing acoustics, programming and atmosphere.
*Free "lunch concerts" are offered at 12:30 on Wednesday afternoon, but these are extremely popular so go early.
The Negen Straatjes shopping district
Dutch for "Nine Streets" this area is chock-a-block full of trendy clothing boutiques, antique shops, art galleries and many welcoming cafés with outdoor seating…perfect for a little shopping breather.  This is the place to pick up any gifts you need to bring back.
As far as we're concerned, you can skip:
The Albert Cuyp market in the district De Pijp is said to be the largest outdoor market in Europe, but we found nothing that we couldn't buy cheaper in our local Chinatown. It does have a few good snack stalls for typical Dutch treats such as pancakes or a herring sandwich.
Dutch Dining
Typical Dutch cuisine is not well known internationally, which should be immediately rectified. Here's a fast cheat sheet for sampling some local delicacies such as Poffertjes- fluffy, petite pancakes topped with powdered sugar and butter, the Stroopwafel – two model-thin waffles bound by a sticky syrup filling, and Dutch herring- best "enjoyed" raw with onions. The locals are obsessed with Vlaamse frites, a paper cone filled with tangle of French fries slathered with mayo.
Three completely different takes on the local food can be enjoyed at the following restaurants:
De Kas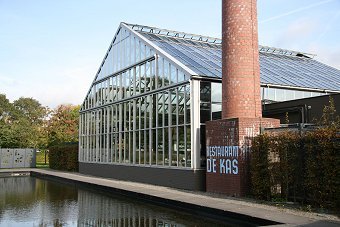 Amsterdam's version of California's Chez Panisse, De Kas Restaurant and Nursery is a MUST for any serious food lover. The dream team consists of owner and vegetable grower Gert-Jan Hageman, Executive Chef Ronald Kunis (who believes it's all about respecting the fresh, clean flavors of seasonal vegetables) and Dutch design wunderkind, Piet Boon, who created the inviting, minimalist greenhouse environment. The restaurant is on the site of a thoughtfully restored 1926 city nursery in tranquil Frankendael Park -a 15-minute tram ride from town.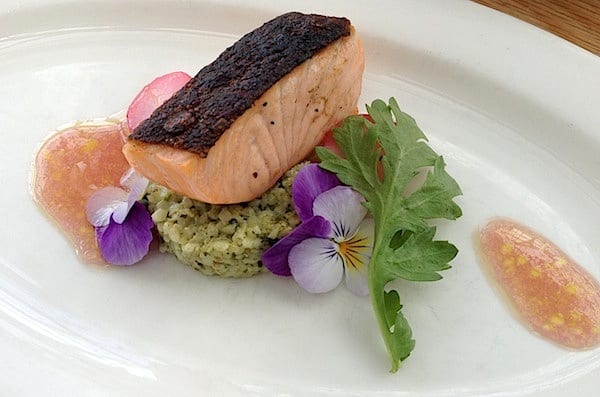 Lunch and dinner offer prix-fixe menus showcasing vegetables harvested daily from their greenhouse and fields. I ordered the regular lunch menu while Joan chose the vegetarian option. Both were impeccably presented and utterly scrumptious, however, the veggie dishes shone with such startling pure flavors that I could happily become a vegetarian if they'd deliver to San Francisco.
Greetje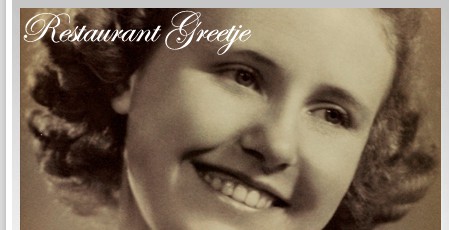 We were in utterly foul moods when we finally stumbled into Greetje, since we had been walking for over two hours trying to find this completely off-the-grid restaurant, found it in a beautiful nabe in Old Amsterdam. Within minutes of being welcomed by our adorable waiter, Reuben (who informed us that although he lives just a few blocks away, he still gets lost) who showed us to a cozy, candlelit table, we knew it was worth the hunt.
The welcoming interior was designed to look like a traditional Dutch dining room, with polished wood-plank floors, old-fashioned wallpaper, crystal chandeliers, Delft blue tiles, tasteful bouquets of flowers, and a charming photo of Greetje
(owner, Réné Loven's, beloved mother).
Unfortunately, we weren't able to meet Renee, due to a slight illness, but the whole staff seemed to adore him…always a good sign. Sweet back-story is that the whole time Réné was renovating the restaurant; he never revealed the name to his mother (she actually thought it was something else) until he brought her to the grand opening party and uncovered the sign with her name on it.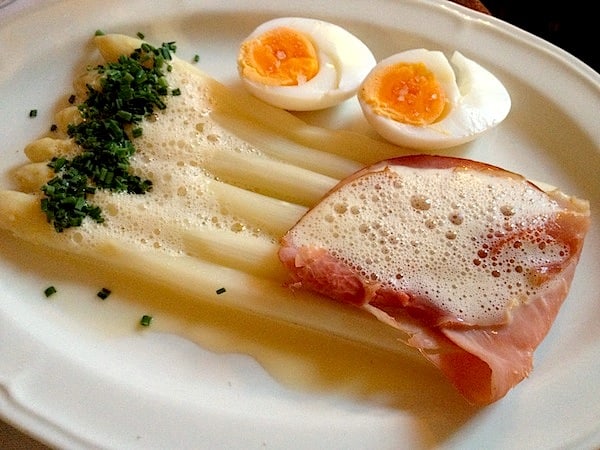 So it seems fitting that the restaurant features Dutch mama-cooking albeit with clever, modern twists. I told Reuben to bring me his favorite dishes which resulted in a truly memorable feast, starting with the decadent Frysian sugarbread (fois gras sandwiched between toasted brioche drizzled with apple syrup) a seasonal white asparagus, ham and egg dish, and a homey, braised veal with an organic veggie-light version of grits. Reuben pulled out all the stops when he presented us with a decadent, multi-tiered "Grand Finale"- petite versions of every dessert on the menu. The beetroot ice cream was incredible as was the "apple-pie-taken-apart" and the intense licorice crème Brulé.
D'Vijff Vlieghen – "Five Flies"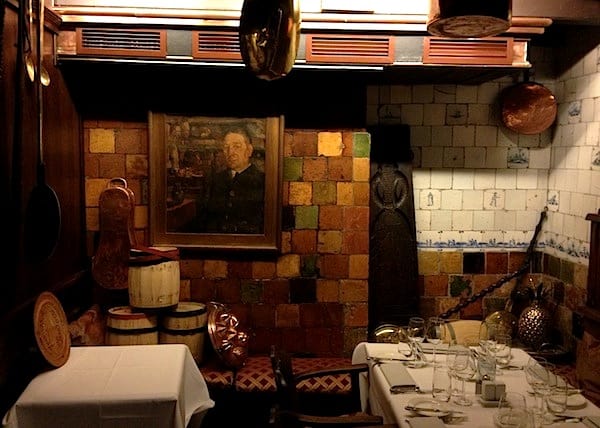 Unlike Greetje, which is frequented by in-the-know locals, the historic Restaurant d'Vijff Vlieghen has been a tourist fave for decades. Bring a GPS to find your way through the quirky rooms that weave throughout the five 17th-century canal houses that make up this dining institution. Each of the nine dining rooms has a unique ambiance. The Rembrandt Room features four original Rembrandt etchings while the Knights Room is festooned with ancient Delft Blue tiles, helmets, swords, shields, and pistols dating from the 80 year Spanish war.
Chef Sander Klaasen serves "New Dutch Cuisine", creative interpretations of traditional Dutch recipes. He uses local, seasonal, organic (when possible) Dutch ingredients when preparing suckling pig cutlets with vadouvan gravy or pan-fried scallop and octopus, with citrus marshmallows.
Insider Tip: If they are not too busy, ask for a guided tour of this culinary museum, to hear some fascinating tales.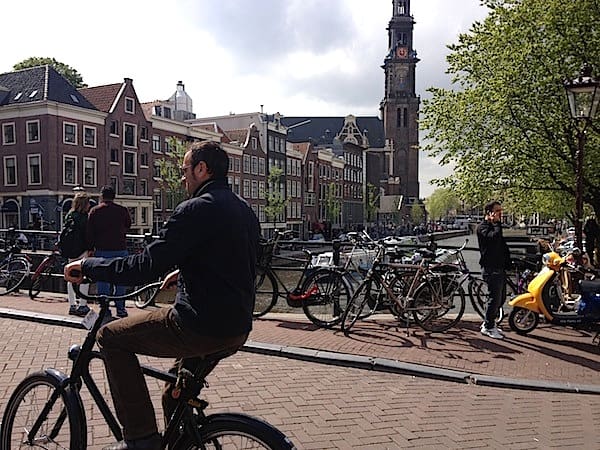 For more information visit I Amsterdam – the portal website of the City of Amsterdam for info on festivals, attractions, museums, nightlife, hotels, events.
Get an I Amsterdam City Card for discounts on public transportation and museum entrances.