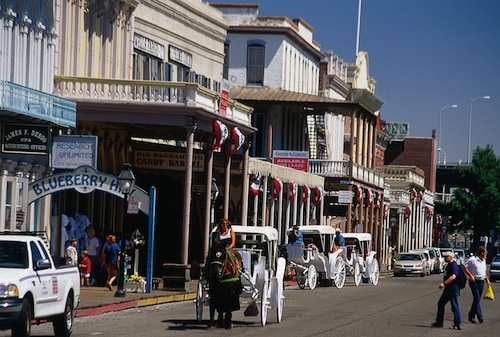 Why on earth hadn't anyone told me that the New Sacto is so fabulous? Sporting a hot, new midtown resto scene where Farm to Fork is the rule rather than the exception, oodles of cultural events, immaculate streets, burgeoning art galleries, tons of green areas, help-yourself free samples at the candy stores in Old Sacramento and it's filled with friendly, attitude-free locals to boot.
Since 1849, when early settlers came west hoping to find gold and glory, Sacramento has maintained a firm grip on preserving its history. Old Sacramento, a National Historic Landmark, is THE place to check out how life might have been back in the day. Both original and reconstructed buildings from the early Gold Rush days line the wooden sidewalks, which now house indie boutiques, trendy, open-air restaurants and penny candy stores.
Optional modes of exploration include horse drawn carriages, vintage diesel locomotives (Sacramento quickly morphed into a railroad hub in the early years) or leisurely riverboat cruises.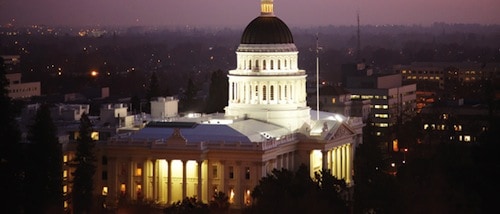 A short stroll away brings you to downtown Sacramento, anchored by the impressive State Capital, in the heart of forty acres of beautifully landscaped flower gardens and greenery, just begging to be explored.  Compared to San Francisco, I was surprised by three things: how clean the city was, how happy and contented everyone seemed and the smart, professional dress code (most guys wore spiffy suits and ties) in sharp contrast to San Francisco's week long casual Friday look.
Tip: The Capital conducts free guided tours (supposedly very interesting) but you need to make reservations in advance.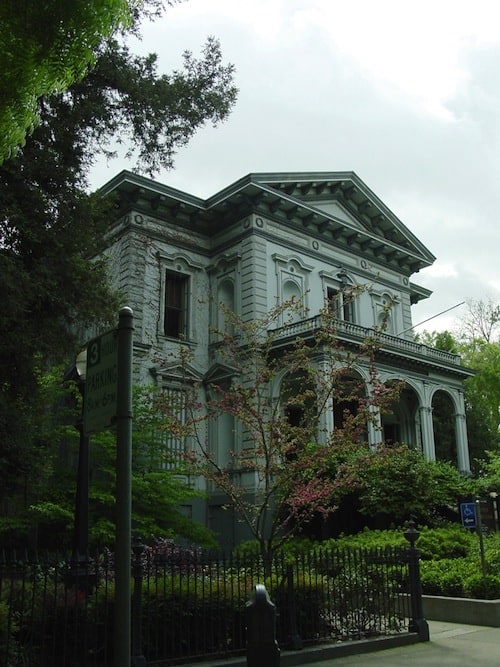 We'd been wisely advised to visit the Crocker Museum, one of America's oldest museums. In 1868 Judge Edwin Crocker bought the corner of Third and O Streets. He later added an elaborate art gallery next to the family mansion in order display the family's growing art collection, which included exceptional international ceramics, master drawings, as well as European, Asian, African, and Oceanic works of art.  In 1885, his widow, Margaret fulfilled their shared vision of creating a public art museum when she presented the E. B. Crocker Art Gallery and collection to the City of Sacramento and the California Museum Association.
In 2010 the museum reopened, flaunting a sleek new expansion, designed by Gwathmey Siegel architects, which tripled its size. We found it to be a masterful blending of the two vastly different spaces, creatively blending contemporary spaces with the well-preserved original Italianate mansion.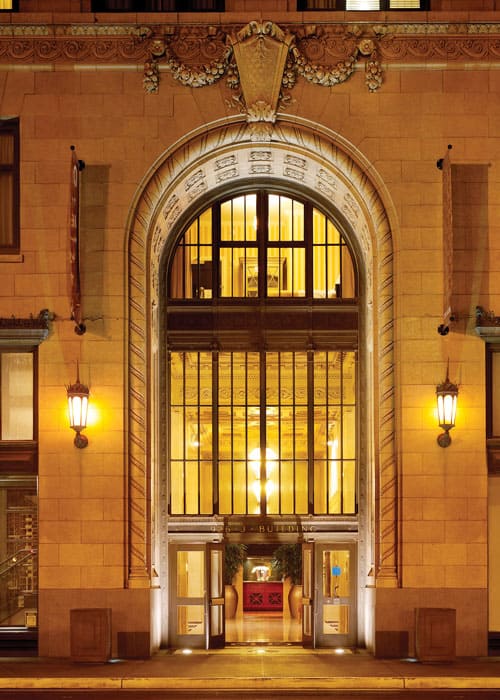 Now all we needed to complete our stay was a wonderful boutique hotel in a primo location.  Our prayers were answered when we checked into the Citizen Hotel where both hipsters and fans of old-world architecture and style will find plenty to enjoy.
Chic Choice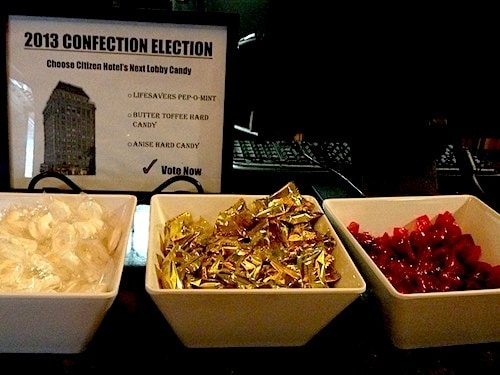 We entered the Citizen Hotel dramatic double-tiered reception area which had a pleasing library vibe. Bookcases filled with volumes of leather bound law books lined the walls. Upon seeing the clever lipstick-red seating areas, we knew we were going to love this place. Our hypothesize proved true after the welcoming front desk staff invited us to help ourselves from a trio of candy bowls and then vote for our favorite.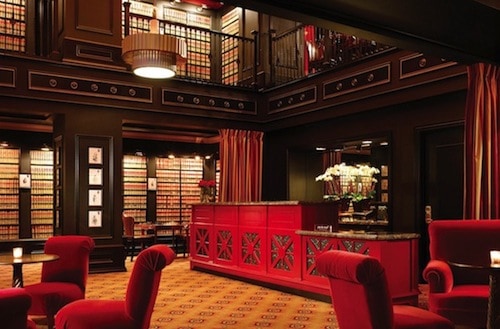 Part of the Joie de Vivre chainlet, The Citizen inhabits the building that previously housed the California State Life Insurance office, built in the 1920's. This 198-room boutique property makes a terrific central location, ideal for girlfriends looking to explore Sacramento. Each room is slightly different, especially the historic 13th floor which retains many of the original fixtures as well as a resident ghost, although we never ran into Sacramento's Casper.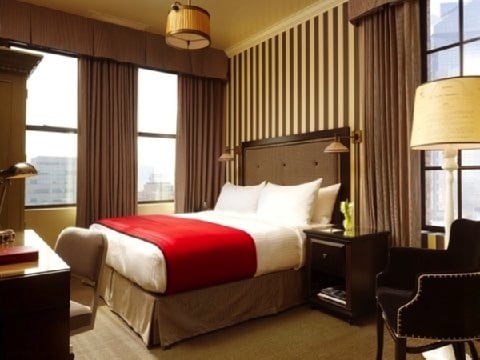 Our tailored suite was decorated with stylish slate and ecru striped walls, large windows that provided sweeping city views, herringbone headboards, smartly trimmed lighting fixtures. The framed political cartoons used to decorate the guestrooms provided a welcome touch of humor. All together the innovative design elements present a unique sense of place. Our spacious, white-tiled bathroom was most welcome since sharing a small bathroom is not what sis and I do best. Comfy beds, Italian down duvets, a choice of pillows and a quiet room are certain to guarantee a great night's sleep.
Tip: If you're on a high floor, turn on the air-con and close your windows, otherwise the whistling wind might keep you up. Also, don't bother schlepping your own hair products because the Citizen's "Lather" amenities are top-notch.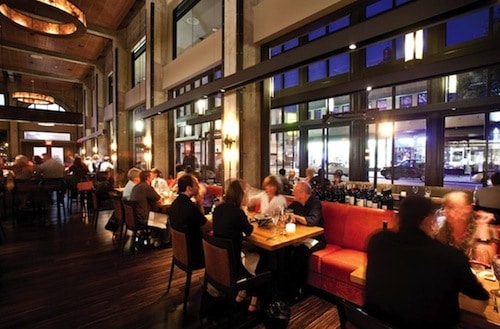 Delectable Eats
Tummies rumbling we headed to the ground floor for dinner at Grange Restaurant & Bar, which pays homage to California's Central Valley farm-fresh ingredients.
(Side note: We felt severely under-dressed when we happened upon a celebratory wedding party in the lobby. We asked a festively dressed lady standing nearby if the gorgeous young woman posing for bridal photos was a model. She proudly replied, " No, she isn't, but she sure could be. That's my baby girl!"
The two-story, loft restaurant was packed elbow-to-elbow at the swanky bar, which had an artistically backlit wall of bottles. Guests were busily quaffing creative cocktails while catching up on the latest political intrigue.
Tip: If you want to be a "Good Citizen" order the Harvest Sacramento cocktail. The fruit is all picked by volunteers with the proceeds go towards the Sacramento Food Bank and Soil Born Farms.
Bold flavors, non-gussied up presentations and market driven specials will not disappoint, but caveat emptor: it's hard to exercise control when presented with the scrumptious artisan breads sided by rosemary butter.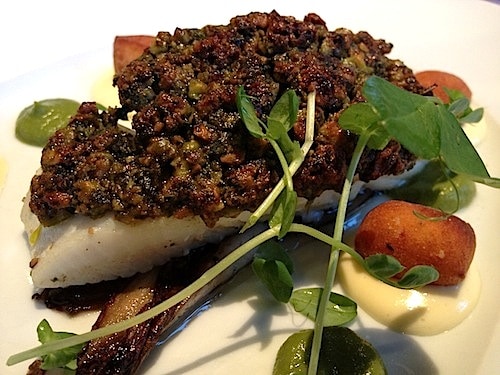 Highlights of our dinner were the Feeding Crane Spring Lettuce Salad with light buttermilk dressing and the Alaskan Halibut with asparagus and saffron gnocchi.
Tip: If you're lucky enough to be there on a Wednesday, you'll want to sign up for the popular "Follow the Chef" event, which you'll join Chef Oliver Ridgeway on a tour of the Caesar Chavez Farmer's Market followed by a three course lunch.
After a suite sleep, scrumptious meal, and fun neighborhood walks, I am thrilled to have "discovered" a new getaway spot. Sacramento, please keep the light on because I'll be making a return visit real soon.
For more information contact the helpful Sacramento Tourism  department.