Guest post by Rita Chang.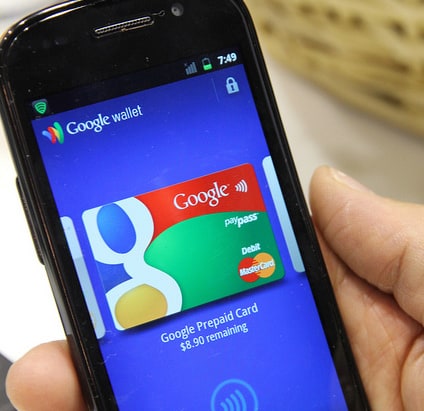 As I stepped out to run an errand last week, I grabbed my cell phone but decided to leave my bulky wallet behind. What a mistake that was. On returning home, I had a serious sugar hankering, and took a detour to a bakery only to realize I didn't have my wallet with me. Sweet tooth be damned, when will my mobile phone also be my wallet?
I first reported on mobile payment in 2009, and the subject continues to fascinate because mobile payment always seemed to lurk around the corner, coming soon to a merchant near me. After all, the technology that makes tap-and-go payment possible is already proven, having been in wide use for many years throughout Japan and South Korea where consumers simply tap their phones against a payment terminal and they're good to go. Called near field communications (NFC), this technology allows devices to securely communicate with each other by either direct contact or over a very short distance, usually within 1.5 inches. Payments initiate when NFC-enabled handsets communicate with point-of-sale terminals that can read the credit or debit card information stored on the device.
Back in 2009, NFC-enabled mobile payment trials were being piloted by MasterCard and Visa in various global markets. A year later, AT&T, T-Mobile USA and Verizon Wireless announced Isis, their joint effort to build a mobile payment network. Today, the Isis Mobile Wallet is accepted by a combined total of some 1,500 merchants in Austin and Salt Lake City, according to a tally of merchants listed on the Isis website. This pales in comparison to the 200,000 outlets where Google says its Google Wallet is accepted. Not a tiny number, but even here in the early adopter hotbed of Silicon Valley , I have never seen anyone pay goods and services with their mobile phone at point-of-sale, much less posters that say "Google Wallet accepted here." This fast, tap-and-go mobile payment that I've only heard and read about for the last four years seems to be nowhere in sight.
When it comes to mobile applications, hype tends to precede reality.
So why hasn't in-store mobile payment caught on in this country and why is rollout so slow and fragmented? If Japan can offer any lessons here – about 20 percent of its population pays for goods and services using mobile devices – it is that laying the groundwork and support for this type of payment takes a deep-pocketed, influential player with a strong will.
Nearly 10 years ago, Japan's dominant mobile operator, NTT DoCoMo, introduced mobile payment capabilities on some of its phones using Sony's FeliCa, a proprietary contactless technology. DoCoMo worked directly with the handset makers to ensure its NFC phones were made to spec, while getting large merchants like McDonald's and 7-Eleven on board to support NFC payments, funding the checkout terminals that can communicate with DoCoMo's NFC devices. So, here's the first lesson: "when the operator specs the device, they control the roadmap and decides what [the devices] can and cannot do," says Lars Cosh-Ishii , founder and managing director of Mobikyo, publisher of Wireless Watch Japan. The other lesson? "Boys need girls. I don't care if every single phone has an NFC chip: where do you get to use it? Who is going to step in and say all the buses, taxis, movie theatres, and Safeways are enabled?"
So, by taking upon itself to blanket the country's major retail outlets with NFC-enabled point-of-sale terminals, DoCoMo waited for no one to build the infrastructure that supports mobile payments. "There needs to be a benevolent dictator. It took a concentrated effort by somebody like DoCoMo who could actually push it because they recognize having NFC enabled devices is only half the game," Mr. Cosh-Ishii notes.
In this country, no single player is taking the reins to lay down the bricks the way DoCoMo did. Without full control of all the handset specs, top mobile operators like AT&T and Verizon don't exactly wield the necessary influence. Apple, a would-be key player in this country's mobile payment ecosystem, certainly doesn't take orders from them. Notably, Apple did not include NFC features in its latest iPhone iteration as rumored, suggesting it has yet to see convincing signs that consumers are ready to ditch their plastic in favor of paying with their handsets. Forget Apple for a moment: the drive towards mobile payment is remarkably uncoordinated, Isis notwithstanding. "Isis, I think, has always been doomed to fail; operators in North America are notorious are for not being able to work together," says Matthew Talbot, Senior Vice President of mCommerce at SAP. "They obviously had to put something together to make it look like something was happening, but they're all doing their other individual projects. You've got Google wallet, Isis, and banks doing their own thing yet there needs to be an owner. No one owns the ecosystem, and NFC is really about the ecosystem."
Of course, you would expect the key players to wrangle over who owns the customer. It was reported recently that MasterCard is set to impose higher transaction fees on so-called "staged" digital wallet providers like Google and Paypal for transactions funded by MasterCard unless these vendors share the details of the individual transactions. "Things only work when everyone agrees," says Peggy Anne Salz, publisher of mobilegroove.com. "Mobile operators have to agree; banks have to agree because the money has to come from somewhere … It's about dividing the pie, and the western world is not good at that. It's a zero sum game." The competing interests are also a result of the divergent business models at play. As the first major carrier to roll out mobile wallets on a large commercial scale, DoCoMo took a lot of trouble – and risk. It's all part of a drive to offer sticky and differentiated services so that their customers love their phones and stick with DoCoMo for life. DoCoMo, like every other mobile operator, is trying to reduce customer churn since it's expensive to lose subscribers and acquire new ones – one study has a 5 percent increase in customer retention translating to at least a 25% increase in profitability. Yet for disruptive players like Google, mobile payments is more of a means to glean more information about users so it can create more relevant offers and tap into capabilities like location-based services to sell more effective ads and promotions.
How mobile payment is working in Australia
Ms. Salz suggests that lessons can be learned from Asian markets where collaboration among commercial interests and governments are paving the way for successful mobile payment adoption. The governments of Hong Kong and Singapore, for instance, are leading the way to establish and launch NFC-based payments, bringing together mobile operators, banks, payment processors, merchants, and handset makers to create a single, shared infrastructure.
So, where does all this leave those of us in a market without a benevolent dictator? A slow road to NFC payment adoption, which Gartner analyst Avivah Litan forecasts to hit 10 percent of the world's total mobile payment volume in 2015; in contrast, mobile money, typically SMS-based and widely used in developing countries, should make up about 50 percent. Still, the optimist in me see some signs that point to imminent tap-and-go payment adoption on a significant scale – someday. Even though Apple hasn't entered the NFC fray, the company has been granted mobile payment-related patents this year, and other device makers are increasingly embedding NFC chips into their devices. ABI Research expects 285 million NFC-enabled devices to ship this year, hitting two billion units by 2017. With NFC capabilities already available on many Windows and Android handsets, the technology may find initial traction in innocuous applications such as people friending each other by bumping their phones together. Likewise, consumers can download instant coupons or product information from NFC-tagged posters or kiosks. Today, nearly all new retail payment terminals can interact with NFC-enabled mobile devices; however, these terminals are only replaced every seven to ten years, according to data cited in a Deloitte report. Mr. Talbot notes that many NFC-based payment trials are moving to commercial rollout. "Within 24 months, especially in large east and west coast U.S. cities, you'll see full-fledged use of NFC," he predicts.
When it comes to mobile applications, hype tends to precede reality. We've all heard about Starbucks coupons landing on our phones when we come within yards of their stores. We've heard for years now that our smart mobile handsets are going to be the Swiss army knife of this century. Mobile payment would seem to be that last, unfulfilled mile of this vision. Until our wallets go the way of maps and wrist watches, mobile devices can't quite lay the claim to being the all-functional Swiss army knife. But I am eagerly holding my breath.