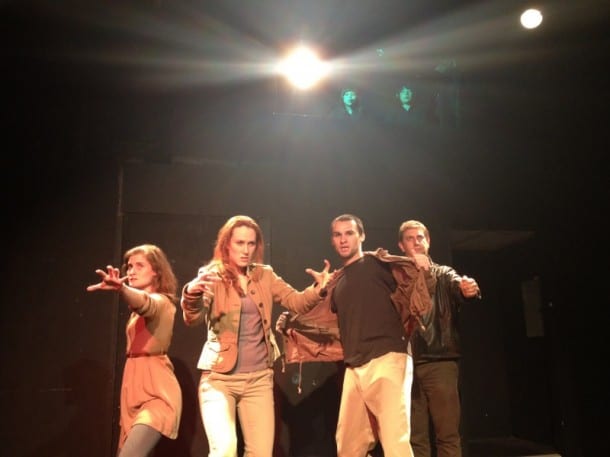 On the eve of his five year wedding anniversary, Charles makes a final attempt to save his marriage—by taking up arms and destroying it.
With America winding down two of the longest wars in its history and considering further military actions, Mojo Theatre announced that it will stage the U.S. premiere of Last Love, a play about love's struggle for survival in a world perpetually at war.
The play follows two couples as they clash inside a mountainside house while an international terror crisis looms outside. The lines between love and war are frantically crisscrossed—chairs are thrown through walls, stuffed carnival bears are burned, and sex becomes a competitive sport.
Last Love is part of a trilogy that Bedlam Theatre in Minneapolis dubbed the "Love-Gone-Wrong-at-the-End-of-the-World-Trilogy".
Directed by playwright, Peter Papadopoulos, it features a mix of multimedia effects created by Micah Stieglitz and original music by Sascha Jacobsen. Co-Artistic Director, Kimberly Lester, is joined on the stage by Jonathan Bender, Sophia LaPaglia, Gloria McDonald, Michael Saenz, and Michael Wu.
ALSO: Totally Mod: 'Being Earnest' at TheatreWorks
Mojo Theatre, new to the Stark Insider theater radar, creates productions that push the boundaries and perceptions of live performances through "a dynamic style that fuses art forms such as film, live music, traditional theatre."
"We use modern technology to fire up our old-school theatre storytelling and create what is hopefully an entertaining and meaningful show that appeals to a larger audience of people than would normally attend the theatre," said Papadopoulos, Co-Artistic Director.
The Mojo Theatre is located on the second floor of the historic Redstone Building in the Mission District.
Last Love

By Peter Papadopoulos

Mojo Theatre, San Francisco

May 2 – May 19

mojotheatre.com

Dont' miss: San Francisco's most comprehensive Theater Guide