A tulip is a tulip is a tulip except at La Conner, Washington…
… which you can see for yourself if you plan a getaway for the annual Skagit Valley Tulip Festival, held during the month of April. After viewing over a hundred varieties you'll never think of tulips in quite the same way (I always just thought of them as those generic red -kind of boring- Dutch girl ones, with not many variables).
The Skagit Valley Tulip Festival is an easy-peasy drive from Seattle–barely over an hour if no traffic–with a multitude of Tulip Route signs directing you in about the last ten miles. The charming waterfront town of La Conner, which dates back to the 1860s and is on the National Register of Historic Places, offers the perfect base camp to view the hundreds of acres of rainbow colored tulips as well as the cheerful, sunshine-colored daffodil fields.
Sleep over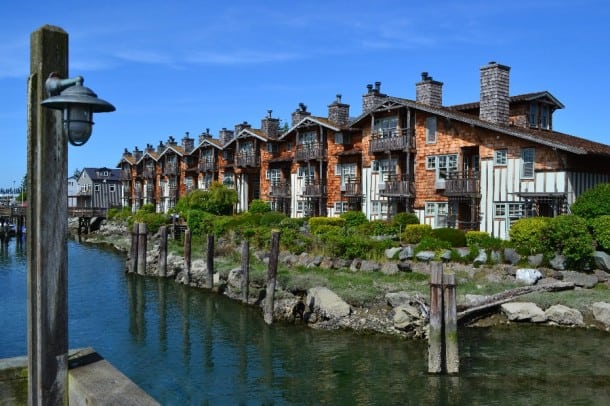 La Conner Channel Lodge, perched right over the Swinomish Waterway is the best pick for a delightful romantic getaway.
I was a fan the second I delved into the jar of homemade cookies, and when I couldn't decide which flavor to go for, the girl at the front desk sweetly told me to try them all. The cozy inn had welcoming fireplace in the lobby with a piano (the piano player entertains during the hosted weekend wine and cheese reception) and a well-stocked library.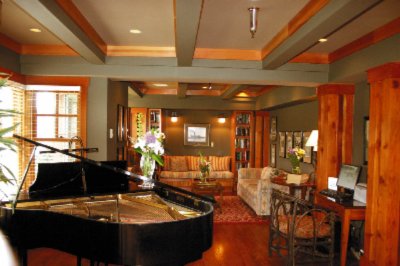 Our Jacuzzi Suite was quite roomy, with a private waterfront balcony, seating area in front of the fireplace, plush robes, coffeemaker, free wi-fi, and exceedingly comfy beds.
Luckily we were on the second floor, right by the breakfast room, so I could dart right out in my robe, load up at the complimentary Continental buffet (sliced cheese and meat, bagels and toast, hard-boiled eggs, mini-Danish, assorted fresh fruit, yogurt and yummy almond granola) and bring it all back to the room for brekkie-in-bed.
Check it out
Of course, the main draw in April is the flower show, and various floral related activities. The two major gardens are Tulip Town and RoozenGaarde, which offer over 100 tulip varieties in their display gardens as well as retail stores and dining facilities. And what Tulip Festival is complete without offering a Tulip Frolic, a Tulip Pedal and a Tulip run.
Non-floral fun can be found all over town, which is worth a good couple hours of exploration. Grab a self-guided sculpture walk tour map of La Conner (keep an eye out for Shirley Erickson's glass and steel "Industrial Tulip") or you can just meander up and down the streets for an eclectic shopping experience ranging from antiques stores, used books, indie-designer clothing to an olive tasting bar. For a touch of culture, visit one of the many art galleries (we thought the Art in the Pickle Barn had a fab selection of artworks at very reasonable prices) or visit the La Conner Quilt & Textile Museum, which is housed in the Tudor- style Victorian Gaches Mansion. Unfortunately, the Museum of Northwest Art was closed by the time we got there, but it has a great reputation and is well worth a visit.
Chow Down
The "seediest joint in the valley" title is claimed by Seeds (natch!) Bistro and Bar. For a healthy farm to table meal featuring Skagit Valley's finest produce, this would be your spot. Be sure and ask them to bring a side (or three) of their scrumptious old-world, seeded bread which is totally addictive.
A simple but really yummy dinner can be found right across the street from the Lodge at La Conner Channel Grill, where hubbie and wife team own and run the place. Warm bread sticks, mixed green salad with a few dried cranberries, impeccably fresh pan-fried oysters, sautéed green beans, a baked potato with all the fixings can be had for under $20!
Insider Tips

* Start at the  downtown information booth that offers scads of pamphlets, maps, and the friendly woman at the counter happily charted-out a course for our best tulip viewing options.

* The display gardens are packed with visitors on the week-end, so try and plan your flower visit for a weekday morning.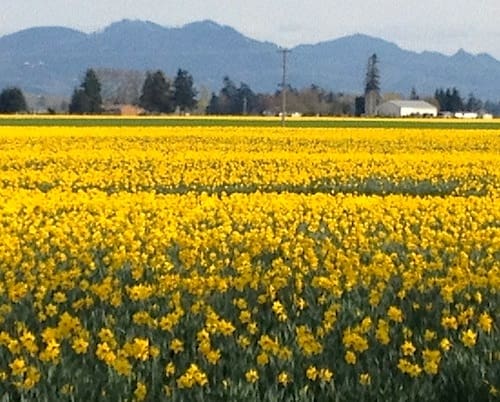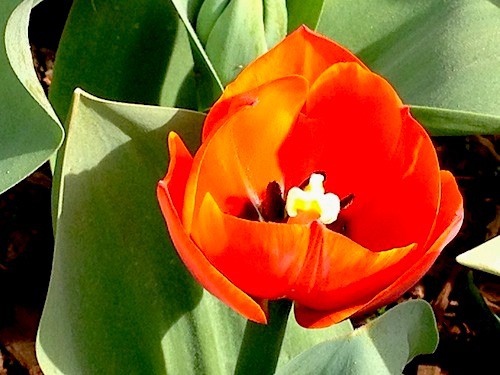 For more info about this Stark Insider approved getaway: Skagit Valley Tulip Festival.