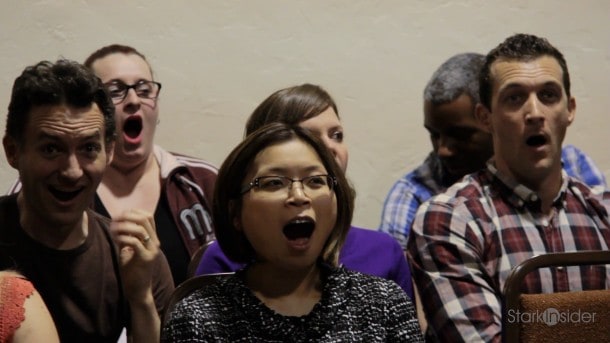 What happens when Beach Blanket Babylon, that crazy, over-the-top entertaining show and San Francisco institution (it's the world's longest running musical revue), meets up with the San Francisco Gay Men's Chorus?
For one thing, don't come looking for introverts.
Also, it would be fair to say there will be singing, dancing, and, I suspect (as evidenced by this outtake), plenty of hiney shaking.
We will witness the extravagant mash-up in person when BBB and SFGMC joint forces for a concert experience that… that… well… that I'm sure you'll have to see to believe. It's called Snow White & Her Merry Men and I was invited to go behind the scenes yesterday during rehearsals to get a peek at what we can expect when the show hits Davies Symphony Hall later this month.
This is the raw, unprocessed Stark Insider TV outtakes. As you can see, artistic director Tim Seelig does all he can to reel me in, and get my somewhat random dancing under control. Stay tuned for the full segment, interviews, coming soon.
WATCH: Beach Blanket Babylon and San Francisco Gay Men's Chorus Rehearsals (outtakes)