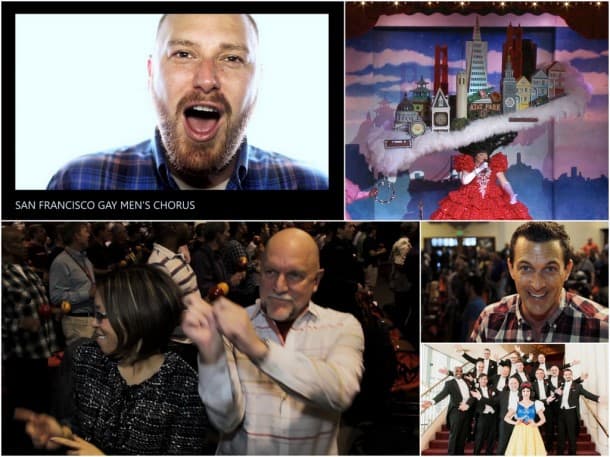 "It is a gay man's dream. To change clothes three times in front of five thousand people."
Brace yourself folks. We're about to see fireworks.
Two San Francisco institutions will join forces next week in what should be a show for the ages. Steve Silver's Beach Blanket Babylon is turning 39 years old – the nation's longest running musical revue. San Francisco Gay Men's Chorus is celebrating 35 years. Although both organizations are beloved, having entertained millions of people over the years, the two have never appeared together on stage.
That's all about to change.
Snow White and Her Merry Men rolls into Davies Symphony Hall for only two performances (March 25 and 26), with both the SFGMC and cast of Beach Blanket Babylon joining forces to help Snow White find her "Prince Charming." Something tells me this could only happen in San Francisco.
"I've only been in San Francisco for two years," Doctor Tim Seelig, artistic director of SFGMC, told me in this exclusive SI interview.  "When I got here one of my first things to do was to try to see how we could perform together."
I was invited to check out the rehearsals. Somewhere in an unknown location deep within the City is the scene you see here in this special behind-the-scenes Stark Insider TV segment.
WATCH: Behind the Scenes at Beach Blanket Babylon and SF Gay Men's Chorus
I'm told you can expect appearances from some of BBB's most beloved characters including King Louis, Glinda the Good, Pineapple Princess, Banana Carmen, Elvis Presley, Tina Turner, James Brown and Barbra Streisand.
"Once again Snow White is going to have the same problem she had with the 38 years of looking in San Francisco," Beach Blanket Babylon performer Stephen Brennan told me. "Because I think she's looking in the wrong pool of men."
Well then. We'll just have to tune in to Davies Symphony Hall next week to find out what happens in this once-in-a-lifetime mash-up of iconic SF institutions.
As we like to say from time to time on Stark Insider: Let the show begin…