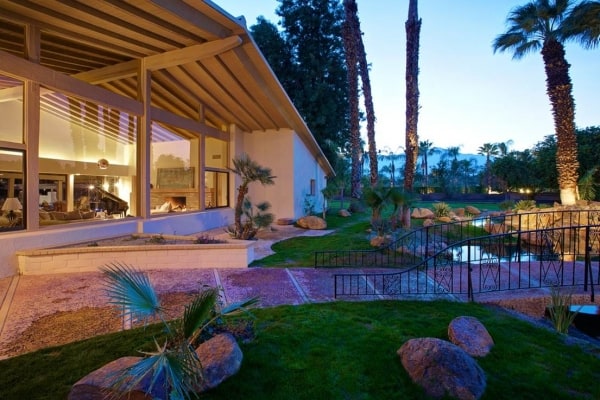 There is nothing quite like a getaway with a couple of your best girlfriends, unless those girlfriends just happen to be your mom and sister. I had just returned from Asia, when I got a call from my NYC sister who said they were expecting huge snow and she and my mom (who was Waterlogged in Seattle) really needed a sun break and could I please put something together. It's not like they were asking so much–ONLY  someplace easy to fly into from both coasts, a sunny pool to lounge around (in FEB!) and, on top of that, as close as we all are, we really prefer our own beds…make that bedrooms AND private baths. Swell! After searching sun spots round the country I saw that Palm Springs had 80 degree weather last week (and who doesn't love P.S. – where relaxing  by the pool has elevated into an art form). After spending countless hours searching the web – to no avail since three rooms in a hotel was not remotely in our price price range – I found the answer to their dreams: Vacation Palm Springs, a business that began managing quality rental homes and condos about 12 years ago and now lists more than 300 luxury Palm Springs luxury properties for rent. Choices run the gamut from a charming 1 Bedroom condo with a community pool to the former 3,200 square foot home of Tony Curtis & Janet Leigh located in Movie Colony, a historic Palm Springs neighborhood named for the stars and directors who owned property there.
If you're there on a Thursday night the VillageFest Street Fair is a must!
It was great  fun just scrolling through the home listings, particularly the celeb's–some of which are surprisingly cost effective. For example, next time I'd love stay at the 9200 sq. ft. Harpo Marx Estate in Rancho Mirage, which sleeps 16 and runs about $1,350 a night. Do the math and that means it's under $85 p.p.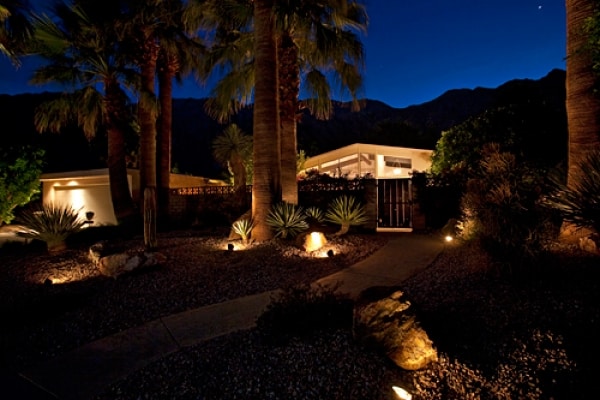 After a fast e-mail exchange, I realized that for our girlfriend getaway, an upscale vacation rental home was the perfect way to go. Vacation Palm Springs (they are super organized and a pleasure to work with) sent me a tantalizing list of available properties from which I selected the Private Las Palmas Hideaway for the following reasons:
1) Its location in the exclusive Vista Las Palmas neighborhood meant close proximity to downtown Palm Springs for effortless eating, shopping and street strolling.
2) From the pics, I could see that the mid-century home had been tastefully updated while still keeping that unique Palm Springs modernist style. The private pool, sun and shade deck, outdoor dining area and Jacuzzi (all beautifully landscaped with Palm trees, cacti and flowers) offered breathtaking views of the San Jacinto Mountains.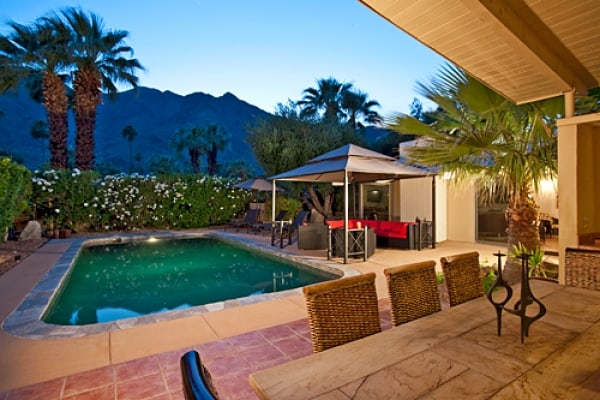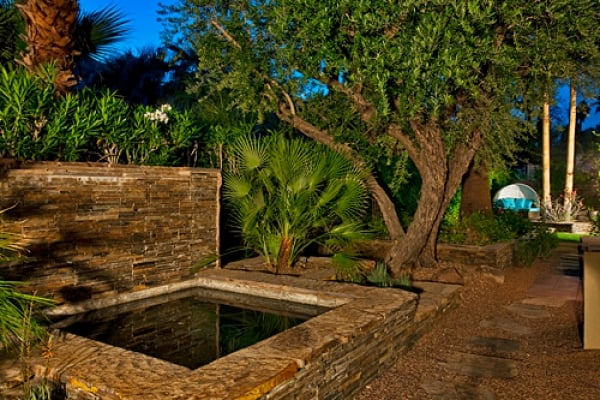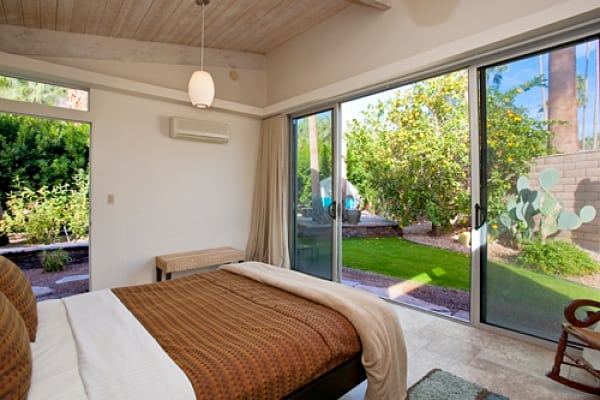 3) The fully-outfitted, gourmet kitchen, oversized living room, upscale furnishings, three full bedrooms (loaded with TVs and closet space) would offer ample personal space. (The property's charming bungalow, just steps away, deserves kudos as the perfect space for additional guests, or when you really need some privacy. I moved into it the second night and I can't remember when I had such a peaceful night's sleep.) Whether we decided to fire up the barbie and throw an impromptu party (not really us but you certainly could) or just veg-out and do nothing more than loll around the pool admiring the view, this place offered the perfect venue.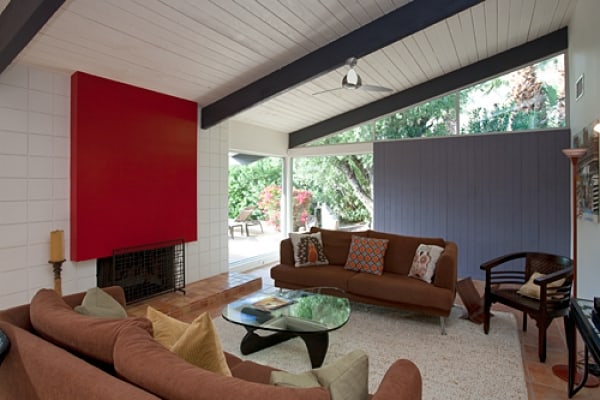 Within minutes of arriving at our new "home", we felt so comfy that we easily could have cocooned the whole trip… but not being ones to miss a good meal (which our combined limited cooking skills precluded) we decided to check out the local food scene.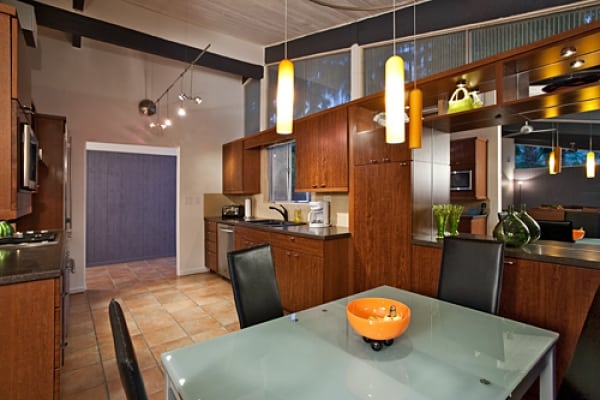 Fave Food
If you're there on a Thursday night the VillageFest Street Fair is a must! About 10 blocks are lined with tempting food vendors selling gorgeous looking rotisserie chicken, BBQ steak, overstuffed burritos, dried fruits and candy, etc. It was almost impossible to snag one of the few dining tables but we were happy to grab a chicken, coleslaw, a pile of herby, roasted potatoes, some desert dates, and head home to enjoy our spoils by the pool.
Best Brekkie
This one is a no-duh. Everyone heads to Cheeky's for breakfast, which thankfully, they serve until 2 Pm.  Cheeky's features seasonal, locally grown, organic (as much s possible) food, and super friendly service. Diners can go the healthy route with an egg-white shrimp and veggie frittata or pig-out (they really love everything piggy here) with their scrumpy, homemade maple pork sausage or go for
THE BACON FLIGHT $4 for 4 slices from their bacon roster which includes flavors such as Apple Cinnamon, Jalepeno, and Rosemary-Sugar, which pair perfectly with their cheddar scones, fluffy egg scrambles (the menu informs you that "scrambled eggs come custard style, if you like them more cooked, just let us know!") and a Spicy Bloody Mary.
Best Dinner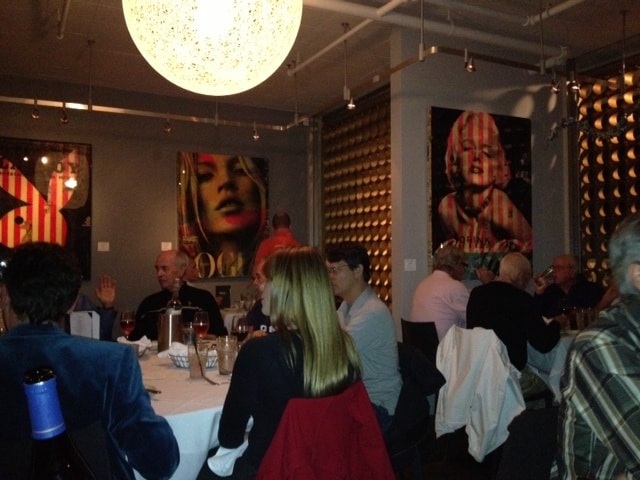 As soon as you walk into the door at Trio restaurant you feel like you're at the place where "it's all going on." Chef and co-owner Mark Van Laanen, a Wisconsin transplant owned a few restos there back in the day- one of them called Trio.When he relocated to Palm Springs' warmer climes, he decided to open a good food, happy hangout with his genial, front -of the-house, partner Tony Marchese. The moniker for the new place came easy – he figured Trio would be easy to remember!
Our girlfriend trio, delicately tucked into the tasty, wallet-friendly food like it was our last supper before a cleanse! The delicately seasoned Seafood Stew and St. Lewis Style Spare Ribs sided by a mountain of crispy sweet-tater fries were yummy, but it was the Trio Mac and 5 Cheese (count 'em: fontina, cheddar, blue, romano & goat) that initiated the heavy-duty fork play. Local legend, Ruby Montana, bakes their pies (we scarfed down every last flake of her zingy Lemon meringue tartlet) with all the proceeds going towards helping homeless dogs. Trio has a fun party vibe, super service and happy-go-lucky splashes of bright orange dot the interior- even down to the waiter's cheerful Tees. Easy to see why this spot is "Where Palm Springs Eats".
Most fun drinks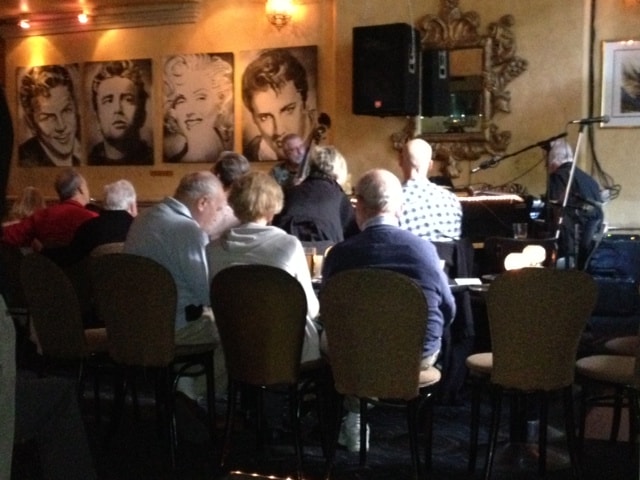 For a real slice of quintessential old-school Palm Springs, Melvyn's Restaurant & Lounge, nuzzling in next to the Ingleside Inn, is as happening' now as it was when it opened almost 40 years ago when its celeb fire power included Frank Sinatra, Dinah Shore, Gerald Ford,  and Bob Hope, and many more. Melvyn's could double as a set for Mad Men, partic during one of their Sunday afternoon jam sessions where from 3:30pm to 7:30pm Melvyn's serves up Palm Springs' top guest musicians and singers, as well as their famous martinis. It was a hoot watching the not-so-harmless shenanigans between the paper-thin, multi-face-lifted cougars and silver foxes on and off the dance floor.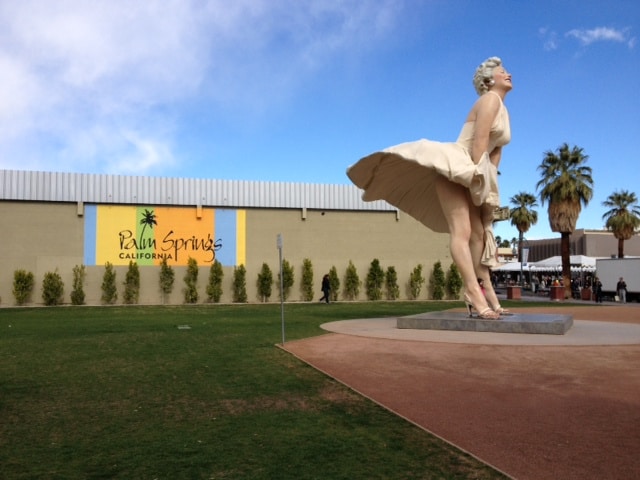 If you're planning a Palm Springs girl or guy friend getaway, family reunion, or romantic interlude,  do yourself a favor and check out Vacation Palm Springs.