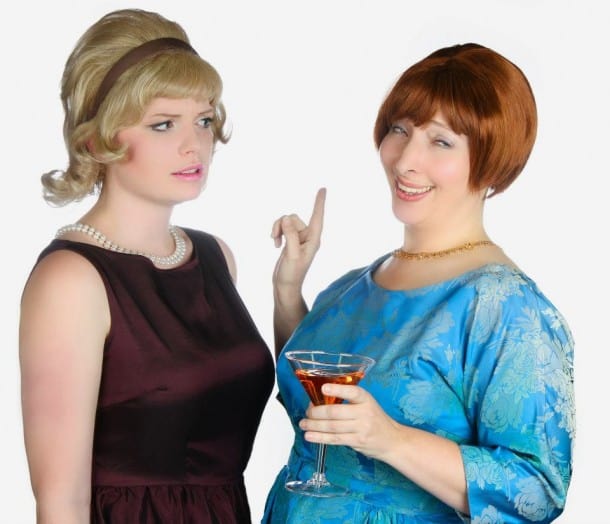 Promises, Promises, the new show at the South Bay Musical Theatre in Saratoga, features an impressive pedigree. With words and music by '60s pop icons Hal David and Burt Bacharach, and a book by the prolific Neil Simon – adapted from an Oscar-winning movie by Billy Wilder, no less – how can this musical comedy go wrong? Well, the fact is it went quite right when it debuted in 1968 on Broadway where it became a long-running commercial hit. And this fine community theatre production does not diminish that impressive legacy.
The story is ostensibly a light send-up, but the playwright does retain some of the trademark Wilder bittersweet wistfulness throughout, particularly in the second act. Depicting a pre-feminist era when sexual harassment was almost considered acceptable masculine behavior, the story is certainly an eye-opener in terms of the way women were treated 45 years ago.
Our protagonist, Chuck Baxter (Michael Rhone), is a young, fledgling accountant with a very large insurance company, climbing the corporate ladder by lending out his Manhattan apartment as "tryst central" for a coterie of adulterous, middle-aged executives.
As is de rigueur for the male dominated business office culture of the period, Chuck is on the make, and he has his eye on a waitress in the company cafeteria, Fran Kubelik (Cindy Powell). Unlike the others, however, he's single and his intentions are strictly honorable.
Unfortunately, Fran is also in the crosshairs of his married, philandering boss, J.D. Sheldrake (a convincingly caddish Damian Marhefka). Of course, complications ensue as we root for Chuck and Fran to get together.
Michael Rhone is the real deal. A winning, ubiquitous presence on the Bay Area stage, he can read a line with uncanny nuance and comic timing; is equally proficient at both song and dance; and can conjure up priceless facial expressions without appearing cloy or affected. He was born to play this role, and he does so with just the right balance of irony and pathos. Bravo!
He's given ample support by the large cast, including Ms. Powell in a splendid duet of the perennial favorite "I'll never fall in love again"; Breigh Zack Finnerty as the inebriated and flirtatious bar patron Marge MacDougal; and Bob Visini as the kibitzing next-door neighbor, Dr. Dreyfuss.
And the choreography by Lee Ann Payne, when not utilizing the entire talented ensemble to spectacular effect, is most affecting in the smaller numbers, including a finely tuned scene between Rhone and Marhefka ("It's our little secret").
While the denouement is perhaps not totally convincing, the play under Walter M. Mayes' solid direction is, for the most part, quite entertaining. And the deft musical direction by Dan Singletary, who conducts an impressively large orchestra for a venue the size of the Civic Theatre (with a requisite strong horn section doing justice to the brilliant Bacharach compositions), seals the deal.