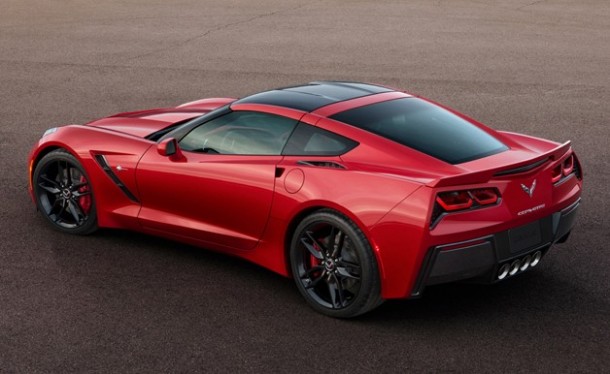 General Motors took the wraps off its much anticipated C7 on Sunday in advance of the Detroit Auto Show. The 7th generation Corvette, which sees the (welcome) return of the famed "Stingray" moniker, goes on sale sometime in Q2 and aims to restore the iconic sports car's status as one of America's croning automotive achievement.
GM needs a hit, even if the goal is less about sales and more about a "halo" effect that can turn consumers' attention to the waning stable of brands (in the U.S: Buick, Cadillac, Chevrolet, GMC). The automaker went bankrupt in 2009, and was part of the controversial government bailout. At 17.9%, GM's market share today is at an 88 year low.
Styling on the 2014 Vette has been aggressively modernized. Contemporary angles adorn the lean frame, with stealth plane inspired creases running along the sides, and across the hood. A muscular rear with four large central tailpipes, echoes design cues seen on the sibling Camaro. A low roofline and large tires give the car an overall aesthetic that might not be completely out of place in a Batman film (but make it black).
According to representatives in Detroit, the new 6.2-liter V-8 engine provides 450 horsepower, the most powerful ever for the sports car and the quickest. We're told acceleration from zero to 60 miles per hour comes in at under four seconds – a figure that would be the nextgen Corvette in the league with other world-class performers such as those from Porsche, Ferrari, McLaren, and Lamborghini. As is traditionally the case, however, priced from approximately $50,000 to $100,000 it will undercut the competition. The performance value ration is undeniable.
"Adopting the Stingray name is going to be a winner," said Angela Forgeron, the Canadian editor of MSN Autos. "It's a halo car. It will make a huge impact in the streets."
Yes, this is still a present classic that those who grow up with the original in the 1960s will appreciate and love. But it's also a look that GM management hopes will speak to a younger generation.
But can the C7 save GM?
Sales are not the direct goal with any Corvette – sales last year came in at just over 14,000. But the car draws major attention and headlines. This in turn helps draw consumers — the serious and tire-kickers alike — into the showroom. They may not leave with the keys to a red hot new V8 Stingray, but the visit could translate into an entry sell with, say, the Camaro. Perhaps that same buyer will upgrade when they're financial circumstances afford them the opportunity. At the very least, it gets people talking about GM, about Chevrolet.