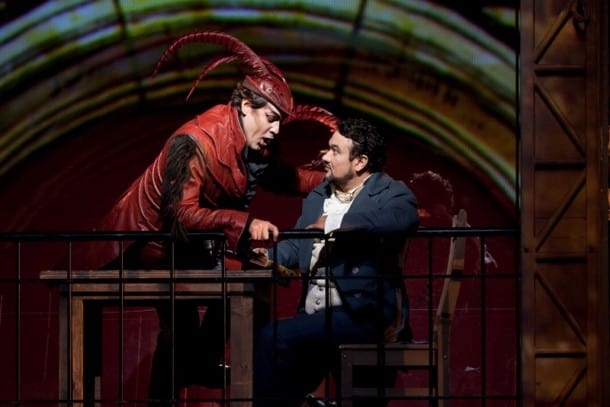 The San Francisco Opera has just announced their 2013-14 season. Here's the details from the release.
San Francisco Opera General Director David Gockley today announced the repertory, guest artists, conductors and creative teams for the Company's 2013–14 Season.
A highlight of the Company's 91st season will be the world premiere of Dolores Claiborne, a new opera commissioned by San Francisco Opera based on the 1992 novel by award-winning author Stephen King and marking the Company debuts of American composer Tobias Picker and librettist J. D. McClatchy.
Joining David Gockley at the press conference were Dolores Claiborne cast members Dolora Zajick and Elizabeth Futral, in addition to Tobias Picker, J. D. McClatchy and stage director James Robinson.
Dolores Claiborne is David Gockley's sixth commissioned work for San Francisco Opera since his appointment as company general director in 2006. Previous operas commissioned by Gockley include Appomattox (2007), The Bonesetter's Daughter (2008), Heart of a Soldier (2011), and upcoming presentations of The Secret Garden (March 2013) and The Gospel of Mary Magdalene (June 2013).
San Francisco Opera General Director David Gockley commented, "We have a good mix of repertory for next year, and I'm especially pleased that we will have the opportunity to offer debuts of a number of very important singers and designers. In addition to celebrating the bicentennials of Verdi and Wagner, we will also have the chance to present the world premiere of Tobias Picker and J. D. McClatchy's adaptation of Stephen King's thrilling story, Dolores Claiborne. If ever there was a Stephen King novel that had all the makings for the lyric stage, this is certainly the one."
In a related announcement, San Francisco Opera confirmed plans to commission Italian composer Marco Tutino for a new work, La Ciociara (Two Women), based on 20th century Italian author Alberto Moravia's novel of the same name, with a libretto by the composer and Fabio Ceresa, adapted from a script by Luigi Rossi, by arrangement with Studio Legale Cau Morandi Minutillo Turtur. Moravia's critically acclaimed 1958 work was quickly adapted in 1960 by noted Italian film producer Carlo Ponti into a film which starred Sophia Loren. Sung in Italian, Tutino's La Ciociara, will be conducted by Nicola Luisotti at the War Memorial Opera House in June 2015. San Francisco Opera has commissioned seven operas under David Gockley's leadership and this work will mark the 40th commission of his career.
Other season highlights include the Company's official celebration of the bicentennial birthdays of Giuseppe Verdi and Richard Wagner with four works; six productions new to Bay Area audiences; and the Company debut of Jerome Kern and Oscar Hammerstein II's landmark 1927 musical drama Show Boat. The season will be officially launched Friday, September 6, 2013 with a gala performance of Arrigo Boito's Mefistofele, a lyrical retelling of Goethe's Faust legend, conducted by San Francisco Opera Music Director Nicola Luisotti and featuring the Company's acclaimed Robert Carsen production. All performances include the San Francisco Opera Orchestra and Chorus at the historic War Memorial Opera House.
San Francisco Opera Music Director Nicola Luisotti said, "To open the new season with Boito's Mefistofele, an opera beloved and championed by Verdi himself, means a lot to me as we celebrate the bicentennial season of Verdi. I'm honored to lead the Company's recognition of Italy's finest opera composer, Giuseppe Verdi with his final masterpiece Falstaff, set to a libretto by Boito, followed by his soul-stirring Requiem Mass, and later with the great romantic drama, La Traviata. I'm sure Maestro Verdi would be very pleased."
[SF Opera 2013-14 season announcement]