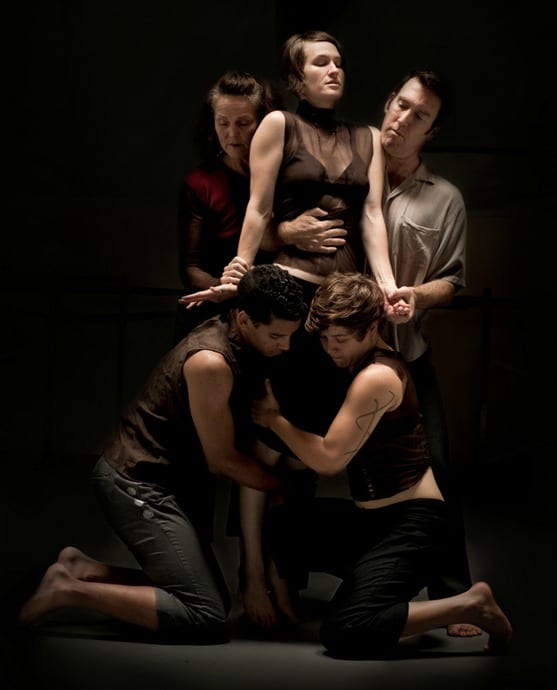 Adenza and Cid Pearlman (Performance Projects) have announced that the world premiere of Your Body Is Not a Shark, a performance piece encompassing dance, live music, and sound collage, will land in San Francisco and Santa Cruz January 2013.
Choreographed by Cid Pearlman with an original score composed and performed by Joan Jeanrenaud, text by poet Denise Leto, and musical direction by Maya Barsacq, the production uses physical limitation and difference as a point of departure for examining the creative process. It is an inquiry into the subtlety of form – poetic, choreographic, musical – and into the ways in which form's constraints inspire. In the end Shark is a paean to the power of art and to the artist within each of us.
The collaborators on Shark include four women, one with multiple sclerosis (Jeanrenaud), another with laryngeal dystonia (Leto). "What happens when we stumble, when our words won't come out, when the body stutters?" asks Pearlman. Shark explores this question through a series of six movements for an intergenerational cast of six dancers, each based on a poem by Leto.
"If we live long enough, all of us will have to grapple with this question," continues Jeanrenaud. "But our bodies are not something to be afraid of."
"One of the goals of Shark is to redefine what the heroic or virtuosic body means," adds Leto. "Physical difference or limitation can be generative. The question to ask then is, What are the possibilities for multiple forms of expression when the limit becomes the art?"
In Jeanrenaud's case, a diagnosis with multiple sclerosis in 1998 prompted her to leave the Kronos Quartet with which she had played for 20 years; but, she says, it's also what "empowered" her to become a composer. For Leto, the onset of laryngeal dystonia – a neurological condition that impairs the vocal chords – has been a source of poetic inquiry leading to new ways of experimenting with the sound and shape of her lines.
Barsacq, founder and conductor of CADENZA, a chamber orchestra based in Santa Cruz, originated the idea for the piece connecting the four collaborators. Seven members of her ensemble will perform the score along with William Winant on percussion and Jeanrenaud as soloist. "As a conductor," says Barsacq, "I see myself as a facilitator supporting the work of all the artists."
Shark marks the first collaboration for Pearlman, Jeanrenaud, Leto, and Barsacq, though Pearlman and Jeanrenaud have collaborated twice before – on Strange Toys (2004) and on small variations (2006), which was nominated for two Lester Horton awards. Pearlman and Jeanrenaud each have long experience with interdisciplinary collaborations, Jeanrenaud having worked in the past with Eiko and Koma, Joe Goode Performance Group, AXIS dance company, and visual artist Alessandro Moruzzi. For her part, Pearlman has collaborated with composers Erling Wold and Jonthan Segal, comic book artist Jon Macy, and filmmaker Ann Kaneko.
Your Body Is Not a Shark will have three performances at ODC Theater, January 11-13, 2013, before moving to Santa Cruz where it will run for four evenings at Motion at the Mill, January 17-20.