Bandaloop, a Bay Area-based vertical dance company, announced it will present a mid-season performance of Touching Up – new and pre-performed works showcasing the company's signature vertical dance.
During two lunchtime performances, dancers will perform complex, dynamic choreography suspended from climbing ropes attached to the Mint Plaza building in San Francisco and the Great Wall in Oakland. They turn the "dance floor" on its side changing the audience perspective of gravity to amazing effect.
Recently, Bandaloop performed on the new IFC tower, the tallest building in Seoul, Korea, in Rochester, NY at its first ever Fringe Festival, in Providence RI and at Los Angeles' City Hall for the opening of Grand Park.
Touching Up features four works including excerpts from Bound(less) and new group work. The performance includes a highly athletic men's duet that is a marriage of combat and play, a solo exploring dream, identity and flight and a soulful duet of lyrical gesture and soaring connection. The Mint Plaza performance will conclude with a quirky detailed quartet where dancers must rely on quick changes of  direction and timing, expressing the tension between individual agency and group identity. The Great Wall show will finish with a large group piece developed for the company's recent East Coast tour. Touching Up is conceived and directed by Amelia Rudolph, co-directed by Rachael Lincoln, and choreographed in collaboration with Bandaloop performers: Melecio Estrella, Damara Vita Ganley, Rachael Lincoln, Anje Lockhart, Amelia Rudolph, Roel Seeber, and Andrew Ward.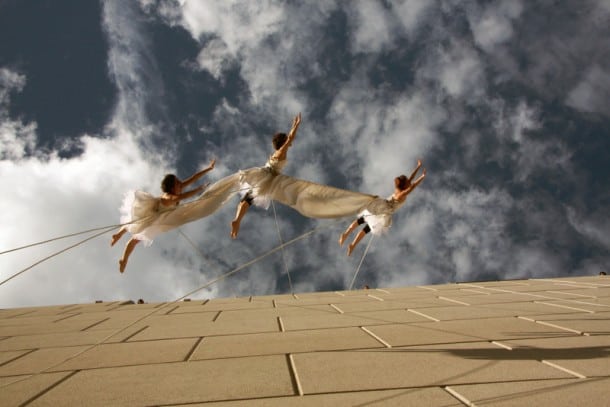 The company is currently preparing for a three city US State Department tour of Mexico. The two performances take place on Thursday, November 1st at 12:30pm at the Mint Plaza located off of Mint and Fifth Streets between Market and Mission in San Francisco; and Saturday, November 3rd at 1pm at the Great Wall located on the corner of West Grand and Valley in the Uptown district of Oakland. Audience members are encouraged to bring lounge chairs or mats for comfortable viewing.
TOUCHING UP

By Bandaloop Vertical Dance Company

Mint Plaza of San Francisco: Thursday, November 1 – 12:30 PM
The Great Wall of Oakland: Saturday, November 3 – 1:00 PM

Audience members are encouraged to bring lounge chairs or mats for comfortable viewing.