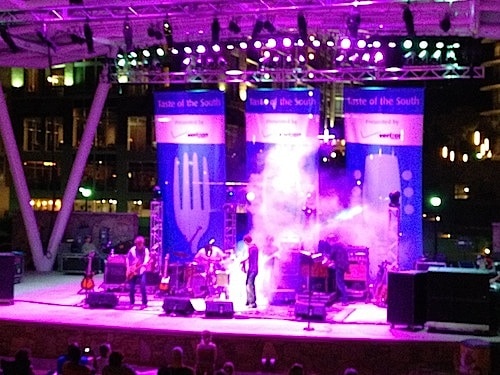 Euphoria, the four-day festival full of amazing music, food and drink just wrapped up its seventh winning season in surprisingly hip, Greenville, South Carolina. Who cares if this southern charmer is the best big town or the coolest little city. Either way the math adds up to the same answer – Greenville's got it all going on!
It's really a horseshoe toss as to what tops the list of fun happenings at Euphoria. A kick-off event was Songwriters Recipe, where local boy done great (proven by his wall full of platinum and gold albums) Edwin McCain, co-founder of Euphoria, thoroughly entertained us at the intimate Terrace at Riverplace. Edwin sang and schmoozed with Southern music buddies, Shawn Mullins and Chuck Cannon. It felt like hanging out in the basement with the cool kids so it came as no big surprise to learn that this event sold out in a heartbeat.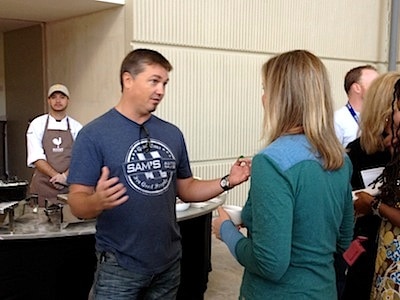 Euphoria's other co-founder is restaurateur Carl Sobocinski, the owner of Table 301, a group of restos known for their good food as well as their good looks. Together, the tag team has hosted Euphoria since 2006, using the proceeds to benefit several local charities, putting extra heart into all the fun.
My sis (who served as my "plus one") whooped it up at the Peace Center's "A Taste of the South", an open air sampling provided by Upstate's finest restaurants, with live music and lively libations.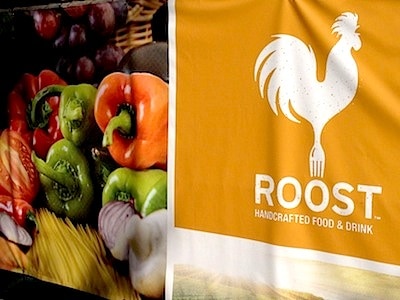 Thankfully, we woke up with appetites intact, so we could fully appreciate the hard-hat breakfast in what will (after the dust settles and the workers leave) soon be unveiled as "Roost", an exciting soil-to-table restaurant at the Hyatt Regency Hotel, under the very capable hands of Exec-Chef Brandon Lemmieux. There were a handful of creative stations sprinkled about, beginning with one that was decorated by pots of wheat grass for snipping into colorful, healthy elixirs (perfect for curing my hangover remnants) then off to add-your-own-toppings at the Super Mills Cheesy Grits Bar.
The Southeastern Farm Ham and Hominy Hash station, topped their hash with the most flavorful poached eggs from Merciful Hearts Farms. A heart stopping sweet touch was the warm, Salted Banana, Caramel Brioche Bread Pudding. (My mouth is watering so much at these memories that I'm almost dribbling on my keyboard.) Chef Brandon can cook for me any time of the day since I was also crazy about the food he turned out during a special media cocktail party that included a stellar, made-to-order Southern Caesar salad with an impeccable selection of handcrafted toppings such as cornbread croutons, sweet & smoky bacon chunks, and the best blue cheese from Happy Cow Creamery, Big Poppa jumbo shrimp with spicy remoulade sauce, deviled eggs sporting a fetching caviar top-knot , crackling-good fried chicken and tasty sliders sided by three tater-tot variations, including an upscale truffle interpretation.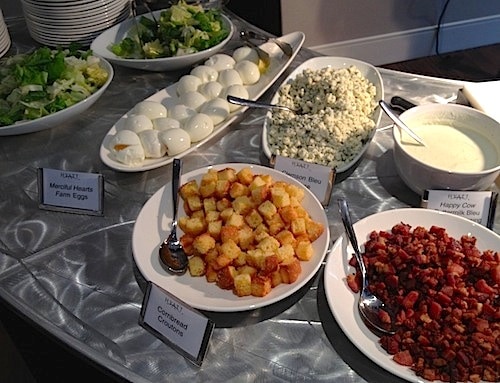 We finished just in time to head over to one of the Wine Seminars. I was happy to join "Riesling Rocks" since this under-appreciated wine doesn't often get the kudos it deserves in the states. Not only did I enjoy master sommelier, Laura Williamson's selections but I picked up some great tasting tips from her informative commentary. If only all higher learning could be this fun.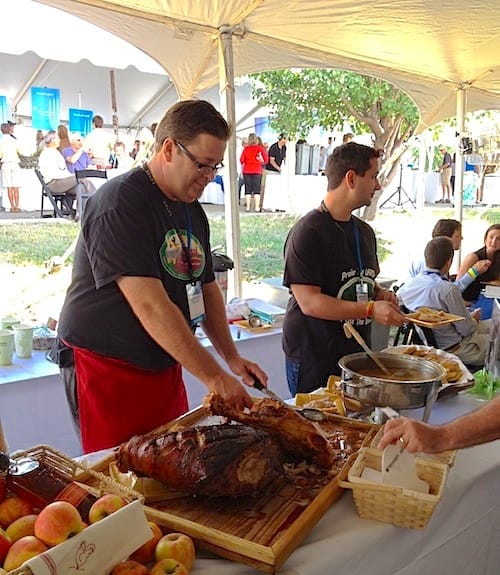 Another day, another magnificent breakfast in paradise. This one was an outdoor, walk-around Gospel Brunch, where we were entertained by a fabulously cool group, TSP (The Song Project) as we chowed down on southern specialties offered by over 20 local restaurants.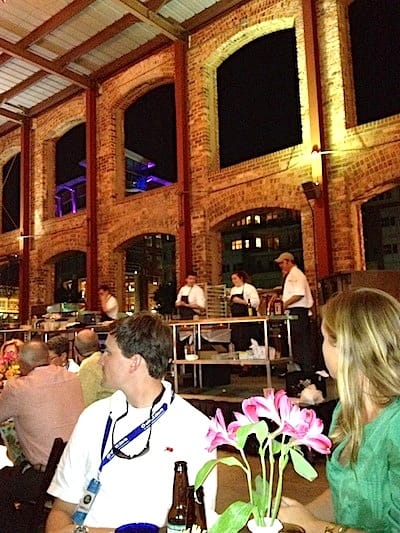 The final cornerstone event, Sunday Supper, featured family style seating and serving. It was held in the Wyche Pavilion, the old Duke Mayonnaise Factory that had been smartly re-purposed into an eclectic event venue overlooking the Reedy River. We squished into our seats at the long wooden picnic tables, delightfully decorated with field flowers and colored retro glass. We happily went back and forth between the craft brews and specialty bourbon cocktails, ultimately deciding that both paired perfectly with our farm-to-table feast. Tasty vittles were provided by Chef Gary Mennie of High Cotton and Chef Joseph Lenn, from Blackberry Farm, Tn, who fried up some of the best sweet and spicy chickie I've ever had. Some hard-driving fiddle tunes, from the Weasel Creek String Band, had us toe-tapping along.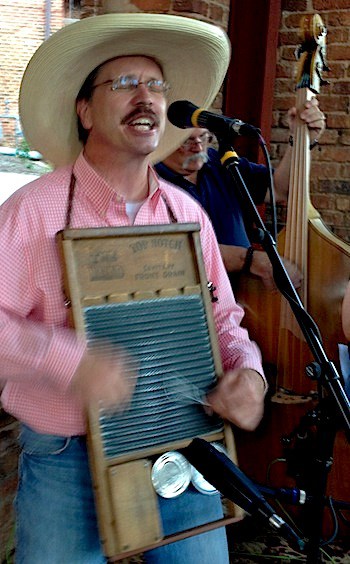 For out-of-towners attending the Euphoria Festival, you'd be remiss not to add on at least two extra days for exploring the rest of Greenville's enticements, all easily accessible by foot, bike or by hopping on and off the free Trolley.
Here's a tiny teaser of Greenville's best downtown sights:
Main Street
It's hard to believe that just around ten years ago parents would admonish their teens driving off on a Saturday night: "Stay away from Main Street."  Fast-forward a decade and the area is bustling with activity. Main Street, which anchors the historic downtown area, is always playing hostess for either a Friday night street concert, an arts and craft fairs, or the Saturday morning farmers market. The street is jammin' with indie boutiques, art studios, and gourmet restaurants (there are about 70 eateries downtown, many with outdoor patios perf for people watching).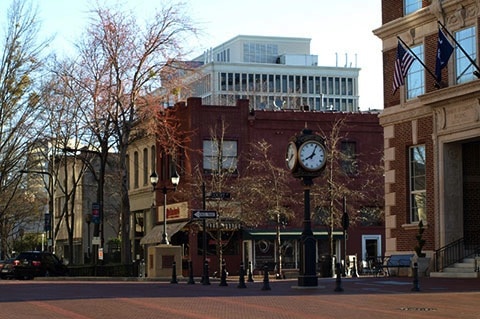 Main is even more magical at night, when the street lamps are lit and the trees twinkle from hundreds of golden lights strewn through their branches. Hail a horse-drawn carriage for a leisurely view of the 19th century red-brick buildings which dramatically mingle with modern glass and steel architectural delights.
Tip:

Don't miss Michelin On Main- their only store in North America, where you can pick up everything Bibendum (the Michelin man's official name) from key chains to jogging outfits.
Falls Park
A river really runs through it at Falls Park located right in the center of downtown. The first thing to grab your attention is the $4.5 million Liberty Bridge that, through the magic of geometry, appears to be floating on thin air.  The unique 355-foot suspension bridge overlooks the cascading Reedy River Falls and the 40 gorgeous acres of colorful gardens in the park that cry out to be explored.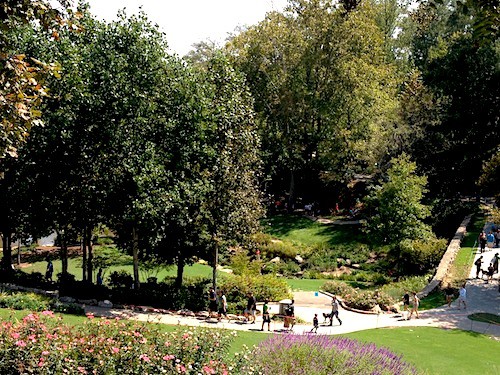 Mice on Main
Who ever knew that mice could be so adorable? The Mice on Main scavenger hunt consists of nine teeny bronze mice, all with "M" names, hidden up and down Main Street. Your goal is to find them all. Need help? Pick up a cheat-sheet of clues, (example: "Marvin Jr. is too young to drink morning brew…") along with maps and other informative brochures, at the Downtown Visitors Center.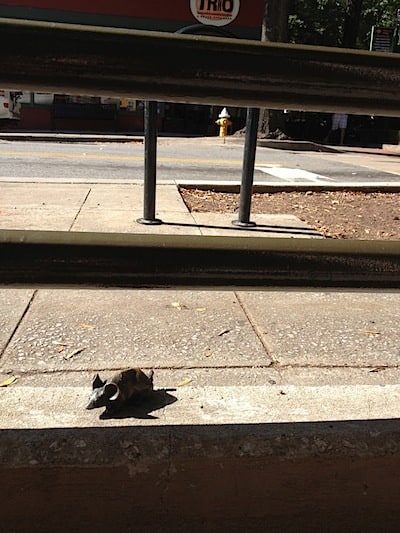 Peace Center for the Performing Arts
Perhaps the crown jewel in Downtown's re-gentrification  the center is architecturally and acoustically awesome. Check it out to see what's on tap: could be a touring Broadway show, Saturday film night, the biggest names in concert performers, symphony, ballet or the local children's theater.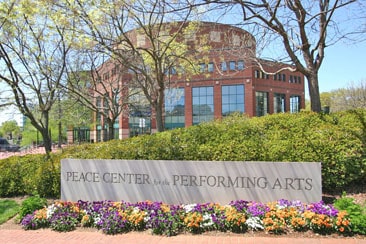 Swamp Rabbit Trail
Downtown marks the beginning of this 13-mile walking/jogging/biking path, which curves around the river, meanders through the park and ends in downtown Travelers Rest. To re-fuel for the return trip join the queue at The Café @Williams Hardware for some simple, old-fashioned cooking. They claim to serve the best sweet tea this side of the Blue Ridge Mountains.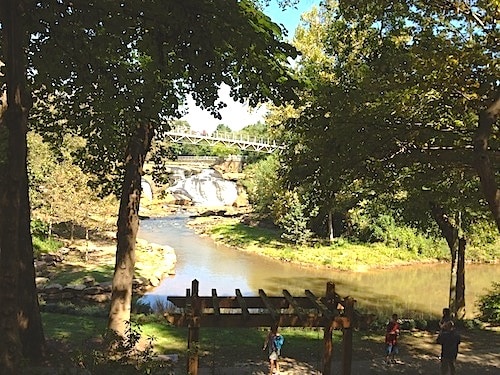 Shoeless Joe Jackson Museum
If you're in Greenville on a Saturday (the only day this free museum is open) then you'll definitely want to stop in at this fascinating little museum, located in the actual home where Jackson lived and died. Volunteers are happy to share this piece of Americana with you, recounting the story as you look over the photographs, film and other memorabilia associated with the historic life of Shoeless Joe Jackson, one of America's most beloved ballplayers.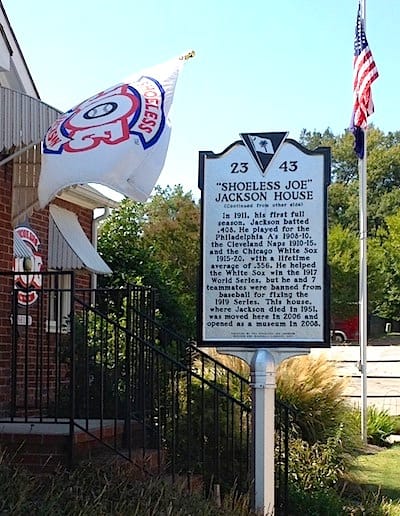 Note: "Late last year, a large collection of documents were found that had once been the property of the lawyers of the Chicago White Sox. In December 2007, the documents were purchased at auction by the Chicago History Museum. The papers include documents which may shed new light on Shoeless Joe Jackson's 1920 grand jury testimony, as well as his statements at the 1921 'Black Sox' trial.  Fortunately, the Black Sox scandal is being studied by respected baseball historians who are exposing a cover-up that has long been suspected but never proved." Courtesy of Shoeless Joe Jackson museum website
Greenville Zoo
Located just minutes from downtown, with plenty of free parking available, low admission prices, an amusement park, picnic area, with many up-close and personal viewing opportunities, are just a few reasons this accredited zoo is a popular family spot.  Small but well edited, the beautifully landscaped, 14-acre zoo is home to all sorts of wildlife including monkeys, giant tortoises, elephants as well as Autumn and Walter, the zoo's beloved Masai giraffes.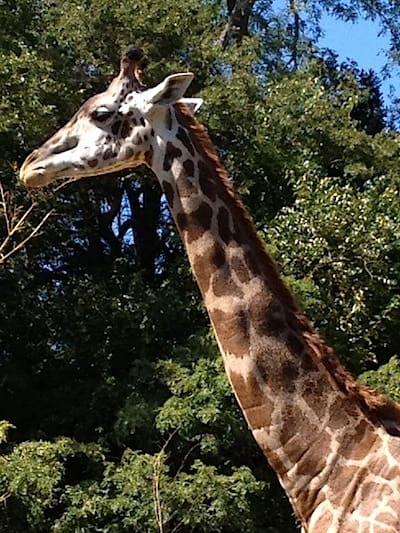 A year-full of events
Greenville folks love a festival. From the Reedy River Duck Derby to the hugely popular Fall for Greenville- A Taste of our Town in October (about 200,000 turn out for this one) hardly a week goes by without a party brewing. Check out all the full calendar of festivities online at Greenville CVB.
Best little side trip
One more "who knew?" is the miles of gorgeous horse country in Landrum, South Carolina, an easy half-hour drive from the city. There is no shortage of equestrian activities and horse farms in the area, which is Home of the Annual Blockhouse Steeplechase. Equestrian trails and a wide variety of hiking trails are provided at F.E.N.C.E. (Foothills Equestrian and Nature Center). Outdoor enthusiasts can take advantage of The Palmetto Trail, a mountains to the sea trail that traverses South Carolina.
The appealing town of Landrum is manna from heaven for antique lovers, with one antique store after another calling your name.
The Red Horse Inn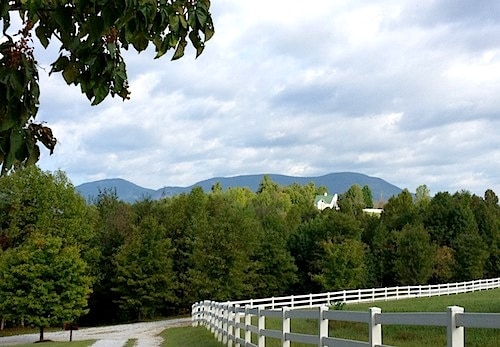 After a long hike or a busy day shopping you'll be happy to sleep it all off in cozy comfort at Red Horse Inn. The grounds are movie-set breathtaking, complete with pastoral rolling green hills, a whinnying horse, and panoramic sunsets backed by the Blue Ridge Mts. Your hosts, Mary and Roger Wolters, must stay up late at night just thinking of things to make sure your bed and breakfast stay is delightful. I was flabbergasted to see that they even emboss the RHI logo onto the little folded triangle end of your toilet paper…now that's what I call attention to detail! Choose between a stay at one of the luxe rooms at the inn or, if you want to spread out and prefer a little privacy, choose one of the six cottages, totally decked out Martha Stewart style. Cottages come with a tempting porch, perfect for reading or generally lazying about. Just a few items on the laundry list of amenities include a two-person whirlpool, upstairs loft, or romantic (don't forget the wine) outdoor hot-tub.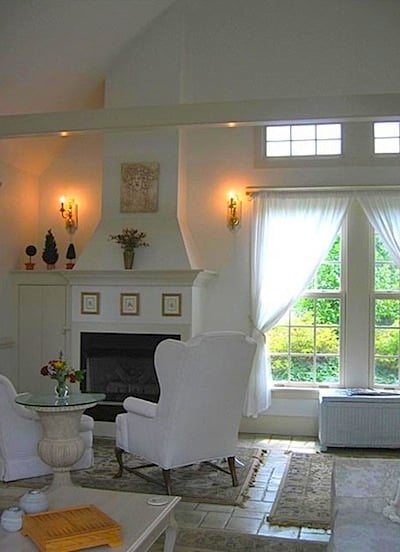 We were thrilled to find our fully equipped kitchen came with a fridge-full of breakfast essentials (over-sized muffins, fresh fruit, a yummy feta cheese quiche, etc.) so no worrying about getting up early to hunt down the nearest Sbux. With a little advance notice they'll even deliver a four-course gourmet dinner (including wine or champers) right to your doorstep. Want a massage after? Just give them a call and they're happy to arrange it.
Before you leave, you have to follow the new Zippity-Doo-Dah trail…complete with a surprise ending.
Tip: 

Ask either Wolter to print off directions for a fabulous self-driving Fall Foliage tour that covers the highlights of the area, including the Klickety-Klack Covered Bridge, Dupont Waterfalls and Ballenger's Grist Mill.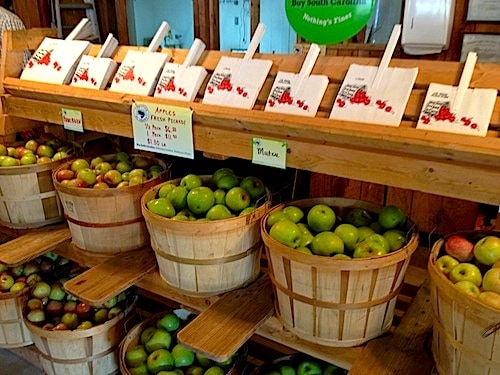 At Dick Perdue's Fruit Stand, you'll want to stock up on his amazing sugar-free apple sauce and apple butter, as well as the smartly packaged, one step sliced apples and pie crust. In hindsight, I wish I had bought this since I could easily have baked a pie back at our cottage.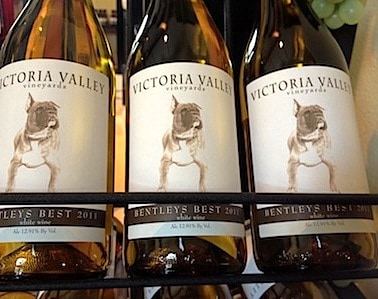 Time your visit to Victoria Valley Vineyard, which is styled after a French Chateau, for a sunset wine tastings, since their outdoor cafe has a stunning view of Table Rock and the mountains, which pairs perfectly with their just released, 2011 Cabernet Franc.
Landrum at night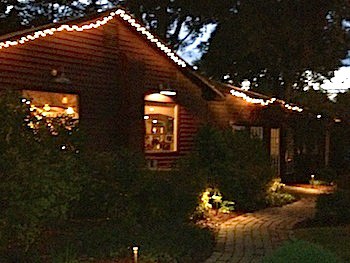 Dinner at Stone Soup- The charming, going to grandma's for Sunday supper vibe at the this rambling house surrounded by lit up trees, is capped by the equally charming owner Suzanne. Stone Soup draws quite a crowd of regulars, partly because of the delish food (two standouts are the Shrimp and organic Smokey Cheese Grits , which derive much of its intense flavor from the generous bits of Tasso ham strewn about, and the warm Sticky Toffee Date Pud for dessert.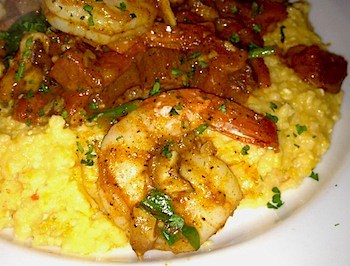 Even though I didn't have time to stop back for Sunday brunch, which I heard was a knock-out, I had my dish all picked out: One of the Eggs Benedict Four Ways on Toasted English Muffin with Sweet Potato Hash or Smokey Tomato & Cheese Organic Yellow Grits.  and I just know that Suzanne would have obliged by letting me order both sides.) Named after an old folktale, Stone Soup's philosophy is that that it takes a village to ensure a restaurant's success. Suzanne, a horsewoman herself, smartly invited fellow equestrians to put pictures of their horses up on the wall and they seem to get a real kick out of showing them off to newbies. Start with a glass of wine in the gazebo before moving inside for dinner, (Suzanne turned me on to a new Sauvignon Blanc that I adored) where you'll enjoy superb service by the young, well-trained staff.
Music and drinks at Zenzara
Delay the drowsies and head a few blocks downtown to the "Zenz" which is THE spot for live entertainment and a heck-of-a-lot of fun. Owner Debbie was originally was going to use the space to sell her fabulous-sounding cheesecake, she makes almost a 100 flavors, but switched over to the music scene. Check the lineup to see who's headlining while you're in town. It might be a fab local band, open mic or tango night.
When you go:
 The accommodating Greenville CVB (love that  Southern hospitality) is happy to help you plan your trip but for sure you'll want to mark your calendar for Euphoria 2013, September 26-29.