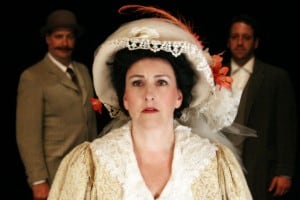 Any show that attempts to chronicle and celebrate the cultural renaissance and social upheaval that characterized the beginning of the last century is by definition ambitious.
And, for the most part, Terrence McNally's Ragtime succeeds in depicting a turning point in our nation's history with the type of authenticity and grand style the period deserves.
But that extraordinary ambition, in its earnest desire to do justice to its prodigious subject matter, is also what makes McNally's book almost collapse under its own weight. There are simply too many stories, too many characters, and too many large themes addressed without a unifying plot line strong enough to make it all coalesce in a manner that adequately connects with its audience.
That shortcoming, however, does nothing to dampen the boundless creative acumen evident in this outstanding and lavish Hillbarn Theatre production.
Director Lee Foster, undaunted by the limited confines of a small thrust stage, has produced a triumphant musical experience that is both visionary in scope and a master class in imaginative theatrical staging. Bravo!
Ms. Foster's vision is brought to fruition by a remarkably talented cast of fifty-three performers, featuring some of the finest vocalizations one is likely to hear in any venue, including the magnificent Annmarie Martin (Mother), Carmichael Blankenship (Coalhouse Walker), Leslie Ivy (Sarah), Steven Ennis (Younger Brother) and Erica Richardson (Sarah's Friend).
And many of the design elements, including the uncompromising musical direction (Greg Sudmeier), the gorgeous art nouveau costuming (Carolann Towe), and splendid choreography (Jayne Zaban), are no less exemplary.
Honorable mention must be given to scene-stealing turns by ensemble member and dancer Gary Stanford, Jr., and young Jon Toussaint as Edgar (Little Boy).
One should not hesitate to make the trip to Foster City to see an auspicious season debut that offers the best that community theatre has to offer.