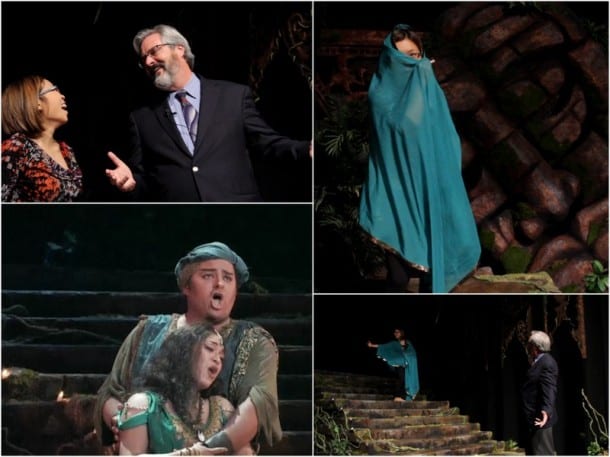 It's like Bollywood meets Indiana Jones! That's the only way to describe Loni's latest adventures on the stage.
This time the intrepid would-be thespian heads to the stunning California Theatre for the audition of a lifetime. Can she become a convincing Virgin Priestess?
Opera San Jose has pulled out all the stops with the set for Bizet's Pearl Fishers that features just about everything but live snakes. There's half a mile (!) of hand-made vines, a fire pit, catwalk, sweeping staircase, flowers, and ancient carvings. See for yourself in this special behind-the-scenes episode of Stark Insider TV.
Stage director Richard Harrell — seen here in the video bringing out Loni's inner Virgin Priestess — likens the Opera  (which was written by Bizet at 25 years old) and the set to a fairy-tale . "It's a combination of Angkor Wat, the temples in Cambodia with the roots and trees, and Bali Hai," he says.
DID YOU KNOW?

Diving for Pearls

Excerpt from Larry Hancock's piece on Bizet:

"Perhaps the most poignant element of his death is that Bizet died thinking he was an utter failure. The composer of Carmen, probably the most popular and certainly one of the most influential operas ever written, was soundly rejected by the Parisian public and ridiculed by the critics. Carmen bankrupted the Opéra-Comique and forced the company to close. Bizet died in the belief that he had composed nothing of value."
Currently serving as director of the opera program for the San Francisco Conservatory, Harrell is making his OSJ debut with The Pearl Fishers. Having made his transition from professional Opera singer to teacher and director some 25 years ago, he tells Loni he's particularly focused on letting the performers bring out the best in themselves. And despite all the technology surrounding the production and emphasis on training these younger singers, he's most concerned about ensuring the material resonates with the audience.
"The point of all the technique is to tell a story, is to sing with feeling. To move the audience. You don't put the technical cart before the horse," he explains.
About that audition by our very own Loni Stark… you'll have to watch and see the reaction of the "audience" – was she able to connect emotionally? And was she able to evince as a Virgin Priestess?
WATCH Loni audition as a Virgin Priestess at Opera San Jose