I consider myself quite the sophisticated traveler, one who has seen many wonders of the world, from the Taj Mahal  to the Great Pyramids, but every now and then I am blown away by some incredible find where I would least expect it.
Case in point: on a recent Girlfriend Getaway road trip with my mom and sister, we drove from Seattle to Long Beach, Washington. I received many excellent sightseeing suggestions from Carol Zahorsky, head of public relations for Long Beach Peninsula. She (strongly) recommended that enroute, we take a slight detour to the town of Raymond to visit the Northwest Carriage Museum. Although it didn't sound very interesting to my mom (who has lived her whole life in Seattle and had never even heard of Raymond, population 2,500-ish) that was nothing compared to hearing my NYC sister raving on about "why on earth are we stopping at some Podunkville museum in wherever-it-is-that-you're-taking-me town?"
I rather impatiently replied that we could use a clean restroom break and then we'd just look around the museum a couple of minutes to be polite.
After spending almost two riveting, fun-filled hours there, I can't thank Carol enough for turning us on to this hidden gem. This magnificent museum is filled with one of the world's finest collections of impeccably restored, (I dare say Smithsonian caliber) 19th century horse-drawn carriages, wagons and buggies. All 28 were buffed, polished and painstakingly restored to their former elegance.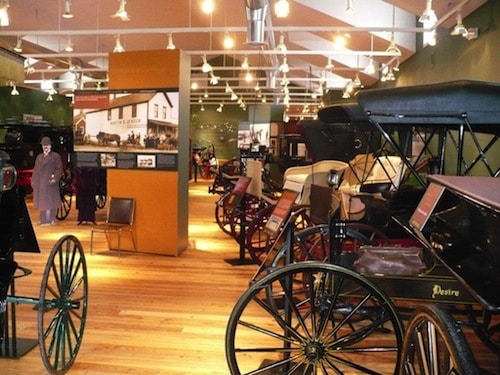 The story is that Gary and Cec Dennis, Raymond residents and successful business owners, had a passion for collecting and restoring horse drawn vehicles and farm implements circa 1850 on up. They generously donated their collection to the City of Raymond in 1999, and three years later the non-profit, Northwest Carriage Museum opened its doors to the public.
Carol had thoughtfully arranged for us to have a private tour with the museum director, Laurie Bowman, storyteller supreme, who effortlessly transported us to the world of yesterday by regaling us with historic tales chock-full of fascinating tidbits, scandals, and "who'd of thunk" details about each carriage. Her bubbling enthusiasm and in-depth knowledge provide a lucky treat for all visitors since nine years ago this southern Cal transplant retired to Raymond without planning to embark on a second career at the Museum. Perhaps the fact that her husband Jerry, who serves as the museum's curator, had something to do with it!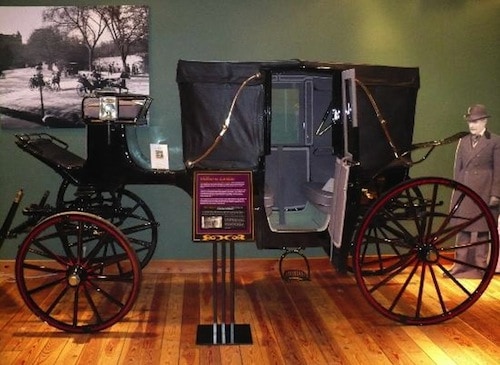 We happily argued over which carriage was our favorite. (Laurie pulled the  "I love all my children equally card" when asked.) No surprise that my sister chose the elegant Shelburne Landau, which had a starring role as the scandalous Belle Watling's carriage in the movie "Gone With the Wind".  Mom loved the sturdy, unpretentious "surrey with the fringe on top" number that looked like it could star in "Oklahoma". For me, the black, spooky Carved Panel Hearse, used in the 1942 movie "Gentleman Jim" with Errol Flynn, was the winner!
An 1890 one room schoolhouse, period costumes (used for dress-up photo-ops), blacksmith shop, historical pictures, easy to follow transportation timeline, and a unique gift shop round out the museum's offerings.
Kids will have such fun visiting that they won't even realize they were also served a big dose of history.  The signage is so well done that you might be tempted to do a self-guided tour but don't or else you'll miss out on all the inside scoop so willingly shared by Laurie and Jerry.
When You Go

Where: The Northwest Carriage Museum is at 314 Alder St., off Highway 101 in Raymond, about 2 ½ hours by car from Seattle or about 1 hour from Long Beach.

Admission: $2-$4, or $10 per family.

Upcoming Special Event: The museum marks its 10th anniversary Sept. 22 with free admission, popcorn, cake and tours, 10 a.m.-4 p.m. From 5-9 p.m., it hosts an Oktoberfest, with German food, beer and wine, a live band and dancing for only $15. Advance tickets recommended.

To arrange a tour: Contact Laurie Bowman, Director