Travel writer extraordinaire Janice Nieder shares some tips and secrets for those looking to explore the little town of Bellingham, Washington. Find out where to stay, dine, tour. Plus spas, and Guinness World Record-worthy treats at Mallard Ice Cream. Oh. My.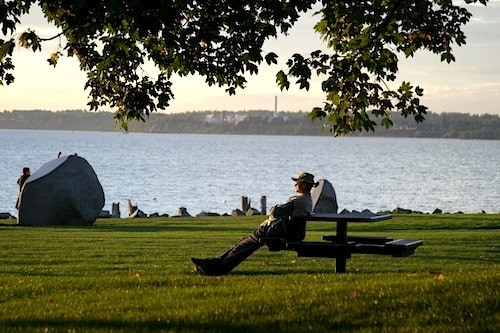 Whether you're looking for a romantic weekend interlude, a luxury girlfriend getaway, an action-packed adventure fit for the fam or a hedonistic food and wine experience, the little town of Bellingham delivers in spades. It offers a wide variety of world class restaurants, upscale hotels, boutique shops and galleries, luxury spas and seemingly endless outdoor activities, including hiking, biking, sailing, fishing, and foraging, so it's no wonder that little Bellingham (population 80,000 Bellinghamsters, as they often refer to themselves) has scored a list of awards over the last decade as long as a geoduck (explanation to follow). Just a smattering of accolades include: "Best Place to play Year Round" Sunset Magazine, one of the top ten in "Dream Town USA" by Outside Magazine and Bellingham was ranked #2  by Frommer's as "Best Place To Live" out of all North American cities.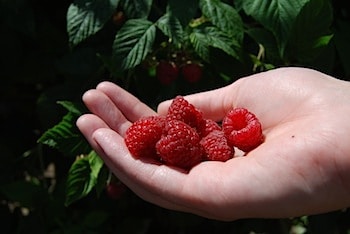 Extra credit points for the fact that Bellingham is the nations largest producer of red raspberries (and who doesn't love the raspberry?) harvesting over 57 million pounds a year, resulting in some amazing jams, jellies, sorbets and a stellar not-too-sweet raspberry wine made at Samson Estates Winery.
By Sea
Taylor Shellfish Farm- This fifth generation, family-owned shellfish company may be the largest in North America, yet when you reach the Chuckanut Drive outlet, which overlooks picturesque Samish Bay, you'll find just the bare-bones basics: a handful of weathered picnic tables, a big, black BBQ (free for all to use) and a small seafood store.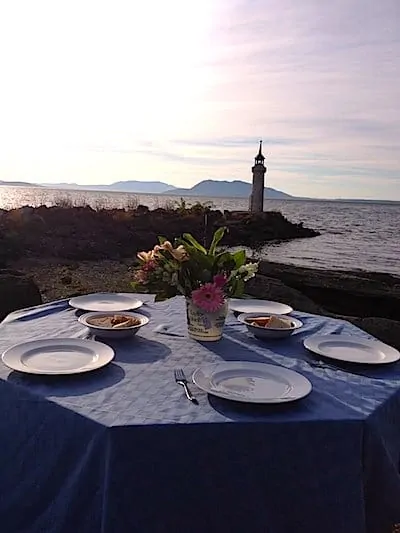 It would have been impossible to choose between the locally harvested Dungeness crab, various oysters, Manila clams and geoduck, so I was thrilled we got to try them all at our al-fresco seafood feast. Since many in our group had never heard of, let alone tasted, a geoduck (pronounced gooey-duck) we were given a briefing on this sincerely ugly but extremely costly bivalve. The geoduck clam is the largest burrowing clam in the world, often found over three feet deep in the sand.  Its siphon (the part that looks like an elongated neck) might stretch as much as 39 inches to the sea bed. After proper cleaning, you can use the siphon to make an excellent sashimi-simply slice paper thin and serve with some wasabi and soy sauce.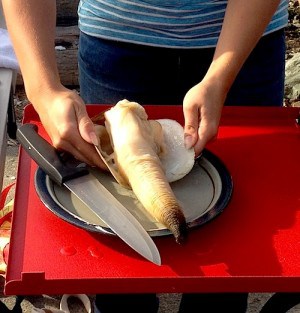 We also were taught how to de-beard a mussel and the proper way to crack a crab. To duplicate this meal on your own, all you need to bring is a warm jacket since the wind can whip up after the sun goes down. Then stop into the retail store to buy whatever tickles your fancy, along with a mini-bag of briquettes and nab a table. The helpful folks at Taylor will be more than happy to show you how to shuck, crack, slurp and BBQ your seafood.
By Land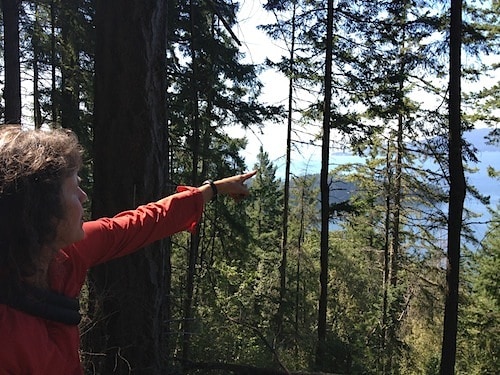 After learning that Jennifer Hahn's (our foraging guide for a scavenger hunt through the forest) favorite meal is sea urchin, nori seaweed, and "goose tongue" leaves, I promptly stuffed my pockets with a couple of just-in-case granola bars. This inspiring wilderness woman/award-winning author/artist/kayaker/college professor and just all-round very cool person, lives in a house in the woods. Her extremely talented sculptor husband, Chris Moench, throws these huge, incredibly beautiful, ceramic prayer wheels, one of which he presented to the Dali Lama. (You'll find a wide selection of his work at Good Earth Pottery in town.)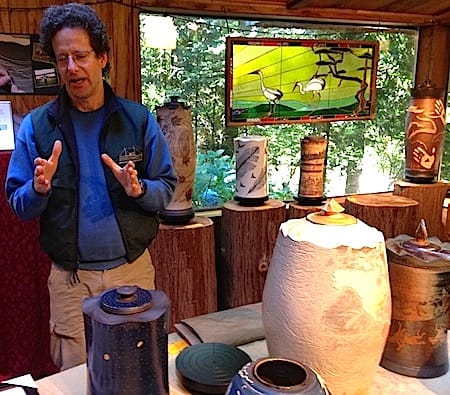 Jennifer led us through the forest for a foodie version of "Where the Wild Things Are", pointing out a plethora of interesting herbs and plants. One of her favorite all-purpose plants is the stinging nettle. She joneses for nettles like others crave chocolate. After finding a bunch of the weeds, she took a moment to quietly bless the plant before carefully stripping a stalk to show us the nettle fiber which can be spun into a cord strong enough to use for harpooning a whale. Leaving nothing to waste she rattled off a dozen gourmet uses for the rest of the plant, but first you need to quickly blanch nettles to remove the sting. Then you can puree then into a Nettle-Hazelnut pesto, best served over spring-green nettle pasta, or use as a spinach substitute in Indian dishes such as palak paneer, or to make a dandy nettle martini. She'd stop occasionally to recite a mystical poem by Rumi or a fun one by E.E. Cummings, before continuing to "shop" the forest. After spending an amazing day with Jen, we left with our bags full of Douglas fir, wood sorrel, purslane, madrona bark, and various wild berries and our heads full of wilderness knowledge and a newfound appreciation for sustainable forest foraging.
Tip:

Buy a copy of Jennifer's book, Pacific Feast- A Cook's Guide to West Coast Foraging and Cuisine, if you'd like to pick up a few foraging moves.
By Table
Ciao Thyme owners, hubby and wife, Jessica and Mataio Gillis have excellent taste and taste buds. After spending seven months eating their way around Europe, they decided to replicate the best of their European discoveries in Ciao Thyme, a catering company that also holds court as a cooking school, private dining room and unconventional supper club serving what Mataio describes as "craftsman food".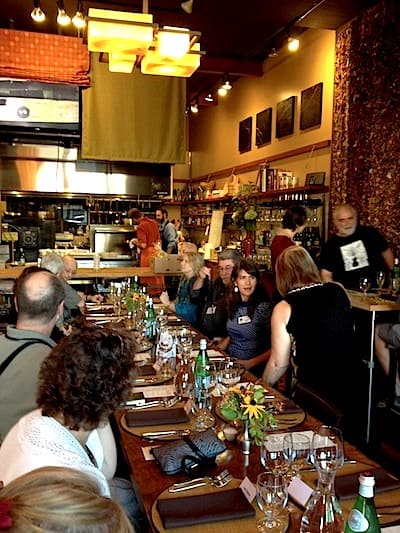 A few times a month they offer "Incognito" prix-fixe dinners with changing themes held at convivial, communal tables. The themes are a mystery until you show up, but we had the inside scoop since Ciao Thyme was using our morning harvest to produce a gala, six-course, "Wet, Wild, Woodsy" foraging dinner that evening.  Somewhere between the opening act (which featured our wood sorrel in a pesto over luscious clam raviolini), the main course of tender braised rabbit, topped with a tangle of sautéed mushrooms sprinkled with Douglas fir oil and the show-stopping dessert, an apple galette topped with dandelion root ice cream and a drizzle of madrona bark caramel, I became a faithful foraging fan, particularly when Chef Mataio is manning the stove. Hmmm, I wonder how he does over a campfire?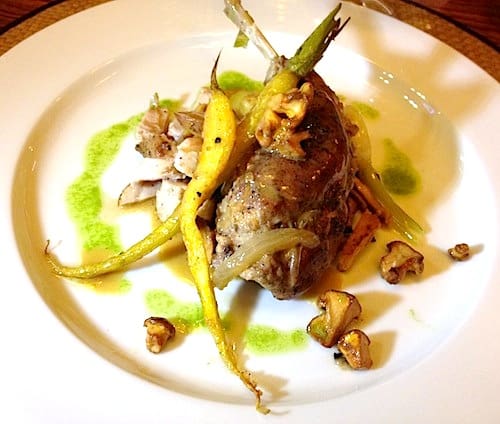 Walk it off
When you get back to civilization, you'll definitely want to spend some time exploring the six-square blocks of beautifully preserved red brick Federal buildings that make up Bellingham's Historic Fairhaven District. Several of these are from the 1890's when the town was referred to as the "Chicago of the Northwest. An ex-rum-runner turned developer, named "Dirty Dan", led the building boom and almost overnight the town was filled with dozens of hotels, restaurants, taverns and brothels. This charming turn-of-the-century nabe offers endless shopping opportunities with nary a chain or fast food restaurant in the bunch.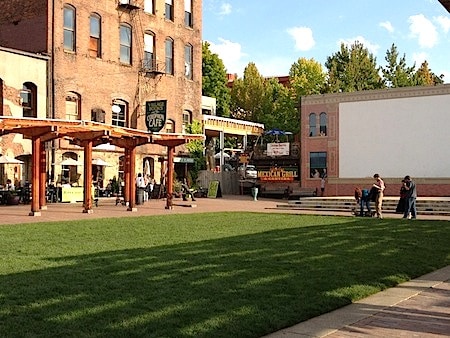 Tip:

Head over to the Village Green at 10th and Mill and you'll feel like you wandered into a movie set for "Our Town". If the weather is nice you'll find the square filled with families licking ice-cream cones, playing bocce ball or saving a spot for the free outdoor movie, which is projected on the side of a building.
If you're a history buff or just enjoy some good, ol' time racy gossip (very PG rated by 50 Shades standard) sign on for one of the "Good Time Girls" walking tours led by two "ladies" with a rather questionable past. The pair delight in sharing stories about Fairhaven's shady past involving famous madams, bootleggers, and  scallywags, while they pointed out old brothels, saloons and gambling halls.  Only those 21 and older can indulge in Fairhaven's Friday night Sin & Gin Tour but all ages are welcome for the G-rated Saturday afternoon walkabout.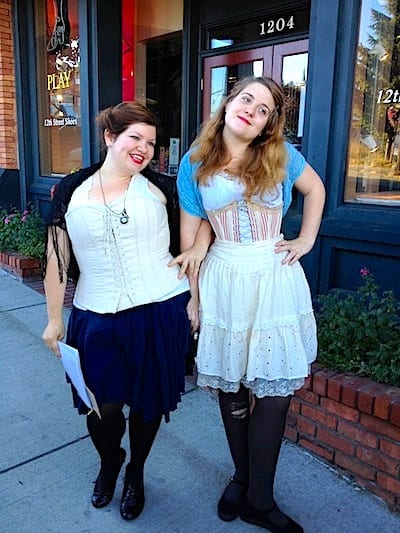 Tip:

Fairhaven is a couple miles from downtown Bellingham so if you'd rather not "commute" an overnight at the immaculate, 22-room Fairhaven Village Inn makes a convenient option. Gently priced, Bayside rooms offer fireplaces and balconies.
REALLY walk it off
If you're down for some serious hiking, Bellingham/Whatcom County is loaded with a network of hiking, biking and running trails throughout their State Parks. Larrabee State Park off Chuckanut Drive is a local fave offering a spider web of trails.  One of the easier one is a gorgeous trail through the forest to Fragrance Lake (bring a suit if you want cool off) or for a more strenuous workout- you can attempt Oyster Dome. The pay-off for this up, up and away trail is breathtaking views of the San Juan Islands.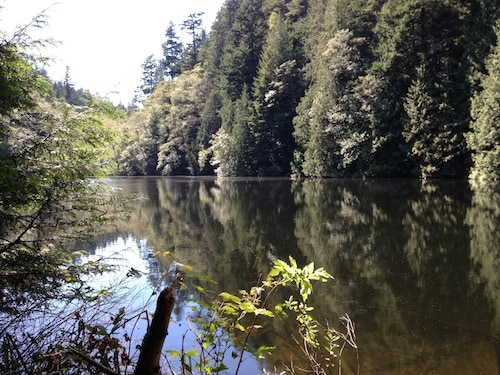 Tip:

Before setting out, fill your backpack with a scrumptious sammie from Old World Deli (Bellingham's version of Dean & Deluca). This vibrant café/market offers over 100 old-world-style meats and cheeses, grainy bread from Breadfarm, and possibly the best Reuben sandwich (using housemade corned beef) I've ever spilled down the front of me.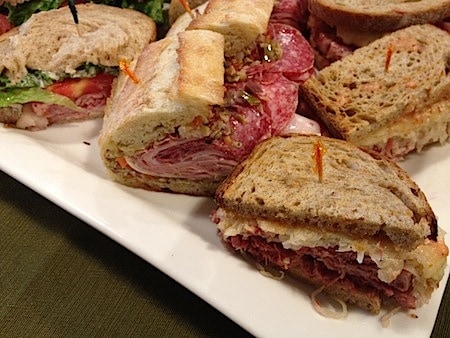 For a well-deserved, post-hike treat, head over to Mallard Ice Cream. This Guinness World Records-worthy ice creamery makes over 500 all-natural flavors, with many of the ingredients coming from local farms.  Bellinghamsters love hanging out here, which translates to dishing out about 2,500 scoops on a hot summer's day. The tangy "Sour Cream" flavor hit the spot, but next time I hope the "Rosemary infused hazelnut, honey chevre ice cream" is on the roster.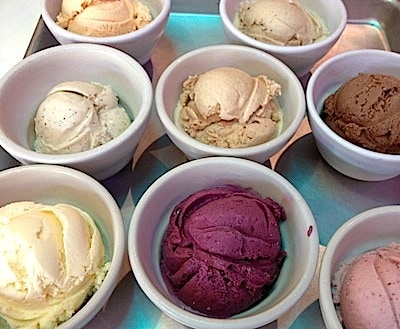 Cultural Arts District
There's nothing small town about the big-time cultural offerings in downtown Bellingham. Quite frankly, SPARK: the Museum of Electrical Invention sounded like one big yawn, but this impeccably curated gem provides a truly electrifying experience, in every sense of the word. Young and old will be equally engaged as you follow the history of electricity, beginning with early experiments from the 1600's (check out Edison's first light bulb) up through the Golden Age of Radio.  Clear signage and many hands-on displays featuring thousands of objects, many priceless, will keep visitors charged for hours, although nothing can replace a guided tour with the highly entertaining and informative museum president& CEO, John Jenkins.  Born in Bellingham, this engineer geek built his own telephone network at the age of 13!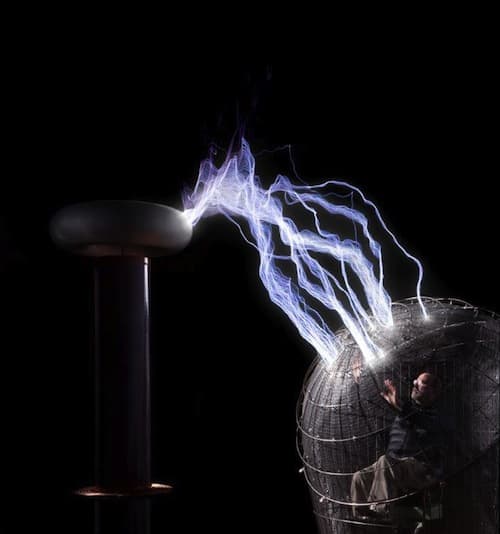 Tip:

Don't miss the new Spark spectacular MegaZapper show. It's like something straight out of Frankenstein's laboratory.
Walk a block over so you can marvel at the Whatcom Museum's state-of-the-art Lightcatcher building, built in 2009.  This silver-level LEED building was designed by Olson Kundig Architects' founding partner, Jim Olson, and is named after the unique, 37 feet high and 180 feet long translucent wall that gathers up Bellingham's precious sunlight. The Lightcatcher hosts various traveling art exhibitions such as the current show on American Quilts.
Tip:

For a tasty and convenient lunch, try the in-house "cheese meet(s) beer" café offering al-fresco dining in front of the Lightcatcher wall.  The casual, locally sourced menu offers rotating sammies, salads, a share-sies selection of cheese and salumerie boards, and a still-art pickle plate of pickles that was almost too pretty to eat.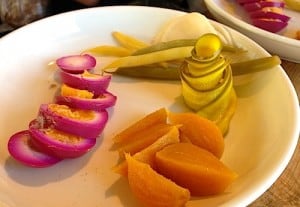 Tip:

Don't miss their farm eggs pickled in beet vinegar. They also offer some eclectic beer and housemade ice-cream pairings, such as a Hebrew pomegranate amber ale paired with their red chai ice-cream.
Uniquely Bellingham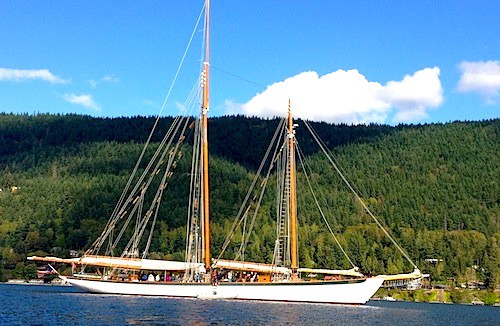 Since boating is a major part of local life, you'd be remiss if you didn't spend at least part of the day on the water, and the absolute "no-duh" choice here is to take a sailing cruise on the Schooner Zodiac.  Built in 1924 for the Johnson & Johnson heirs, this gorgeous 160-foot classic wooden yacht has the largest working mainsail in North America. She offers a variety of sailing experiences ranging from spending the afternoon sailing around the iconic lighthouses, picking up some new skills on a photography tour, to the popular brewery tours. Brewskie sails include four days at sea bobbing among the stunning San Juan Islands with stops at various micro-breweries, on-board food and beer tastings led by professional brew masters. You can even help make a batch of ship-brewed ale on board.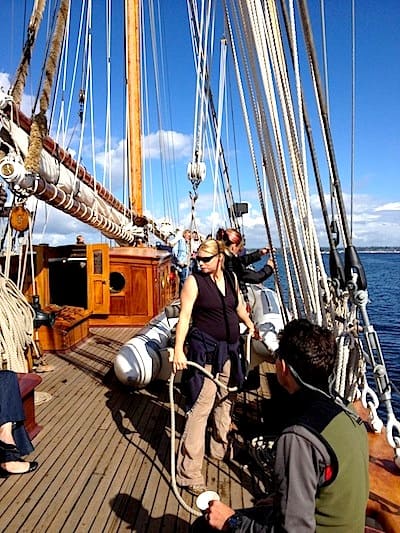 The best part of sailing on the Zodiac is that all the tours are as hands-on as you would like. With a mainsail this large, they really use all-hands-on-deck to raise and lower the sail. The delightful crew could not be more patient and will happily teach you anything from reading the tide charts to tying different nautical knots. You can even take a turn at the helm.
Best Mini-Getaway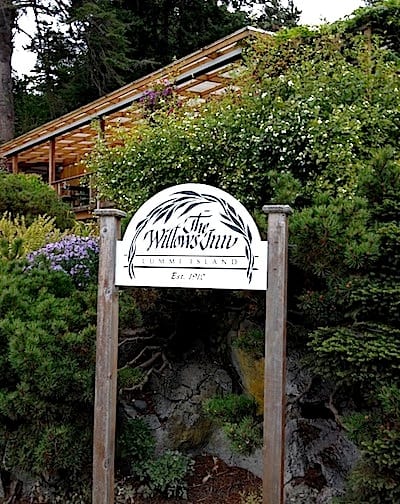 Just when you think it can't get any better you might by chance hear some locals raving about their dinner at The Willows Inn on Lummi Island. If you're even remotely a foodie, this is one suggestion you do not want to leave to chance, since it can take months to snag a dinner reservation here. But be forewarned: Dining at The Willows Inn, a scenic six minute ferry ride from Bellingham, can spoil your taste buds for life. My dining experience there was akin to Tom Cruise first discovering Scientology & Katie Holmes (pre-divorce). I felt like jumping on the couch yelling, "Raid your kid's college fund. Walk 8,ooo miles. Make your 50th anniversary dinner reservation 25 years in advance." Do whatever it takes to eat here because IT REALLY IS THAT GOOD!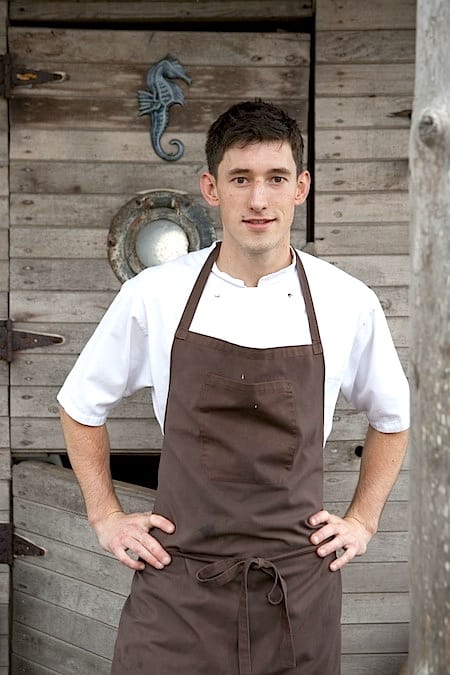 The 26-year-old wunderkind, Chef Blaine Wetzel (who trained at Noma, considered the world's best restaurant and was recently awarded 2012 Best New Chef by Food & Wine Magazine) is part Zen master, part Balanchine choreographer, part aw-shucks, local boy made good, with an almost a savant-like knack for creating astonishing forest to sea to farm to our eagerly awaiting open-mouths food.
With rigorous attention to detail, an overactive culinary imagination and deep respect for the integrity of the "insanely good" local ingredients, Wetzel presents one magical still-life dish after another during the approximately 20 course, prix-fixe dining extravaganza, a steal at $150. (Dinner can be paired with wine for an additional $65 or a juice pairing for $40.)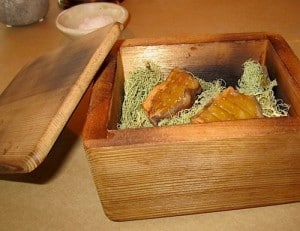 My palate was perked with a house- special, chartreuse tinted, Woodruff Martini made from local vodka, house infused woodruff syrup, fresh woodruff, and citrus.  A parade of dream "snacks" followed, including a smoked sunflower root resting on a bed of mossy rocks in a native cedar wood box, pickled oysters over house-made sauerkraut and sorrel from the farm, toasted kale sprinkled with black truffle and rye crumbs, a pristinely perfect piece of sockeye salmon smoked for eight hours, grilled onion rounds anointed with rhubarb juice and thyme oil, etc.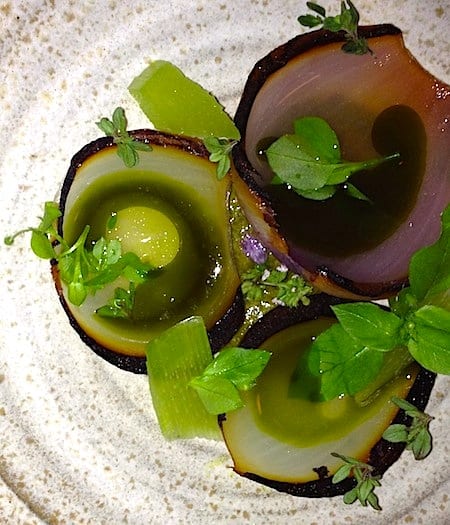 The earthy, black-bottomed sourdough rye bread, delivered blistering hot from the bee-hive brick oven with a dipping bowl of "pan drippings from the stock birds" evoked a flood of happy Thanksgiving memories.  The circle of life was completed with another woodruff-accented dish, a dessert of blueberries and malt.
Tip: 

The Willows offers various accommodations ranging from cozy rooms at the inn to glam "House Beautiful" suites at nearby private residences.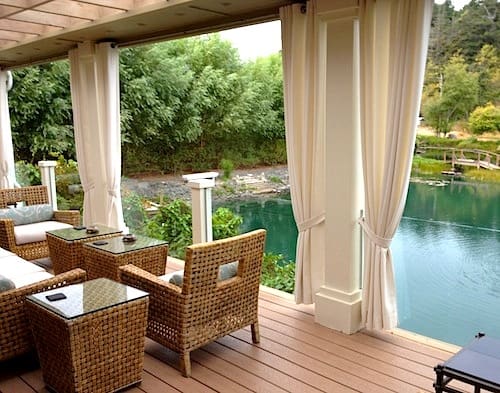 Beddy-bye
Chrysalis Inn & Spa – I can't describe this inn any better than owner, Mike Keenan, who says that their mission is to "provide a tranquil, nuturing environment, a home away from home and a sense of well-being, providing a memorable experience to all who enter." He ensures this by offering many thoughtful amenities such as the complimentary steam and sauna available at the full-service spa, and we all fell in love with the cozy window seats, which overlooked all the activity on the Bellingham Bay boardwalk. The huge bathroom, with deep two-person Jacuzzi bathtub, was also a big hit, as well as the flick-a-switch fireplace. Try to reserve one of the five corner suites where the Jacuzzi tubs are placed in front of the window. A bountiful buffet brekkie was included but we were too early to try the new resto, Keenan's Waterfront Grill, due to open next month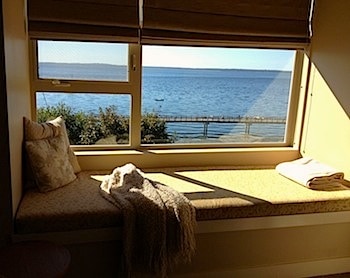 Tip:

Girlfriends will want to inquire about the 'Spa-jama Party" package which includes in-room mani-pedi's complete with Champers, among other indulgent treats.
Another good option for a little more seclusion is the Hotel Bellwether, snuggled in the cove of Bellingham Bay. This 68- room, boutique property offers many luxe touches, including European bedding, ultra thermo-masseur jetted bathtubs, Gilchrist & Soams bath products, and a brand new fitness center will soon open. A variety of roomy garden or harbor side suites are available, but if you're really out to impress, reserve the one-of-a-kind, freestanding, 900 sq.ft. Lighthouse Suite, offering a 360-degree birds-eye view from your private observation deck. How cool is that?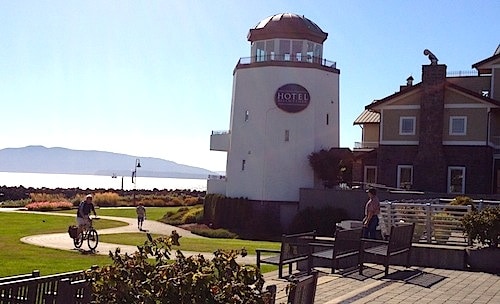 Tip:

They offer a convenient Whatcom Wine Tour package, which includes chauffeured transportation for an afternoon of wine tasting at three boutique wineries, where you'll have a chance to chat with the each of the winemakers. A catered picnic lunch is included.
When you go
How to get there:
Bellingham is 90 miles north of Seattle, 50 miles south of Vancouver, British Columbia, and 58 miles west of the Mount Baker ski area.
By Air: Known for their extra-low fares, Allegiant Air now offers direct flights to Bellingham, including recently added nonstop service between Oakland International Airport (OAK) and Bellingham International Airport (BLI), a gateway to British Columbia, Canada, today.  I was most impressed with their oversized (by airplane standards) comfy, leather seats with (if you reserve an exit-row seat) enough legroom for Sun Ming Ming!
By Bus: Greyhound Depart from the Fairhaven Station four times a day to downtown Seattle and Vancouver, B.C.
By Train: Amtrak service connects Seattle, Bellingham (two times daily) and Vancouver, B.C. Amtrak website.
For more information: check out the Bellingham Mount Baker website  which is packed with good info.