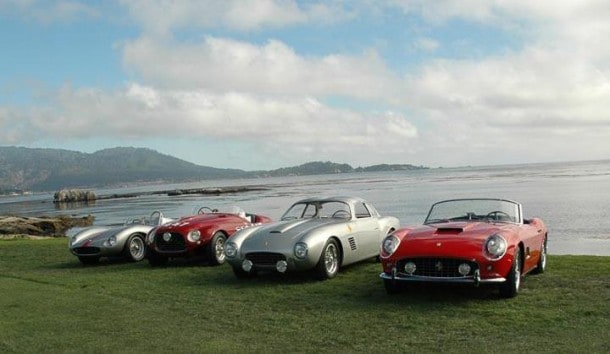 Tire meets turf! Pebble Beach hosts one of the auto world's finest traditions with the 60th annual Concours d'Elegance, our Stark Weekend Pick. The event concludes a week long schedule of festivities, driving events, auctions and, of course, beautiful automobiles.
Attracting automobile enthusiasts and connoisseurs of culture alike, the Concours is an outdoor event that takes place at one of America's most beautiful locales, the famed eighteenth fairway of Pebble Beach Golf Links.
Slated for Sunday, August 19, the event will feature the Cars of the Maharajas, Mercer, Fiat, Saoutchik Coachwork, AC and AC Cobra, Sport Custom Hot Rods, and German Motorcycles.
Originally a small social event paired with a road race through the pine and cypress forests of Pebble Beach, the Pebble Beach Concours has grown into the top-ranking collector car show in the world. People from all over the globe come to compete in or simply enjoy the event here at Pebble Beach.
What makes a Concours car?
We're told, "Above all, it must be elegant."
If you go: Attire should be comfortable and convenient for walking and picnicking. Styles range from dressy to resort casual (unless you're Jay Leno, in which case it's hipster talk-show denim). Temperatures are often cool in the morning and evening, and warm during the day, so layering is recommended.
Pebble Beach Concours d'Elegance

At the famed eighteenth fairway at Pebble Beach

Sunday, August 19
Dawn Field opens to entrants
9 a.m. Judging commences
10:30 a.m. Field opens to spectators
1:30 p.m. – 5:30 p.m. Awards are presented