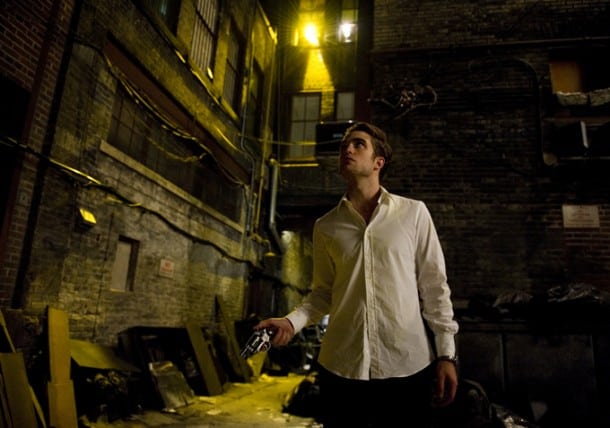 Based on the prophetic novel by Don DeLillo, Canadian filmmaker David Cronenberg's latest project, Cosmopolis, is scheduled for release later this month on August 17th.
For those anxious to get a sneak peak at what the master's latest work looks like, we've got some dystopian stills straight from the source.
A contemporary thriller that turns into a wild, hypnotic odyssey through our "new millennium's obsessions with power, money, control, information, technology, violence, sex, mortality, revolution, destruction and ultimately, redemption," the film stars Juliette Binoche, Sarah Gadon and Samantha Morton.
Unfolding in a single cataclysmic day, the story follows Eric Packer (Robert Pattinson) – a 28-year old financial whiz kid and billionaire asset manager – as he heads out in his tricked-out stretch limo to get a haircut from his father's old barber, while remotely wageringhis company's massive fortune on a bet against the Chinese Yuan. Packer's luxe trip across the city quickly becomes dizzyingly hellishas he encounters explosive city riots, a parade of provocative visitors, and is thrust into a myriad of intimate encounters. Having started the day with everything, believing he is the future, Packer's perfectly ordered, doubt-free world is about to implode. In other words, this sounds like classic Cronenberg.
Cronenberg has made a string of memorable, haunting films including Crash (1996), The Brood (1979), Dead Ringers (1988) and A History of Violence (2005).  The Guardian listed him 9th on their list of "The world's 40 best directors."