Join travel writer Janice Nieder on another exciting, unpredictable Girlfriend Getaway as she heads Down South to Montgomery, Alabama.
If you and your gal-pals are looking for a super fun foodie getaway, Montgomery is positively bubbling over with farm–to-table restaurants, award-winning chefs, farmers markets, BBQ joints, fresh-from-the-gulf seafood and scrumptious homemade __________. (Feel free to fill in the blank from a long roster of Southern delicacies ranging from peach cobbler to flying-saucer sized buttermilk biscuits, pecan pie, etc.)
I just returned from an exciting culinary trip that included wide coverage of the local food scene. I loved the soulful, down-home Southern dishes offered at the plethora of "meat and three" cafes, which used to consist of 3 side dishes but now it usually includes a whole buffet stocked with at least 3 x 3 sides, such as collards, fried okra, coleslaw, squash casserole, mac & cheese, green beans, chicken and dumplings, cheesy eggplant, all washed down with endless glasses of sweet tea. But what really blew me away was the recent explosion of contemporary, sophisticated restaurants that have sprung up, particularly around the revitalized downtown area.
In food, decor and most certainly service, these newbies could give NYC eateries a real run for their money.
In food, decor and most certainly service, these newbies could give NYC eateries a real run for their money.
Due to popular demand the state has brought back "The Year of Alabama Food" promotion for a repeat performance. With nearly 400 annual food festivals and an enticing brochure titled "100 Dishes to Eat in Alabama Before You Die" (a dozen picks can be found in Montgomery) it was wisely decided to stretch out the "year" (like their syllables) to cover the next 3 years, which will all be designated "Year of the Food."
For a memorable day honoring your taste buds, here are my fave Montgomery foodie picks with choices for both penny pinchers and big spenders.
BREAKFAST:
Cents- Cool Beans
When ex-NYC banker, Shari Rossman moved here eight years ago, she quickly decided that the last thing downtown needed was another banker– but they sure could use a fun, tasty, healthy coffee shop. So she decided to open Cool Beans, in the previously depressed downtown area. Shari is committed to serving REAL food; in season and as local as possible with no preservatives and there is not a single fried item on the menu-Gasp!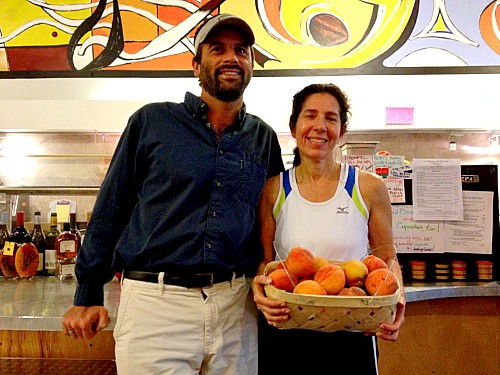 Montgomery's equivalent of Alice Waters, Shari is doing her part in the war against obesity by teaching healthy cooking classes and working closely with local organic farmers to bring more wholesome fresh foods into the schools.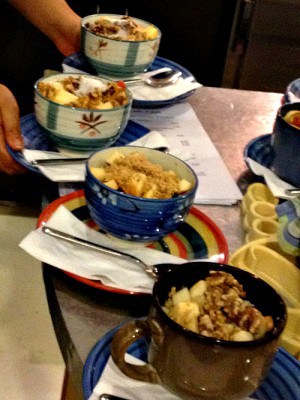 Best Bite:

For breakfast try the oatmeal which is liberally sprinkled with chopped apple, walnuts, craisins and granola or if you're stopping in for lunch order the popular Grace Kelly, a chicken salad tossed with Shari's signature balsamic vinaigrette instead of mayo.
$ -The House
Located in the Renaissance hotel, The House showcases "New South Cuisine" which utilizes seasonal food from nearby farmers and specialty producers. Splurge on the buffet breakfast which features an omelet and waffle station as well as some delish hot biscuits and gravy, liberally sprinkled with local Conecuh sausage. Unfortunately,  I didn't have a change to try their crab cakes but the gregarious F & B Director, Sam Bonfe, told us that he wanted them to be the best in the world, so he gave his chef the following marching orders, " I want you to make them using 90% lump crab meat and I don't  didn't care goes into the other 10%." If you see him patrolling the dining room ask for a peek at a guitar he's watching over that has been signed by a bunch of famous musicians.  If you ask real nicely, he might even show off his finger-picking skills.
WATCH: Sweet Home Alabama, live acoustic rendition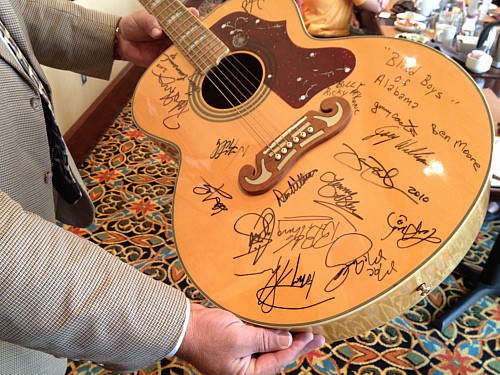 Best Bite:

It's a tie between the Oakview Farm's cornmeal hoecakes anointed with hot syrup and Tucker pecans or the Fried Green Tomato Benedict.
LUNCH
Cents- Martha's Place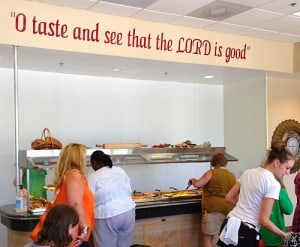 Martha Hawkins claims, "I praise the calories right out of the food" so I happily made a little piglet of myself at her soul food buffet restaurant. This inspiring restaurateur/ motivational speaker grew up in a poor black family in 1950s Alabama. An uneducated, single mother of four boys, who suffered from severe mental illness, Martha struggled through some extremely dark times, but she never lost sight of her dream of opening a restaurant that would nourish both body and soul. Her inspiring journey is documented (along with some cherished recipes) in her book, "Finding Martha's Place: My Journey Through Sin, Salvation, and Lots of Soul Food".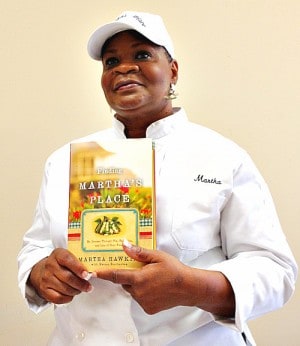 Fans of Martha's cooking include Whoopie Goldberg, Sissy Spacek, Clifton Davis and her four grown sons. In true Martha fashion, she only hires folks who are down on their luck, just as she once was.
Best Bite:

Crunchy flawlessly-fried chicken
$- Central
Eclectic Southern fusion cuisine that focuses on fresh regional products combined with a hip ambiance provided by a creative retooling of what was once an old 1890's grocery warehouse (think exposed brick, cozy gas lamps, reclaimed wood bar, and a lively open kitchen) join forces to offer a win-win dining choice for lunch or dinner. The imaginative international menu makes everything sound tempting but the locals rave about Central's falling-off-the-bone Pork Shank.
Best Bite:

Patty Melt with house made pimento cheese and the best Alabama peach cobbler (topped with spiced walnut crumbles) of the trip.
DINNER
Cents- El Rey Lounge & Roux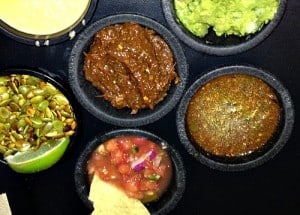 Start at the trendy El Rey Burrito Lounge, where the food tastes surprisingly non- gringo. While perusing the menu you HAVE to order an array of dips and salsa to kick things off. The salsa nueva, made from charred tomatoes, chili, cilantro and ground pumpkin seeds was haute-cuisine of the highest caliber, particularly after double-dipping my chip (shhh) into the warm smoky cheese dip.
Note: unless you sit on the patio, the restaurant din reaches Justine Bieber concert level.
Best Bite:

Any of the giant soft tacos served with Oakview Farm Lettuce. The chicken and beef are free of hormones or antibiotics. Good beer selection.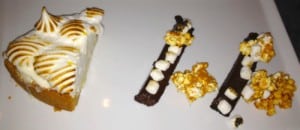 Walk to the end of the block to the restaurant, Roux, for a sweet end to the evening. Your best bet is to put together a tasting of their of sweeties, and share bites of the warm peach cobbler, signature beignets and the bread pudding with cream cheese icing, because it's nearly impossible to pick just one. Big changes will soon be in effect since Chef Wesley True (a talented James Beard Award Semi-Finalist for Best Chef in the South) just came aboard.
Tip: The Pine Bar, next door, plays live music on weekends
Best Bite:

The whimsical deconstructed S'mores are a perfect example of their "Back to Basics" approach, combining Southern flavors with American classics..
$- Chophouse at the Vintage Year
Chophouse originally opened in 1984 as a specialty wine shop. Shortly thereafter the owners began serving gourmet lunches for their wine aficionados, which quickly morphed into a full scale, fine dining establishment. They honed their rep as a top-notch steak house, but Chophouse is certainly no slouch in the seafood category either, as proven by their tuna tartar brought to you in a martini glass.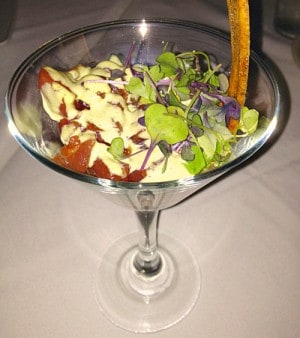 Best Bite:

The 10 oz. Chophouse Burger smothered with melting aged Gouda and bacon-onion marmalade was out of this world!
DRINKS
Cents-Beer at Leroy Lounge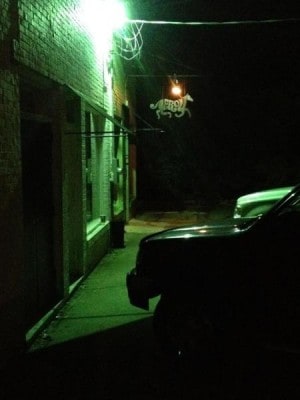 If you see a neon horse sign, which is the only spot of light in a dark alley behind a parking lot, you've found the new Leroy Lounge, a hidden bar gem in the hipster Cloverdale area. Choose from 18 taps of rotating beers including Alabama beers, Belgians, sours and stouts, as well as a huge bottle selection. If you'd like something stronger, they also offer some enticing Don Draper-ish cocktails. One interesting secret- ingredient concoction, the "Ale Flip" looked like a brown frothy milkshake.
$ The AlleyBAR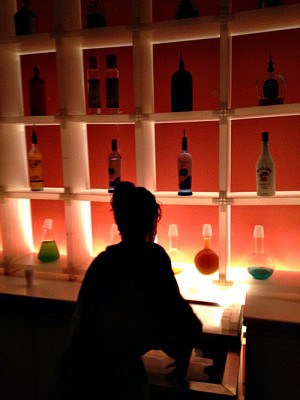 Q: Where to go when you want a drink on a hot, humid summer night?
A: The no-duh answer is to head straight to the waaay-cool frozen shotroom in The AlleyBAR, complete with faux furs to bundle up in while you imbibe. They know when you're ready for another because you throw your shot glass (made from ice) on the floor where it crashes into a zillion pieces. Then step over to the main bar which offers a choice of 50 different martinis.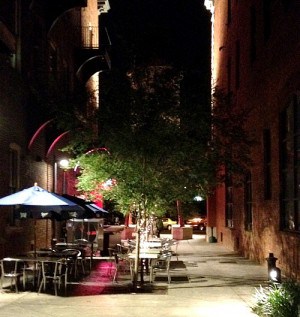 Sidebar: Eight years ago the lights would go off after work in the downtown area and the streets were totally dead until the next morning. But in a few short years the downtown area has been completely revitalized. The Alley is just one example of government and private investors that have successfully partnered to turn what was once a derelict alley into a thriving dining/entertainment district.
SNACK-TIME
-The Deli at Alley Station
Grab a sammie from the Alley Station Deli (known for their Ruben's concocted from pastrami, house-made sauerkraut, and Swiss cheese on pumpernickel bread slathered with their signature sauce) and then head over to the nearby Riverwalk development which offers many grassy picnic spots along the banks of the Alabama River.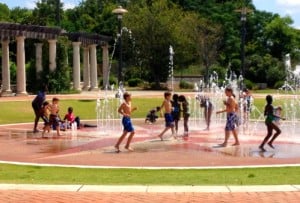 If you get a little messy from your sandwich, you can wash off while cooling down at the Riverwalk Splash Pad, next to the new Amphitheater.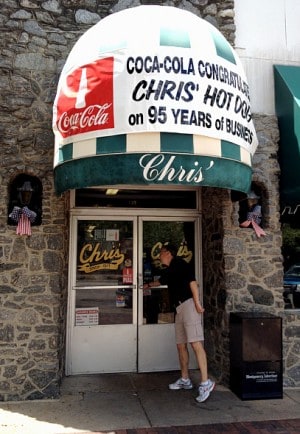 -Chris' Hot Dogs
This beloved Montgomery institution has been serving up their legendary dogs for the last 95 years.   The "All the Way" griddled dog comes nestled in a soft, squishy bun, dripping with kraut, onions and Chris' secret chili sauce.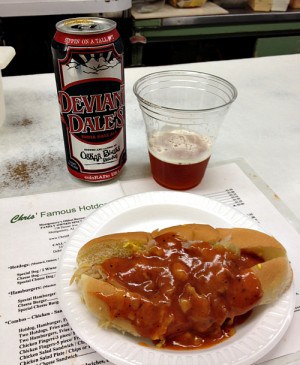 DOWN(town) on the FARM: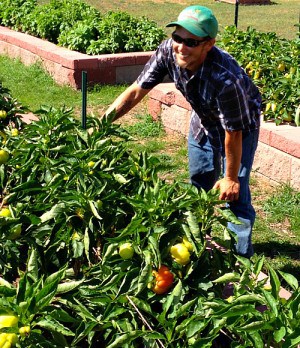 To see where many of these fine restaurants get their stellar produce from, check out the Hampstead Institute Downtown Farm. The new Downtown Farm, an urban learning farm that grows, harvests and sells fresh sustainable produce, is the little sister of the original Hampstead Farm. The farms passionate director, Edwin Marty, told us that their goal is to insure that everyone has access to good healthy food and educate them as to why this is important. Schools visit the farm where the children can assist in planting, harvesting, preparing and finally eating the fresh food. Marty hopes that this hands-on experience will help foster long-term healthy dietary habits. The farms also offer programs for starting your own organic gardens, special chef dinners, and they are working on several policy changes such as getting more regionally grown food into the school cafeterias.
Bring home a bite from the South:
They say "it takes a Tucker to recognize a great pecan" and since they've been shelling out pecans from the Tucker Pecan store since 1952, I'd say they know what they're talking about. Customers love their generous sampling policy. The roasted salted pecans taste great, but become truly memorable when bathed in dark or white chocolate. Don't miss the ice-cream counter where a buck still gets you a hand-dipped cone.
I stumbled across Dirks Dirty Butt BBQ Rub at the Filet & Vine gourmet market. After a salesperson informed me that some customers drive in from three states away to stock up on this stuff, so did I. Although it's available in different flavors, the tangy Dirty Butt BBQ Rub could turn even a Yankee into a Southern grill master.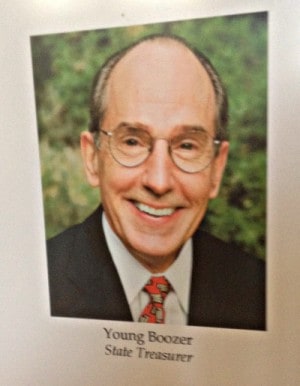 Quirky fact: I know this doesn't have anything to do with the Year of Alabama Food but don't you just love a state that votes in Mr. Young Boozer (I swear that's his real name, and he's even Y.B. the third!) as State Treasurer. Oh wait… I just thought of a tie- in. They say he's a big fan of Chris' Hot Dogs!
Tip:

The best time to sample the local food scene is from August 17-26, 2012, during which Alabama will host the first annual "Restaurant Week". Over a hundred restaurants will be putting together fixed-priced lunch and dinner specials from $5 to $30.
FYI: Sweet Home Alabama is putting the finishing touches on their new BBQ Trail brochure that will include the best-of-the-best "Q" spots, which should make one helluva itinerary.
Where to sleep after all that food?
Renaissance Montgomery Hotel & Spa at the Convention Center:
A most welcome addition to the downtown renaissance, this appropriately named 346 room, four diamond hotel offers a rooftop pool, fitness center, a 9,000 sq.ft., full-service European spa, a state-of-the-art performance hall, and delicious dining choices.
Embassy Suites Hotel and Montgomery Conference Center:
After all this eating I really looked forward to returning to my spacious two-room suite, which consisted of a comfy bedroom and  a separate living area with sofa bed, well-lit work/dining table and mini kitchenette. Lovely housekeeping staff.
When you go:
For more foodcentric info, visit the  Year of Alabama food website. For help with all your Alabama travel plans, visit Alabama Travel.