The summer heats up with the return of a cult classic.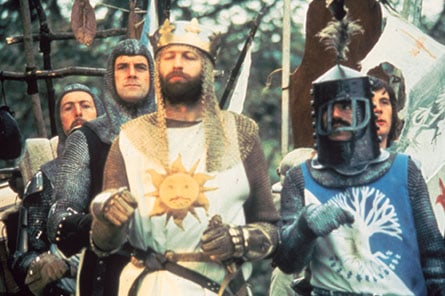 Yes! Time to get your funny-bone on with one of every filmgoer's cult classic comedy favorites. Organizers have announced that Monty Python and the Holy Grail is coming to the Lumiere in San Francisco.
The theatrical screening will be the "best version yet" of the 1975 comedy directed by Terry Gilliam and Terry Jones and features a clearer, sharper image thanks to HD remastering. In addition, the reissue includes the 12 minute never-before-seen short "Terry Gilliam's Lost Animations."
Fully re-mastered in high definition the film plays for one week only, from July 20-26, 2012.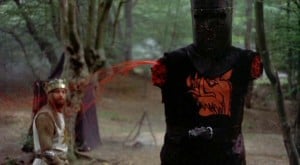 From its opening multi-language titles (that sure looks like Swedish) to the closing arrest of the entire Dark Ages cast by modern-day bobbies, Monty Python and the Holy Grail helped to define "irreverence" and became an instant cult classic. This time the Pythonites savage the legend of King Arthur, juxtaposing some excellently selected exterior locations with an unending stream of anachronistic one-liners.
Monty features timeless performances from the likes of Graham Chapman, John Cleese, Eric Idle, Terry Gilliam, Terry Jones and Michael Palin.
If you're already a fan of this zany Monty Python send-up of the Middle Ages (and name one person who's seen it who isn't), you won't want to miss the chance to experience the film the way it's meant to be experienced — on the Big Screen, in a movie theater, with other die-hard fans laughing at the gags (the clippety-clopping coconuts!) and reciting the dialog ("It's just a flesh wound!") right alongside.
And to get you in the right frame of mind…
WATCH Monty Python and the Holy Grail "BLACK KNIGHT"
Monty Python and the Holy Grail

Fully re-mastered in high definition
Starring: Graham Chapman, John Cleese, Eric Idle, Terry Gilliam, Terry Jones & Michael Palin
Written by: Graham Chapman, John Cleese, Eric Idle, Terry Gilliam, Terry Jones & Michael Palin
Directed by: Terry Gilliam & Terry Jones
Produced by: John Goldstone

92 minutes + 12-minute short feature (104 minutes total running time) / Rated PG

Released by: www.rainbowreleasing.com

Landmark Theatres Lumiere

1572 California Street at Polk, San Francisco, 415-267-4893

For tickets: landmarktheatres.com/tickets