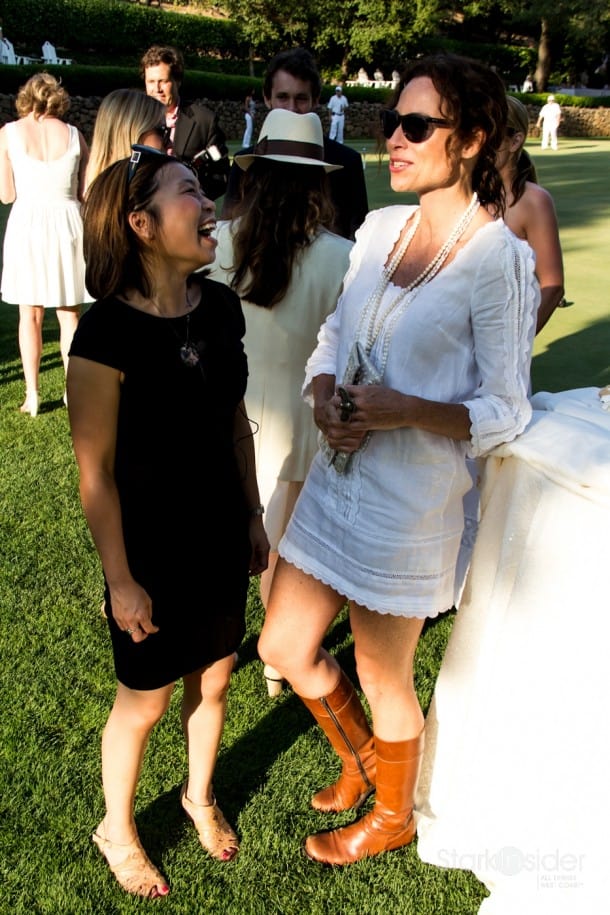 Opening galas like this don't come around very often. Last evening, the Festival del Sole kicked off in grand style with a stunning evening of food, live performances, Caymus wine, and a spirited croquet tournament (Margrit Mondavi brought her A-game with some fierce strokes).
Fear not, I've already been quizzed by resident Meadowood Croquet Pro (with only six in the US, he tells me, that's rarer then the coveted Master Sommelier designation!) Mike McDonnell as to why I went black when etiquette called for white. Call it the black swan syndrome. While the guys were seen in black, whites, greys, and even some beige and blues (gasp), the women were predominantly in white. Case in point was the eloquent Minnie Driver who I was able to catch up with "courtside" during the croquet match. She had performed the previous evening in the "24 Hour Plays" at the Lincoln Theater where film and theater actors devised plays literally moments before hitting the stage.
Later, jazz vocalist Antoniette Costa wowed in a lush, gorgeous red dress. She performed an acoustic rendition of her song "Void of a Legend" which debuted at #4 on the iTunes chart. During an interview she told me, "it was amazing seeing my name alongside Celine Dione."
My fine date Clint, it should be noted, has a wine technique of questionable repute which involves asking the server to hold the bottle while pouring so he can take an Instagram.
Cellist/beatboxer Kevin Olusola brought a fascinating fusion to his performance which I loved. There's something magical about combining traditional sounds, such as a cello, with a contemporary style. If I took my eyes off the stage, surveyed the lush grounds at Meadowood, I might've thought he had a drummer on stage with him. Amazingly, all that sound came from just one guy.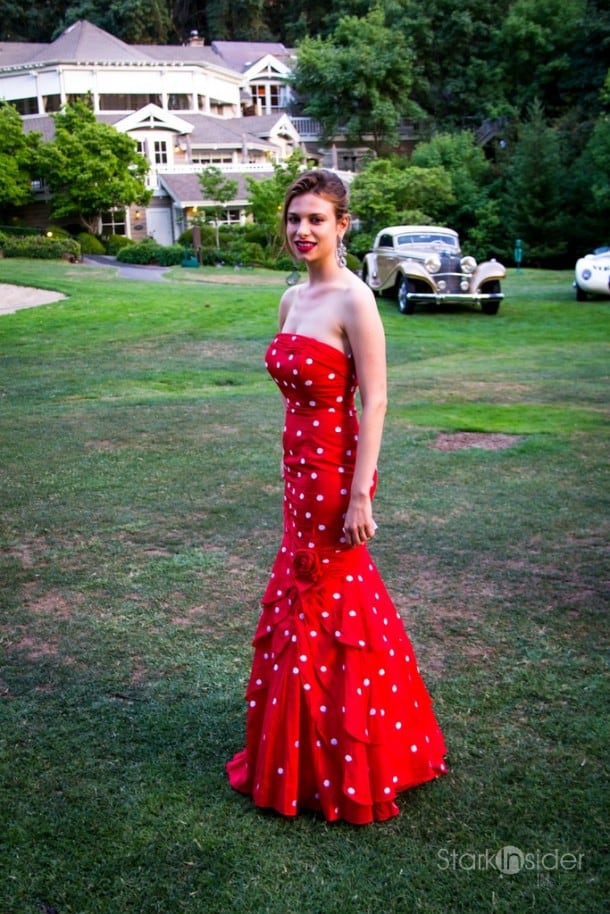 Rounding out the musical portion of the event was a beautiful performance by pianist/violinist Tara Kamangar, who was wearing a dress made by her mother! (see photo below).
Fritz Hatton then took to the stage and conducted a live auction – with some interesting choices in humor I might add. Fritz is like the Mr Napa Auction guy. We last saw him furiously swinging his hammer, "SOLD!!!" at Premiere Napa Valley earlier this year.
Executive Chef Alejandro Ayala and Pastry Chef Danielle Brocious pleased the jubilant crowd with a relaxed three-course dinner that featured: Dungeness Crab Salad, Heart of Ribeye with marble potatoes and Meadowood garden vegetables, and a pretty looking Summer Berry Pudding for dessert.
The wines were memorable too, especially the 2010 Caymus Cabernet — always a cellar favorite of mine. Clint, it should be noted, has a technique of questionable repute which involves asking the server to hold the bottle while pouring  so he can take an Instagram. The result is a long pour. Men!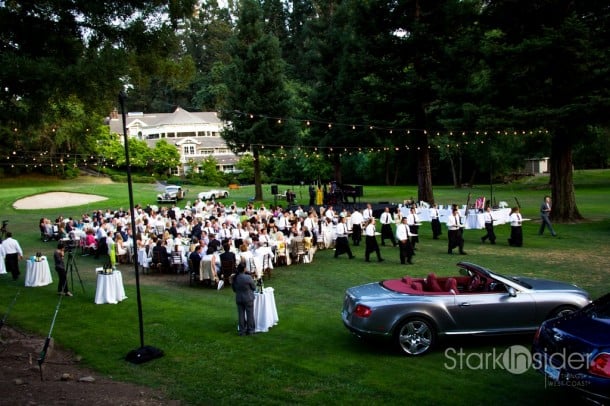 As you'll see in these photos it was hard to miss all the remarkable automobiles parked across the grounds – some classics, others, like the Bentleys, brand spanking new. I wonder how their MPG compares to my sedate Prius? Picturesque, these sights. I learned they were from the Keller Estates collection.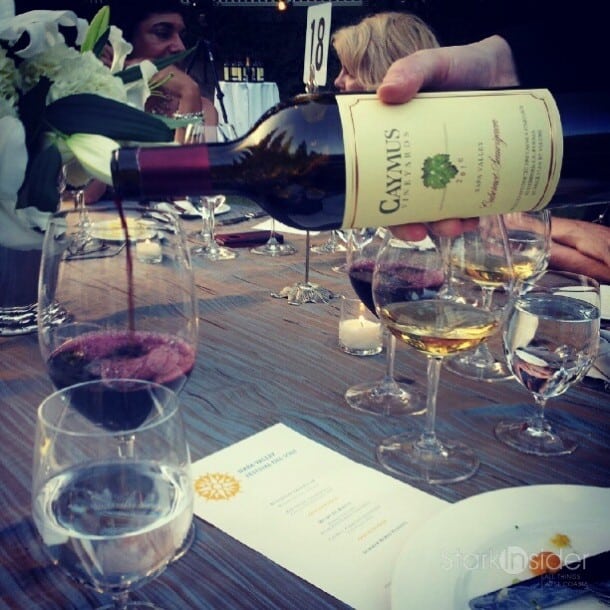 Be sure to visit back and follow Stark Insider on Facebook, the videos are coming soon featuring Minnie Driver, a Croquet "stunt", and a close-up inspection of a vintage Jag… which has no doors. No matter, I could master the art of the hop, and I swear I'd still look like "it" driving down 101. Plus I interview some of the key people, including Richard Walker (president),  who have built what has become the biggest cultural and wine event of the year for Napa.
IN PHOTOS: Festival del Sole opening gala at Meadowood, Napa Valley