Guest post by Pat Reardon.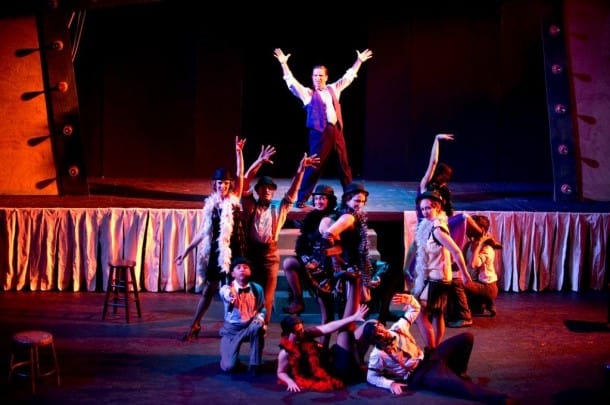 City Lights brings its 2011-2012 season to a close with Bob Fosse's indomitable Chicago. This sexy satirical musical, thought of as dark and cynical when it debuted on Broadway in 1975, remains refreshingly current today especially seen through the lens of cable television and its never ending spotlight on an incessant parade of criminals of the week each becoming a celebrities in their own rights.
Our girl Roxy Hart (Kristin Brownstone) was quick on the trigger when she took Chicago-style justice on her departing lover. When she terminates their relationship with a bang! bang! bang! she unwittingly starts down the road to fame and fortune and never looks back. Helped by her jailbird acquaintances in the County lock up including Velma Kelly (Glenna Murillo) the resident killer du jour, and the conniving jail warden Mamma Morton (Juanita Harris) Roxy quickly becomes a pro at getting her own way. Aided by the fast-talking razzle dazzler himself, shyster Billy Flynn (Tim Reynolds) she gets everything that she dreams of and more.
Donna Scheer makes some interesting changes in the traditional production. By moving the band to the side of the stage and switching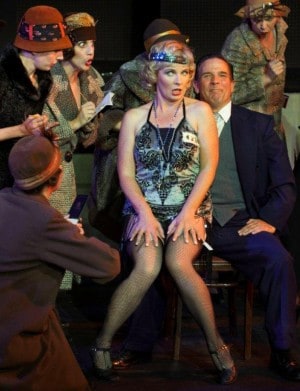 the costumes from the Fosse-influenced stylized black to contemporary styles of the day the production is less abstract, more realistic and much less edgy than presentations that you may have seen in the past. The staging remains minimalist and is enhanced by an interesting video projection that highlights off stage events.
The ensemble does an excellent job with Fosse's signature shoulder-rolling, hip-gyrating, wrist bending choreography.
Tim Reynolds and Juanita Harris are vocal standouts of the evening. Each make the most of their signature pieces with Harris working the room with "When You're Good to Mama"and Reynolds pulling everyone's strings on "We Both Reached for the Gun." Erez Shek is outstanding as the bleeding heart Mary Sunshine and Jay Steele plays the invisible Amos Hart to a pitiful perfection. David McGuire is impressive with a great comic turn with his emcee, judge and juror. Kristin Brownstone and Glenna Murillo as Roxy and Velma are notable portraying two 1920's dames who both work their new found fame into a show business careers. Each make the most of their time on stage. Brownstone moves beautifully and is convincing as the conniving Roxy. Murillo is a very good dancer and her voice is equally impressive as she works her way through Velma's acceptance of being a second fiddle.
Chicago continues to resonate with an audiences even more than it did when it was introduced on Broadway in the 70s. This original City Lights production is no exception. It is a wonderful finish to an excellent season. Through Aug 26th.